Spring 2005 (13.1)
Pages 28-31

Aghakhan Aghabeyli
Azerbaijani Genetist
by Farid Alakbarli




On December 22, 2004, the National Academy Of Sciences and the Ministry of Agriculture of Azerbaijan celebrated the 100th year Jubilee of Professor Aghakhan Aghabeyli (1904-1980). Aghabeyli was one of first professional Azerbaijani selective geneticists. He is especially remembered for the development of two highly productive breeds of water buffalo - the Caucasian Buffalo and Azerbaijan Buffalo. Aghabeyli founded the new science of Buffalo Breeding in agriculture.

During his lifetime, Professor Aghabeyli was recognized with the prestigious award of Honorable Scientist of Azerbaijan. He was appointed Vice-President of the Azerbaijan Society for Genetics and Selection, Corresponding Member of the All-Union [Soviet, meaning not just Azerbaijan] Academy of Agricultural Sciences (AAAS), and Chair of the AAAS Husbandry Division in Tbilisi, Georgia.

In 1927, Aghabeyli graduated from Azerbaijan Agricultural University. He carried out his doctoral studies in Moscow under the leadership of the famous Soviet geneticists A.S. Serebrovski and N.D. Potyomkin.
Aghabeyli was the first scientist in Azerbaijan to carry out the principles of selective genetics with chickens, sheep, goat, cows and zebu [humped cattle].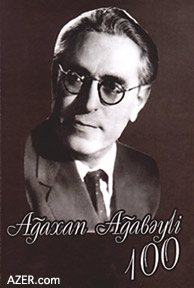 Left: Azerbaijan's Academy of Sciences marked the 100th Jubilee of Aghabeyli in December 2004.
His crossbreeding of indigenous Bozakh and Lezgi sheep provided the basis for the creation of Merinos breed (a wool-producing breed). He also produced a new breed of zebu by crossbreeding local Azerbaijani zebu cows with the Latvian Brown bulls.

He authored more than 230 scientific works, including eight monographs in Azeri, Russian, English, Hindu and Vietnamese. In the early 1930s, he developed a methodology for teaching genetics in Azerbaijan's universities and compiled the first textbooks on genetics in the Azerbaijani language - Course on the Genetics of Animals (Ganja 1932) and Genetics: The Material Basis of Heredity (Ganja 1933).

His other well-known books include: Buffalo Breeding (Baku 1959, 1964), Buffaloes (Moscow 1967), The Breeding of Domestic Animals (Baku 1975), Azerbaijani Buffalo (Baku 1980), Water Buffalo (Hanoi 1977), Zebu and Its Hybridization with Cattle (Baku 1981).

In 1966, W.Ross Cockill and P.Webb, representatives of the United Nations Animal Production and Agriculture Division, ordered Aghabeyli's book and sought permission from Soviet officials to visit him.

Dashyuz Breeding Center
As a scientist, he was the Founder and Scientific head of the world-known Dashyuz Breeding Center, a special breeding and research center established in Shaki in northwestern Azerbaijan. It was there that he developed the two breeds of buffalo, which were distinguished for their very high productivity and excellent quality of milk and meat. These new breeds were sent to Egypt, Bulgaria, Vietnam and other countries. Even though it was not so easy to set up such contacts in Soviet times, many international scientists did succeed in visiting Dashyuz.

Aghabeyli lectured in many republics of the former Soviet Union and was involved in mentoring and advising about 50 PhD students over the course of his lifetime.

In connection with the 100th Jubilee celebration, the Dashyuz Breeding Center has been named after him. In addition, two streets have been given his name (one in Ganja, and the other in Salyan where Dr. Aghabeyli was born). A special stipend was also established in his name at Ganja Agricultural University, where he lectured for many years.

After Aghabeyli's death in 1980, buffalo breeding began to decline in Azerbaijan especially with the collapse of the Soviet Union and the difficult economic transition from Socialism to a market economy. Many of the buffaloes which had been specially bred were slaughtered until the breed nearly became extinct.

In late 2004, President Ilham Aliyev signed a decree to begin to develop buffalo breeding again. Accordingly, the buffalo herds and buffalo breeding farms are being restored and several contracts with foreign enterprises have been signed. For example, Azerbaijan is now collaborating with Italian partners in the production of Mozzarella cheese. So the rare scientific work of Aghabeyli is being revived a century later.
Dr. Farid Alakbarli is the grandson of Dr. Aghabeyli. Farid works at the Institute of Manuscripts in Baku and has two doctorate degrees - one in Historical Sciences and the other in Biology. His own specialty is medieval medical manuscripts in the Arabic script. To read about the life and scientific contributions of Dr. Aghabeyli's wife, Khadija Aghabeyli, see "Pre-Soviet Era - Growing Up in Baku's Old City" (AI 12.3, Autumn 2004). Search at AZER.com.


Back to Index AI 13.1 (Spring 2005)
AI Home | Search | Magazine Choice | Topics | AI Store | Contact us

Other Web sites created by Azerbaijan International
AZgallery.org | AZERI.org | HAJIBEYOV.com