Winter 2004 (12.4)
Pages 84-87

BP Current Developments
"Golden Weld" Ceremony Links Azerbaijan and Georgia
by Tamam Bayatly
BP Communications Manager

Baku-Tbilisi-Ceyhan (BTC)


Above: On October 16, 2004, the Golden Weld Ceremony for the Baku-Tbilisi-Ceyhan (BTC) oil export pipeline took place when the Presidents of the two host countries, Azerbaijan's President Ilham Aliyev and Georgia's President Mickeil Saakashvilli symbolically welded two pipeline sections together. Boyuk Kesik village of Azerbaijan's Akstafa district bordering the Gardabani district of Georgia.

The BTC Co, operated by BP, hosted an official "Golden Weld" ceremony in October on the Azerbaijan-Georgian border where the joints connecting the Azerbaijan and Georgia sections of the Baku-Tbilisi-Ceyhan (BTC) oil export pipeline were symbolically welded together by the Presidents of the two host countries, Their Excellences President Ilham Aliyev and President Mikheil Saakashvili. The event took place in the Boyuk Kesik village of Azerbaijan's Akstafa district bordering on the Gardabani district of Georgia.

This weld, which is one of 150,000 in BTC, brings us a real step closer to the completion of the pipeline in the first half of 2005. BTC construction works is on track to be completed during the first half of next year to allow export of oil from the Ceyhan Terminal in Turkey during the second half of 2005. The project employs around 17,000 people in the three countries of whom about 2,500 are in Azerbaijan and about 80 percent of these are Azerbaijan nationals.

In Azerbaijan overall progress is 90 percent complete with only 8 km left to trench, 26 km to backfill and 105 km to re-instate. The total length of the Azerbaijan section of the pipeline is 443km, of which the first 182 km has been successfully hydro-tested. At the West Kura River, a micro tunnel operation is underway.

In Georgia the pipeline is over 80 percent complete and construction of pump stations is over 86 percent complete. Of the total 249 km of the pipeline length 3km remain to be trenched, around 25 km to backfill and about 120 km to re-instate.

In Turkey, BOTAS, the Turkish state-owned construction company, has made good progress in all construction locations. The pipeline is 85 percent complete, the pump stations 65 percent complete and the Ceyhan terminal over 90 percent complete. BOTAS has already cleared the entire 1075 km length of the right of way. Remaining works include 80 km of trenching, about 100 km of lowering in, 130 km of backfilling and 600 km of re-instating.

BTC is a major project, which will make a positive difference by bringing significant benefits to the region. By avoiding the Bosphorus, it will help relieve the inevitable growth in oil-related traffic and associated environmental risks, will create substantial revenues for the transit countries, and will help strengthen economic and political links between Azerbaijan, Georgia, Turkey and the West.

ACG Phase 3 Construction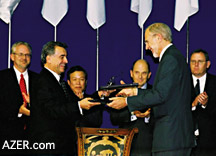 Left: SOCAR's President Natig Aliyev (left) and David Woodward of BP sanctioning Azeri-Chirag-Gunashli Phase 3 Project.
The Steering Committee for the development of the Azeri, Chirag and deepwater portion of the Gunashli (ACG) fields in the Azerbaijan sector of the Caspian Sea, sanctioned in Baku on September 20 the construction stage of the ACG Phase 3 project. The official signing of the Phase 3 project sanction resolution took place in a ceremony, which was held at the Heydar Aliyev Respublika Palace as part of the ACG Contract 10th Anniversary Celebration. Phase 3 sanctioning is a major milestone towards full realization of the ACG Full Field Development (FFD), which will ultimately deliver in excess of one million barrels of oil per day. The Phase 3 project is a $4.7 bn development plan. Some $3.2bn of the $4.7bn will be spent on the construction of facilities, and the balance of the sum will be spent on predrilling subsea injection wells, and platform development drilling during the production period.

The ACG Phase 3 Project encompasses the development of the Deep Water Gunashli portion of the ACG field. In addition, the design of Phase 3 will allow capture of potential reserves in the western portion of the Chirag area, which may not be accessed by the Chirag Platform.

The Phase 3 project represents the next significant development phase of the ACG Production Sharing Agreement (PSA) and will optimise FFD economics enabling ACG production to rise to over one million barrels a day by 2009. Recoverable reserves for the Deep Water Gunashli area of the ACG PSA are approximately 176 million tons (approximately 1.25 billion barrels). The start of oil production from Phase 3 is currently planned for mid-2008 and will peak at around 300,000 barrels per day. All associated gas, except for fuel gas requirements, will be delivered to SOCAR.

Phase 3 offshore facilities will be largely identical to those of Central Azeri. They will comprise a 48-slot Drilling, Utilities and Quarters (DUQ) platform bridge-linked to a Production, Compression, Water Injection and Utilities (PCWU) platform in Deepwater Gunashli, located in 175m of water. Both installations will be operational prior to first oil. To provide early reservoir pressure support and a faster ramp up of the oil production rate, two subsea manifolds will be constructed with up to ten subsea water injection wells to be drilled prior to first oil.

Oil will be exported to Sangachal via new infield lines tied into the two 30" oil pipelines installed for the Azeri project. Associated gas production will be compressed and delivered via the 28" subsea pipeline to Sangachal.

In addition, the Sangachal terminal will be further expanded by two oil trains, a third 800,000-barrel capacity oil storage tank and a second dew point control unit to process Phase 3 incremental production.

The level of utilization of Azerbaijan's infrastructure and involvement of local workers will continue to be significant throughout the construction works. Topsides and jackets construction will take place at the Heydar Aliyev Baku Deepwater Jackets Factory (BDJF) fabrication yard and the ATA fabrication yard in Bibi-Heybat.

SOCAR/KMNF (Khazardeniz-neftdonanmasi) pipelay, crane, transport barges and marine fleet will continue to be used. Local supply and service companies involvement will be continued by the main contractors who have been encouraged to maximise use of local subcontractors.

Azeri-Chirag-Gunashli (ACG)

Below: The Steering Committee at the Sanctioning Ceremony of the construction stage of the ACG Phase 3 Project in Baku on September 20, 2004. Left to right: SOCAR (Natig Aliyev), AIOC/BP (David Woodward), Unocal (Donald R. Hansen), INPEX (Kunio Kanamori), Statoil (Peter Mellbye), ExxonMobil (Michael R. White), DEVON (K. Earl Reynolds), ITOCHU (Masao Yamazaki), Amerada Hess (Tom Springall) and TPAO (Osman Saim Dinc).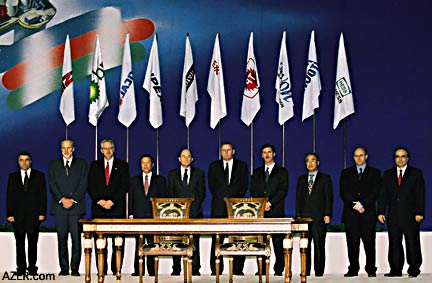 Since the beginning of the year, our production activities on Chirag have continued in accordance with the plan for 2004 with an average production rate in excess of 132,000 barrels per day for the full year, which significantly exceeds our planned daily average production target of 125,000 for 2004, with an overall production efficiency of 93 percent despite production cutbacks during January and February owing to shipping congestion in the Turkish Straits and the planned shutdown of the platform in early July.

In 2005 they expect to produce 227,000 bpd in total from Chirag and Central Azeri. To date the Chirag platform has produced over 273 million barrels (over 36 million tons) of oil. We currently have 19 wells on Chirag, of which 15 are producing wells and four are water injection wells. The 19th well (A 19) on the field was put on production on the 13th of December. We are proud of the delivery from this well. A19 is an Extended Reach Drilling (ERD) well and is the longest deviated well drilled in the Caspian with a 6.5 kilometer step-out from the platform.

Drilling operations within the West Azeri (WA) pre-drilling program have continued successfully. Currently we are drilling the fourth pre-drill well on West Azeri and are planning to complete this by the end of December.

Central Azeri Topsides


Above: In October, four full sections of the Shah Deniz TPG 500 platform arrived in Baku, after a two-month journey from Singapore. They were successfully docked at the Floating Dry Dock by the Capsian Shipyard Company. Installation of Central Azeri Production, Drilling and Quarters (PDG). Topsides completed on October 10, 2004.

The topsides of the Central Azeri Production, Drilling and Quarters (PDQ) Platform were successfully installed on the platform jacket offshore on October 10. It brought to reality a concept that was initiated five years ago. This followed the load out of the 15,000 ton-integrated deck onto the transportation barge STB-1 on the 3rd of October and sail away from the Heydar Aliyev Baku Deepwater Jackets Factory (BDJF) yard on October 8.

The CA Topsides is a world-class facility fully built at BDJF in Azerbaijan. It has 48 well slots and 420,000 stock-tank barrels per day oil processing capacity with 122m x 50m x 34m dimensions. The living quarters of the platform will accommodate 200 people during production operations, which will begin early next year. Topsides construction employed more than 2,000 people at its peak, of which 75 percent were Azerbaijan citizens. In total the Deck construction and offshore installation activities for Central Azeri have expended 10 million man-hours with zero days away from work case (DAFWC).

C&WP topsides
Compressor and Water Injection Platform (C&WP) topsides fabrication in the ATA (AMEC-Azfen-Tekfen) yard in Bibi-Heybat is 82 percent complete and is on target for sailaway and offshore installation in the third quarter of 2005 and for the first gas injection in November 2005. The C&WP will be bridge-linked to CA PDQ and will provide all the gas and water injection to the Azeri field. A maximum of tengas injection wells, 12 water injection wells and two cutting injectionwells will be drilled on the Azeri field and the platform will have a final gas injection capacity of 1050 million cfd and water injection capacity of 900,000 bpd.

All the subsea pipe-lay, tie-in and testing work for the oil and gas pipelines from Central Azeri to the Sangachal terminal is completed, along with installation and comissioning of the 187km fibre communications cable, which is now operational. The Pipe-lay barge Israfil Huseynov is currently completing its re-fit work, and will mobilise to commence the ACG Phase 2 pipe-lay work by the end of December. In October the pipe-lay barge was successfully used to support the Central Azeri hook-up, providing accommodation next to Central Azeri for 200 construction workers.

Sangachal Terminal (STEP)
The construction activities aimed at building one of the world's largest terminals are progressing on schedule. The main contractor of the STEP works, Tekfen/Azfen has achieved the 17 million hours milestone without any accident or injury from the beginning of the construction works in November 2001. This is a remarkable achievement and is a result of extremely hard work and dedication to safety of all the people involved.

Overall construction works at STEP for Central Azeri are complete. The main completed works have included the installation of the major equipment and extensive piping systems. The pipelines have been successfully hydro tested and cleaned with the help of a pig. The construction of two crude oil tanks with a storage capacity of 880,000 barrels each is already complete and work is on schedule to complete a third tank in January 2005.

The Shah Deniz Project
The Shah Deniz gas and condensate development project has made significant progress during 2004 and Stage 1 construction is currently 44 percent complete overall. Construction works for Stage 1 are progressing according to schedule to meet the target of delivering first gas to the market before winter 2006.

Following the successful three well pre-drill program and seismic re-imaging project during 2003-2004, BP has revised both our gas and condensate in place estimates and now believe there is an additional 20 percent of hydrocarbons in place across the whole field.

Floating Dry Dock
The four hull sections of the TPG 500 platform, which arrived in Baku following a two-month journey from Singapore in October, were successfully docked in the Floating Dry Dock by the Caspian Shipyard Company, the Shah Deniz contractor for the hull sections integration. The hull sections are currently being mated at the Floating Dry Dock to form the integrated deck. Work will continue on the hull integration until the end of March 2005, when the integrated hull is scheduled to be towed across the bay to the Zykh Yard for full topside integration and leg installation. All activities associated with the hull integration are progressing on schedule. Some 850 people are currently involved in these activities of which about 650 are Azerbaijan nationals.

Zykh Yard Construction
The Shah Deniz platform leg sections are under construction at the newly refurbished Zykh yard and are 37 percent complete. Some 1450 people are currently involved in the construction activities at the Zykh yard and of these 1200 are Azerbaijan citizens.

Other ongoing activities at Zykh include the construction of temporary foundations, on which the legs will rest at the Zykh Quayside. This work is nearing completion in preparation for lifting into the water in February 2005.

The Drilling Equipment Set (DES), which arrived in Baku from Norway in September, has already been assembled and is nearing mechanical completion. Commissioning of the facility commenced at the beginning of December. We will begin operator training on the commissioned facility prior to the skidding of the DES onto the hull in the second quarter of 2005, in addition, the Living Quarters and topsides pipe racks are undergoing a fit out process at the Zykh Yard.

The overall construction of the platform is on schedule for sail away during the second quarter of 2006 in line with our target to achieve First Gas for the winter of 2006.

South Caucasus Pipeline (SCP)
The overall SCP project is 54 percent complete, with pipe stringing along the right of way 14 percent complete in Azerbaijan and 30 percent in Georgia. The mainline welding, which began in Azerbaijan in September is 10 percent complete, and in Georgia it is 21 percent complete. In Azerbaijan, the pipeline currently employs about 1085 people of whom 820 are Azerbaijan nationals. The SCP pipeline is scheduled to be completed in the fourth quarter of 2005.

New Office Building
BP, on behalf of its partners, recently signed an agreement with the local company Azinvest Property (related party to Azpetrol) for the development and the eventual lease of a new office building to be constructed by Azinvest.

The office building will be constructed in Jalil Mammadguluzade Street on a plot of land, which covers about 26,000 sq metres. Azinvest will build the shell and core of the office premises and then lease the building to BP for its joint venture operations for a period of 15 years.

The current design is four 4-5-storeyed interconnected blocks with about 500 parking spaces and other related facilities. The shell and core construction will commence in the first quarter of 2005 and should be completed by the third quarter of 2006.

The BP staff hopes to begin moving into the new office in 2007 which will accommodate more than 1000 BP staff for the currently sanctioned projects operated by BP: the Azeri-Chirag-Gunashli (ACG), Early Oil Project (Phase 1, Phase 2, Phase 3), Shah Deniz Stage 1, South Caucasus Pipeline (SCP) and Baku Tbilisi Ceyhan (BTC).


Back to Index AI 12.4 (Winter 2004)
AI Home | Search | Magazine Choice | Topics | AI Store | Contact us

Other Web sites created by Azerbaijan International
AZgallery.org | AZERI.org | HAJIBEYOV.com