Summer 2004 (12.2)
Pages 16-17

Tribute: Filmmaker
Rasim Ismayilov
(July 13, 1936 - May 3, 2004)




Photo: Rasim Ismayilov

He dreamt of heavens and loved airplanes but, instead, settled upon a career in cinematography that kept his feet closer to the ground. In the beginning, he chose to work behind the lens as a cameraman. Later, he took up the challenge of conveying his own vision of life by directing films himself.

There's no doubt in my mind that he could have become an excellent artist, brilliant novelist, fashion designer, chef - whatever - anything related to artistic creativity. He was so talented in so many ways, including his expression of love towards his one and only life-partner, his wife of 43 years - Nadejda Ismayilova.

He was also talented in his passion to his Motherland, which he never left despite attractive offers, especially during the most trying periods of Azerbaijan's rebirth as an independent state in the 1990s. He was talented in maintaining friendships and in sharing what he had. His students idolized him. Today he is admired almost as a cult figure by those who grew up on his films.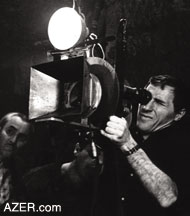 Left: Rasim Ismayilov at work.

Excuse me, dear friend, you've passed away so recently and yet I am already writing about you in the past tense. It seems that's the harsh reality of life. The reality is that your passing has pained us so deeply - the many of us who loved you, surrounded you, and knew you, and now whom you have left behind.

You left us so suddenly; no one expected it. You had always been a very quiet and rather shy person. Solid. Reliable. Sedate. Only those closest to you knew of your internal expression, dynamism, sometimes unexpressed energy that often exploded from inside.

You left in a dignified and honorable way. No one saw you weaken and helpless. The official cause of your death was noted as brain haemorrhage.

Thousands came to bid farewell to you-those whom you had enlightened throughout the years with your endless talent, those who had worked shoulder to shoulder with you for the sake of Great Art, and, especially, those of us who were your grateful viewers. Throughout your career, critics observed how masterfully you captured the natural beauty of our Azerbaijan, how scrupulously you recreated its historical past, and how lovingly you portrayed the actors on screen, both those who played heroic roles as well as those with minor parts.


| | |
| --- | --- |
| | |

Above: Left: Sevil (1970) starring Hamlet Gurbanov as Abdulali bey and Safura Ibrahimova as Dilbar; right: Nasimi starring Rasim Balayev (1974).

Nothing escaped your attentive eye. Your work is the greatest proof. We all remember your camera work especially in films such as: "Life is a Good Thing", "My Seven Sons", "A Day Has Gone By", "Sevil", "Dada Gorgud", "Nasimi", "Babak" and "The Last Passage"

You worked on those movies alongside the brightest luminaries of Azerbaijani cinematography with film directors such as Husein Seyidzade, Tofig Taghizade, Hasan Seyidbeyli, Arif Babayev, Vladimir Gorriker, Eldar Guliyev and Kamil Rustambeyov.

As a token of gratitude for the outstanding achievements in the art of cinema, many of those films received the government's highest awards and recognition such as "Honored Art Worker in Azerbaijan", "Winner of the State Prize of Azerbaijan", "and Winner of the State Prize of Lenin's Komsomol". Yes, there even was an award like that during those days. You were also among the winners of the Soviet Union's Film Festivals.

But then you wanted to convey your vision and thoughts as film director and you accomplished that with equal mastery in works such as: "The Structure of the Moment", "A Business Trip", "I Loved You More Than Life Itself", "A Private Trip to a Berlin Hospital", "The Trap" and, of course, with the children best sellers, such as "The Lion Left Its Home", and "Asif, Vasif and Aghasif". Then there's "The Millionaire"-the project that you dedicated so many years painstakingly preparing. It still lies unfinished.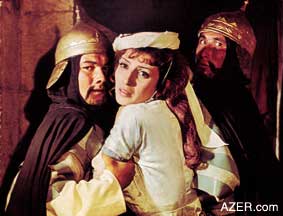 Left: Nasimi. Starring Almaz Asgarova as Shams.

The new day of Perestroika brought painful experiences to many artistic and creative people; but you were not unprepared. You continued to make films but concentrated more on documentaries, focusing on the problems of people - their hopes and the uneasy task of re-evaluating and embracing new values in life.

You were a professor in Azerbaijan State Academy of Arts where you were able to transform the knowledge and experience that you had gathered from the great director of photography and teacher Boris Volchek under whom you had studied at the Soviet State Institute of Cinematography in Moscow from 1959 to 1964.

How many wonderful gifts you have given our youth, who still have not made up their minds about what priorities they should embrace in life.

These beautiful creations were born out of your love, first for your only daughter Jamila, and then later for your grandchildren-Jamil and Sanan.

Below: Nasimi (1974).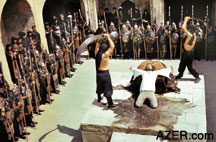 With these fairy tales and paintings, you were constantly nurturing children as to the meaning of light and sun and kindness.

You have not abandoned us: that would be impossible because that which you have left us - your art - is eternal, immortal. You dreamed of skies: our greatest wish is that you will find happiness there.

Your friend - composer and playwright Ruhangiz Gasimova
May 10, 2004

This tribute was translated by Ruhangiz' daughter, Janana Suleymanli, who lives in Hong Kong.


Back to Index AI 12.2 (Summer 2004)
AI Home | Search | Magazine Choice | Topics | AI Store | Contact us

Other Web sites created by Azerbaijan International
AZgallery.org | AZERI.org | HAJIBEYOV.com