Summer 2004 (12.2)

The Ali and Nino Walking Tour
by Betty Blair and Fuad Akhundov

Taghiyev's Residence
Taghiyev 4
(Pre-Soviet: Gorchakovskaya Street)

Back to Ali & Nino Walking Tour Index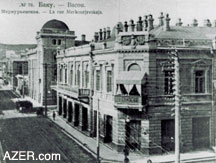 Taghiyev's residence occupies an entire city block and is located in one of the prime locations of Baku close to the sea. Oil Baron Taghiyev was in his 70s when he undertook the project of building this opulent mansion, perhaps "palace" would be a more appropriate term. He hired the Polish architect Joseph Goslavski to design his home in the Italian Renaissance style. Construction took place between 1893 and 1902.

The interior of this building is a must see - especially the second floor Oriental Hall which is lavish but tastefully decorated gallery with gilded arches and ceilings and enormous plate glass windows. The building was so well constructed that the incredibly beautiful hues of paint have never had to be restored for the 100 years of the existence of the building.

When the Bolsheviks came, Taghiyev thought they wouldn't touch him. He was wrong. Like all of the other wealthy entrepreneurs of the city, he had to flee his home and his property confiscated. Fortunately, the building was so plush and ornate that the Soviets did not subdivide it into numerous apartments, as was their usual practice. Instead, they eventually designated this mansion to house the National History Museum, a function that it still fulfills today. The new archaeological exhibits on the first floor have just been renovated, making it one of the most attractive museums in town.

In "Ali & Nino", the Oriental Hall on the second floor provides the setting for the graduation party of Taghiyev's son. Ilyas was the real name of Taghiyev's youngest son by his second wife Sona, exactly as he is depicted here in this novel.

Below: The Oriental Hall of Oil Baron Taghiyev's Residence which is now Azerbaijan's National History Museum. Highly recommended to visit. Most beautiful hall in Baku.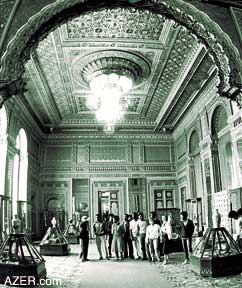 From Ali & Nino, pages 31 ff.
Seinal Aga [Zeynal Agha Taghiyev, who today is the most famous and beloved of Azerbaijan Oil Baron's and philanthropists] was a simple peasant from the village of Binijady [Binagadi] near Baku. He owned a plot of dusty dry desert land, which he farmed until a little, everyday earthquake tore a cleft in his poor farm, and from this cleft, rivers of oil gushed forth.

From then on, Zeynal Agha had no need to be crafty or clever: he simply could not run away from his money. He spent it, generously and lavishly, but more and more money accumulated, and was a burden to him until it crushed him. He felt that sooner or later punishment was bound to follow all this good luck, and he lived his life waiting for this punishment, like a convict waiting for his execution. He built mosques, hospitals, jails. He made a pilgrimage to Mecca and founded children's asylums...

His 18-year-old wife, whom he had married at the age of 70, dishonored him. He avenged his honor as he should have, cruelly and severely, and became a tired man. His family fell apart, one son left him [first marriage], and another brought unspeakable dishonor on him by committing the sin of suicide [Mammad]. Now he lived in the 40 rooms of his palace in Baku, gray sad and stooped. Ilyas Bey ["Bey" is a title given to a male who owns property or is considered wealthy. The term was not used during the Soviet period, but now has regained popularity], the only son left to him was one of our classmates, and so the ball was at Zeynal Agha's house in the Big Hall [Oriental Room] with the ceiling made of rock crystal.

At eight o'clock, I came up the wide marble staircase. Ilyas Bey stood there, greeting the guests. He like myself was wearing the Tsherkess [Circassian] costume with an elegant slender dagger in his belt. From now on, we, too, were entitled to this privilege.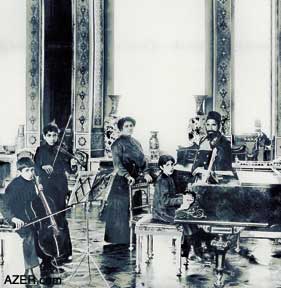 Left: Zeynalabdin's family with his second wife Sona in their Baku residence. This hall was the setting for the High School Graduation Party in the novel "Ali & Nino". Ilyas who is a character in the novel is playing the cello in the lower left hand corner. Leyla is at piano. Mammad at violin. Early 1900s.

"Salam Alekum, Ilyas Bey!" I cried, and touched my cap with my right hand. We shook hands the old native way: my right hand pressed his right, his left my left. "Tonight we'll close the Leprosarium," Ilyas Bey whispered to me. I nodded gaily.

At last! Her voice from the staircase. "Good evening, Ilyas Bey. I am a little late, but it is not my fault." I dashed out. Nino was not wearing an evening dress nor the uniform of the Lyceum of the Holy Tamar. From her shoulders hung a short velvet waistcoat with golden buttons. Her waist was firmly laced and so slim that I thought I could span it with one hand. A long black velvet skirt reached down to her feet, showing the gilt points of her kid slippers. Perched atop her head was a small round cap and from it two rows of heavy gold coins hung over her forehead. It was the ancient ceremonial robe of a Georgian princess and hers was the face of a Byzantine Madonna. The Madonna laughed. "No Ali Khan, you must not be angry. It takes hours to lace this skirt. I have squeezed myself into it only in your honor."

"The first dance with me!" cried Ilyas Bey.

Nino looked at me. I nodded. I dance badly and do not even like it. And I can trust Ilyas Bey with Nino. He knows how to behave.

"Shamil's Prayer!" [A Lezginka dance named after Sheikh Shamil, 1797-1871, an Avarian Revolutionary leader from Dagestan who fought against the Czar] called Ilyas Bey to the musicians. Immediately a wild melody arose. Ilyas Bey jumped into the middle of the hall. He drew his dagger. His feet moved in the fiery rhythm of the Caucasian Mountain Dance. The blade glittered in his hand. Nino danced up to him. Her feet looked like small strange toys. Shamil's Mystery began. We clapped to the rhythm of the music. Nino was the bride to be abductedIlyas put the dagger between his teeth. Like a bird of prey, his arms outstretched, he circled around the girl.

Nino's feet flew, whirling round the hall, her supple arms depicting all stages of fear, despair and submission. In her left hand, she held a handkerchief. Her whole body trembled. Only the coins on her cap lay quietly on her forehead, and that was the correct way - this is the most difficult part of the dance.

No one but a Georgian girl can do such fantastically quick turns and not let even one coin on her cap tinkle. Ilyas raced after her. Without stopping, he chased her round and round. The wide gestures of his arms became more and more dominating. Nino's defensive movements more and more tender. At last she stopped, like a deer overtaken by the hunter.

Closer and closer, Ilyas Bey circled. Nino's eyes were soft and humble. Her hands trembled. A wild short howl from the music and she opened her left hand. The handkerchief fluttered to the floor. And suddenly Ilyas Bey's dagger flew on to the little piece of silk and nailed it to the floor. The symbolic dance was finished.

By the way, did I mention that before the dance, I had given Ilyas Bey my dagger and taken his? It was my blade that pierced Nino's handkerchief. It is best to be on the safe side, for a wise rule teaches: "Before you trust your camel to Allah's protection, tie it securely to your fence."


Back to Ali and Nino Walking Tour Index
Back to Index AI 12.2 (Summer 2004)
AI Home | Search | Magazine Choice | Topics | AI Store | Contact us

Other Web sites created by Azerbaijan International
AZgallery.org | AZERI.org | HAJIBEYOV.com