Summer 2004 (12.2)

The Ali and Nino Walking Tour
by Betty Blair and Fuad Akhundov


Nino's Residence?
Mammad Aliyev 19
(Pre-Soviet: Politseyskaya Street)

Back to Ali & Nino Walking Tour Index

(Residence not known exactly. This is the largest house on this street)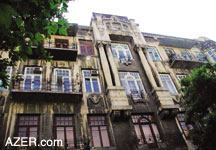 The original owner of this opulent mansion was Zeynal bey Salimkhanov. It was built in 1913­1914 and designed by the architect A.A. Nikitin.

From the novel, it is impossible to say with any certainty that this is the exactly Nino's. No doubt since her family was of aristocracy, their house would have been quite opulent. Perhaps, it was not exactly this house but it is likely to have been located very close in this vicinity. The first time Ali approached Nino's parents about marrying her, they rejected his offer. Eventually, they realized that the young couple should be allowed to pursue their own interests and dreams. Here is what occurred when Ali met them in their home the second time.
From "Ali & Nino", page 111

"The Prince's voice was soft and mild: "I have looked into my child's heart. Her feeling for you is genuine and holy. It would be a sin to stand in her way. Come, Ali Khan." I went. The Princess cried and kissed me. The prince talked solemnly about marriage but quite differently from the way my father had talked, who never thought that marriage consisted of mutual trust and respect. Man and wife should help each other by word and deed. And they must never forget that they have equal rights and that their souls are their own.
"I gave my solemn word not to make Nino wear the veil, and not to keep a harem. Nino came in, and I kissed her brow. She tucked her head between her shoulders, and looked like a little bride in need of protection. "But this in not to be made public," said the Prince. "First Nino must finished school. Work hard, my child. If you don't pass, you will have to wait another year." Nino raised her brows, which looked as if drawn by a stroke of the pen: "Don't worry, father. I will pass at school and in marriage. Ali Khan will help me in both."


Back to Ali and Nino Walking Tour Index
Back to Index AI 12.2 (Summer 2004)
AI Home | Search | Magazine Choice | Topics | AI Store | Contact us

Other Web sites created by Azerbaijan International
AZgallery.org | AZERI.org | HAJIBEYOV.com