Summer 2004 (12.2)
Page 14

Readers' Forum
Leyli & Majnun - Now in Portuguese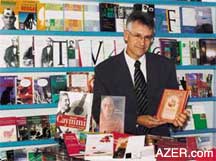 Note: Recently, we received a note from Marissom Ricardo Roso the Portuguese translator of Nizami's 12th century dramatic poem, "Leyli & Majnun". This story's plot is similar to "Romeo and Juliet", but Nizami precedes Shakespeare by about 400 years. Marissom writes how he came to translate this work that is so highly esteemed and loved by Azerbaijanis.

Left: Marissom Ricardo Roso, translator of Nizami's Leyli & Majnun into Portuguese. In a bookstore in his home town in São Borja, Brazil.

I'm not really a translator by profession, but I am passionate about literature, and I feel so honored to have translated a masterpiece of a culture that I admire so much. I first learned about this work through Eric Clapton's music, especially his song "Layla", which he wrote based on Nizami's poem [Search Clapton at AZER.com]. I'm a great fan of Clapton as are many Brazilians.

I was able to locate the English version of the book in July 2000, a few months after my mother passed away. It was a very sensitive time for me. The conversations that took place between Majnun and his family reminded me of experiences I had had with my own family. I became so intrigued with the story that I decided to translate it into my mother tongue-Portuguese. And so that's exactly what I did.




When I finished, I presented my work to several publishers but they weren't interested. I was just about to give up when I found Editor Jorge Zahar. By November 2002, the Portuguese version of Nizami's "Leyli and Majnun" was in many of the major bookstores in Brazil.

Honestly, I feel so proud to be associated with this beautiful, beautiful work - this legend of "Leyli and Majnun".
Marissom Ricardo Roso

São Borja, Brazil, near the border of Argentina
marissom@gpsnet.com.br

Editor's note: The Portuguese version of Nizami's "Leyli & Majnun" can be purchased from ZAHAR.com.br.

The introduction and part of the first chapter of "Leyli and Majnun" in Portuguese can be found at Azerbaijan International's Web site for Literature at AZERI.org. SEARCH Portuguese. AZERI.org has the largest collection of Azerbaijan literature available anywhere on the Web - both in Azeri Latin and English translation - just another creation by Azerbaijan International magazine.




Back to Index AI 12.2 (Summer 2004)
AI Home | Search | Magazine Choice | Topics | AI Store | Contact us

Other Web sites created by Azerbaijan International
AZgallery.org | AZERI.org | HAJIBEYOV.com