Summer 2004 (12.2)
Page 92

LUKoil
Latest Developments

LUKoil's president Vahid Alakbarov along with their Board of Directors have decided to concentrate their activities in Azerbaijan in the projects which they operate. In addition, LUKoil is becoming more and more active in both Georgia and Turkey. All these activites are coordinated by Fikrat Aliyev, manager for LUKoil's activites in the region-Azerbaijan, Georgia and Turkey.

LUKoil has already invested more than $600 million into the economy of Azerbaijan. These days they are concentrating on developing the Yalama structure (D-222), which is located on the border between the Russian and Azeri sectors of the Caspian sea. LUKoil and the State Oil Company of Azerbaijan Republic (SOCAR) are cooperating together on this project. The new package of agreements for this contract for Block D-222 was signed in Baku on April 4, 2004, between the SOCAR's President Natig Aliyev and Vagit Alekperov. The dimensions of the project's contract area have been expanded from 1,287 sq km to 3,307 sq km. LUKoil's share has been increased from 60 percent to 80 percent, with SOCAR relinquishing 20 percent of their share based on conditions agreed upon by both parties.

Below: LUKoil's Office in downtown Baku.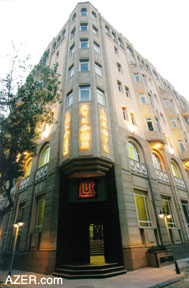 The Azerbaijani Block D-222 and the Russian Block Yalama-Samur have now been combined into a single geological oil and gas perspective. The possibility of discovering crude hydrocarbon reserves in Block D-222 is considered to be very high, according to geophysical analysis.

The first exploration well will be drilled at a project depth of 4,500 m at a distance of 30 km from shore. The depth of the sea at the drilling point is 339 m. Exploration drilling will be carried out by state-of-the-art equipment using the most advanced semi-submersible drilling rig that operates in the Caspian Sea-"Heydar Aliyev" (former known as "Lider").

LUKoil Overseas, the operator of the project already has invested $100 million in the project. An additional estimated $50 million will be invested for drilling the first exploration well. Plans are to drill two main exploration wells and, if deemed necessary, two additional ones.

The project is estimated to cost $2 billion. This includes geological exploration, exploration-estimation, construction assembly, exploitation of the fields, implementation of environmental protection measures, development of the infrastructure onshore area, and construction of pipeline arteries to transport extracted crude hydrocarbon products from the block.
Petrol Stations
LUKoil's first petrol stations in the Southern Caucasus were built in Baku in 1995. At present, LUKoil operates 20 modern stations where consumers are offered oil products produced in the oil refinery in Azerbaijan.
While implementing the goal of expanding the company's petrol stations network along the historical Great Silk Road, more and more, LUKoil is becoming active in Georgia by utilizing the experience its has gained in Azerbaijan. Currently, LUKoil has six petrol stations in Georgia but there are plans to expand to 20 locations at an estimated investment cost of $20 million.

The light oil products that LUKoil sells in Georgia are produced at LUKoil's refinery in the city of Burgas in Bulgaria.

LUKoil is exploring the potential for expanding their activities into Turkey, given the potential market there and the favorable geographical location of the country. Tanker deliveries of oil products that are produced in LUKoil's refineries located in the Black Sea countries, especially Burgas, are considered to be extremely viable from a commercial point of view.


Back to Index AI 12.2 (Summer 2004)
AI Home | Search | Magazine Choice | Topics | AI Store | Contact us

Other Web sites created by Azerbaijan International
AZgallery.org | AZERI.org | HAJIBEYOV.com