Summer 2004 (12.2)
Pages 86-90

BP Current Developments
BP In Azerbaijan, Summer 2004

BTC Overview ­ Completed May 2004

Task completed
Total project
Azerbaijan
Total length of route
1760 km
443 km
Total Right of Way cleared
1163 km
342 km
Total pipe placed for welding
993 km
337 km
Total pipe welded
911 km
320 km
Total land trenched
485 km
165 km
Total pipe lowered in ground
427 km
151 km
Land backfilled
387 km
138 km

Azeri-Chirag-Gunashli
Construction work progress is on track for First Oil from Central Azeri for early 2005. Construction is about 90 percent complete. The Azeri-Chirag-Gunashli (ACG) Project currently employs more than 9,500 Azerbaijan nationals. This rate of employment far exceeds the initial job target for local employment.

The jacket for the Central Azeri production, drilling and quarters platform (CA-PDQ) which sailed away early March, from the Heydar Aliyev Baku Deepwater Jackets Factory (BDJF) yard, has already been installed at its permanent location in the Azeri field. The jacket has been piled over the template at the platform location, through which 12 wells have already been drilled.

Below: Central Azeri Topsides.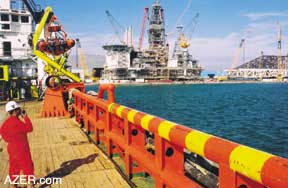 At the BDJF yard, all heavy lifts on the CA-PDQ topsides have been completed safely with the topsides commissioning works now underway. Overall, the topsides are 93 percent complete. Installation of the topsides is planned for the Third Quarter 2004.

After a successful 10 months of pipelaying campaign for Central Azeri, the Pipelay Barge Israfil Huseinov was converted to a Diving Support Vessel. The ACG Project diving campaign commenced at 195 meters water depth in late April. This three-month diving program will connect both the 30" oil and 28" gas export lines to the Central Azeri Platform and carry out some additional work in anticipation of future field development tie-ins. This will be the first major diving campaign for BP activities in the Caspian.

Significant progress has been achieved in other parts of the Azeri Project. Currently, 65 percent progress has been achieved for First Gas through the Compression and Water Injection Platform (C&WP). The West Azeri (WA) facilities construction progress is 48 percent completed. The East Azeri (EA) facilities progress is 18 percent realized. The fabrication and installation have relied entirely on local infrastructure, enabling us to considerably increase involvement of local workforce.

Below: The opening of the Caspian Technical Training Centre at Sangachal Terminal Expansion Area on May 18, 2004. Associate President of BP Azerbaijan David Woodward (from left) congratulates Natig Aliyev, President of State Oil Company of Azerbaijan Republic (SOCAR).

Sangachal
The Sangachal Terminal will be one of the largest terminals in the world. Construction activities are progressing on schedule and within budget. Overall ACG construction works at the terminal are 94 percent complete. ACG commissioning activities have already begun. All BTC buildings are weather tight, pumps are installed and the pump house is under connection. The civil works for the Shah Deniz section are ahead of plan, and site office construction has already been completed. Currently, the program has more than 4,500 employees, of whom more than 77 percent are local Azerbaijan citizens. The majority of workers are local residents living in villages and towns adjacent the Garadagh district.

ATA (AMEC/Tekfen/Azfen) Yard
Extensive yard upgrade works are complete. The Central Azeri Compression and Water Injection Platform (C&WP) deck construction is currently ahead of schedule.

The Central Azeri C&WP employs about 1,900 people, of whom 83 percent are local citizens, including local subcontractors. All local employees have been through skills development and refresher training courses. Some 60 local companies have been involved in this project supplying materials and carrying out subcontract work.

Above: (Left) Opening ceremony on May 10, 2004, of the new school built by BP in the Tazakand village in Nakchivan.

Right: The Jacket for Central Azeri Platform sails away on March 10, 2004.

Bibi-Heybat Community Investment
The ACG project recently awarded International Rescue Committee (IRC) with a $250,000 Community Investment Program (CIP) grant for the Bibi-Heybat area near Baku. An additional $150,000 has been committed for the Bibi-Heybat area for use by the end of 2005. The CIP will be fully staffed by Azerbaijani nationals through IRC's close cooperation with the local NGO "Towards Civil Society", local communities, the Bibi-Heybat municipality and other local institutions.

Baku-Tbilisi-Ceyhan (BTC) Pipeline
BTC construction activities are continuing on schedule. Work is progressing in more than 17 construction sites along the entire BTC route between Baku and Ceyhan (pronounced Jeyhan). The project has been spending more than $4 million a day since construction began. This rate will continue throughout this year until completion of the pipeline in the first half of next year.

Today, the project employs more than 14,000 people in these three countries. More than 3,500 employees are working in Azerbaijan, of which 76 percent are Azerbaijan nationals.

By early May, more than 1163km of the construction corridor had been prepared across the three countries, with more than 993km of pipe placed ready for welding, approximately 911 km of pipe (51.5 percent) welded, approximately 485 km of land trenched, and more than 427 km of pipe lowered into the ground. In total, approximately 387 km of land has already been backfilled in the three countries. Overall BTC construction works are over 60 percent complete.

Work also continues to progress at the Pump Station PS-A2 site near Yaldili in the Yevlakh district, and at Intermediate Pigging Station IP-A1 near Kurdamir.

In Georgia the pipe-laying and pump stations are progressing in accordance with the construction schedule. A second pipeline spread has been mobilized to ensure an on time delivery. Despite continued efforts to maintain the highest standards of safety performance, a subcontractor worker was electrocuted in Georgia on an access road to the BTC Pump Station No. 2 Construction Site in February. A detailed investigation has been completed and the company continues to work very closely with all contractors and subcontractors to regain the high levels of safety performance that historically have been achieved to protect employees and the environment.

In Turkey, BOTAS the Turkish-owned construction company is taking actions to ensure on-time delivery of the pipe-laying and pump stations construction activities. Pipeline welding is approximately 40 percent complete and pump stations are more than 20 percent complete. Every two months a joint commission led by Azerbaijan's Deputy Prime Minister Abid Sharifov and the Turkish Energy Minister Hilmi Guler review progress of the Turkish section and agree on recommended actions. As part of this review, BOTAS has committed to mobilizing an additional pipeline spread on Lot A near the Georgian border and to working on an integrated plan for pump stations to ensure an on-time delivery of the project.

Financing
Following the BTC financing agreements, which were signed in Baku on February 3rd, the drawdown of the first tranche of the loans ($1.6 bn) was completed at the end of March. The total debt committed to the project is $2.6 billion. Approximately 30 percent of BTC costs are being funded by equity contributions. The BTC partners have already contributed $1 billion.

The participation of the multilateral, export credit and insurance agencies enhances transparency in the project and gives these organizations the opportunity to influence project implementation and ensure the development potential from the projects.

Human Rights Training
In February 2004, the Baku-Tbilisi-Ceyhan (BTC) and South Caucasus Pipeline (SCP) projects operated by BP entered into a partnership with Equity International (EI) to support the delivery of training about human rights to state security organizations which are responsible for pipeline security. In Azerbaijan the training program was launched in a ceremony held on April 12. The training is expected to ensure that participants learn how to effectively integrate human rights principles into policing practice, to fully understand the nature of their legal authority, and to understand the value of high-quality interpersonal skills in serving the community. Once the program ends in Azerbaijan, EI will select a number of newly skilled Azerbaijani trainers to assist with the delivery of the programs in Georgia and Turkey.

Shah Deniz
The Shah Deniz Gas and Condensate Development Project has made significant progress since Stage 1 sanctioning in February last year. The project is progressing according to schedule to meet the target of delivering First Gas to the market before winter 2006.

In Azerbaijan, the upgrade of the Zigh 3 Facility for the fabrication of the TPG 500 leg sections is nearing completion. The upgrade work initially began in October 2003 and enabled leg fabrication to start in January 2004. Leg section fabrication is progressing on schedule with leg jig assemblies and the first two leg sections already completed and fabrication of the third leg section underway. The Zigh 4 yard, adjacent to Zigh 3, also requires upgrading and will become the area where the main integration of the TPG platform will take place. Full completion of the Zigh 4 yard upgrade is scheduled for 4th Quarter 2004.

Mobilization of the BP and Technip teams to Zigh 3 is complete along with mobilization of the initial Technip and subcontractor workforce. Currently, more than 500 people are working on the Zigh yard, split between the yard upgrades and leg fabrication. The main TPG 500 hull is being fabricated in four self-floating strips at Keppel FELS shipyard in Singapore. These self-floating hull strips will be transferred to the Caspian Sea via the Volga Don canal system and will arrive in Baku in October 2004. The work on fabricating the strips is progressing well and the first strip keel laying was completed in the Singapore drydock in December 2003. Overall, TPG 500 fabrication in Singapore is 60 percent complete.

On arrival in Baku the hull strips will be joined together in the KMNF floating dry dock of the "Yusif Ibrahimov". Refurbishment of the Floating Dry Dock (FDD) commenced in February 2004 by the Caspian Shipyard Company and a number of local subcontractors. Work is due to be completed in July this year in time to receive the hull strips. Currently, more than 200 people are involved in Baku with the FDD upgrade.

Once the hull strips are joined, the completed hull leg sections and platform topsides will be assembled into a single structure at the Zigh facility. The drilling equipment set, which is presently being fabricated in Norway will be transferred through the canal system to Baku in Third Quarter 2004 and installed onto the platform hull prior to the installation of the completed platform in its final offshore location in the Second Quarter 2006.

Offshore Activities
The drilling of the third pre-drilling development well has continued successfully the drilling template. The design depth of the well is 6,285 meters. It will be completed at the end of the Third Quarter 2004.

Results of the two pre-drill wells on Shah Deniz have considerably added to our experience of drilling in the Shah Deniz reservoir and the South Caspian in general. The third well will be yet another opportunity to build upon previous knowledge of this challenging drilling environment, and will enable BP to better plan for future drilling operations from the platform after TPG 500 is commissioned in the middle of 2006. BP is also planning to continue appraisal work on the lower section of the reservoir during this last part of the Stage 1 Pre-drilling Program.

South Caucasus Pipeline (SCP)
BP has continued to deliver the joints of pipe for the construction of SCP to Azerbaijan. The pipe is 42" in diameter and supplied by Sumitomo Corporation which is providing all SCP pipe for Georgia as well. Approximately 38,000 joints of pipe will be needed for the Azerbaijan section of SCP, which is 442 km long. Transportation of pipe shipments will continue until the end of the year.

New School in Nakhchivan
In May, BP opened a new school building in Pusyan Tazakand Village in the Sharur District of the Nakhchivan Autonomous Republic. This educational institution - a gift to the children of the village has been built in honor of the late President Heydar Aliyev in Nakhchivan, his birthplace. This village did not have a secondary school before. The school can enrol up to 110 students. It is the first educational institution of this size to be opened in the village. Students from other nearby villages where there are no secondary schools will also attend.The school is equipped with up-to-date facilities including foreign languages teaching rooms and computer training classes. This has enabled the Ministry of Education to fill the school curriculum with some of the missing disciplines, which they had been unable to introduce before. Additional jobs were created for about 10 teachers and tutors. The school building also houses a fully equipped new medical aid facility. The village had no healthcare facilities before.

World-Class Technical Training
On May 18th, BP and its partners in the Azeri-Chirag-Gunashli (ACG), Shah Deniz, Baku-Tbilisi-Ceyhan (BTC) and South Caucasus Pipeline (SCP) projects opened a $12 million world-class technical training center in the Sangachal Terminal Expansion Project (STEP) area.

The opening of the Caspian Technical Training Center (CTTC) took place at the Sangachal Terminal and was attended by President Ilham Aliyev, heads of foreign diplomatic missions and other senior executives of SOCAR, President of BP David Woodward and senior executives from all other partner companies.

The CTTC has been designed to satisfy the technician training requirements of all the Production Sharing Agreements operated by BP in the Caspian region including the Azeri-Chirag-Gunashli, Shah Deniz and the BTC oil export and the SCP gas export pipeline.

Both BP operations technicians as well as BP's drilling contractor KCA Deutag's drilling technicians working on BP's platforms will utilize the training facilities. The center has the capacity to train 400 operations and drilling technicians a year in its main facilities. These include an experiential learning simulator, a unique Operations Training Plant and a large and fully equipped workshop with specific equipment extensively used within the oil and gas industry. The workshop facility is complimented by approximately 24 classrooms and offices and both physical and virtual equipment for production and drilling training.

The facility will be operated and managed by TTE­Petrofac Ltd, a specialist leading Global technical training provider that delivers safe and cost effective high quality competency based training solutions in the Caspian region.


Back to Index AI 12.2 (Summer 2004)
AI Home | Search | Magazine Choice | Topics | AI Store | Contact us

Other Web sites created by Azerbaijan International
AZgallery.org | AZERI.org | HAJIBEYOV.com