Spring 2004 (12.1)
Pages 40-41

Abdulla Shaig
Rays from the Same Sun



Abdulla Mustafa oghlu Talibzade was born in Tiflis (Tbilisi, Georgia) on February 24, 1881 and died in Baku on July 24, 1959. Writer and educator, he studied in Tiflis and Khorasan. In 1901 he moved to Baku and worked as a teacher until 1934.

He chose the pen name "Shaig" the root of which comes from Arabic meaning "light". As one who had begun his career as a teacher, it was only natural that he was one of the first writers to create literary works for children. His most famous stories include: Fox Goes on Pilgrimage (Tulku Hajja Gedir), Good Support (Yakhshi Arkha), and Bushy Tail (Shalaguyrug).

He was the creator of children's drama in Azerbaijan and today the Children's Marionette Theater bears his name. His dramatic works include: Beautiful Spring (Gozal Bahar, 1910); The Nation's Son (El Oghlu, 1939); Motherland (Vatan, 1941); Nushaba (1945); and "Mother" (Ana, 1946).

He also wrote textbooks for children including Children's Eyeglasses (Ushag cheshmayi, 1907); Gulzar (1912); National Reading Book (Milli Giraat Kitabi, 1922), Reading Book (Giraat Kitabi, 1924)].

Though he is often associated with his works for children, some of his most profound ideas were really directed to adults, especially poetry. He also gave lectures in universities and was active in literary criticism and in publishing scientific articles about such Azerbaijani writers as Fuzuli, Nasimi, Vagif, M.F. Akhundov, M. A. Sabir, A. Sahhat, H. Javid, and M. Hadi.

In addition to Azeri, Shaig was fluent in Russian and Persian and did translations of Nizami, Shakespeare, Defoe, Krilov, Pushkin, Lermontov and Gorky.

After Azerbaijan gained its independence in 1991, Shaig's son and renowned literary critic Kamal Talibzade, began to publish some of his father's works that were so critical of Stalin and that repressive regime [see article, this issue]. Many such works were published in the book, "Arazdan Turana," Baku: Nurlan, 2003. 264 pages, in Azeri Latin.
The poems here were originally published in Azeri (Latin) in "Arazdan Turana". They were translated into English by Aytan Aliyeva, Ulviyya Mammadova and Aynura Huseinova; and edited by Betty Blair.
Salutation To Our Century



(1915)
I don't know whether we should welcome,
Or show disdain and hatred to this bloody century.
The horrors and rages of this terrible century
Made the great nations live in fear.
Pull up the thick, heavy curtains, let it be clear
What days - bright or, again, dark - are lying ahead.
Won't love ever secretly be born in the world
Among those blazing fires?
Is there any hope that happiness will triumph again?
Or will the whirlwind of the world's suffering continue?
Will these waves and gales allow
Our ship to arrive at the port safely?
Look, there are dark clouds in the sky,
The seas in the East swell up, rise and rage,
I don't know whether these dangerous storms
Will bring us to happiness or oblivion.

Below: Art by Kamilla Hajiyeva Tsiperovich, age 8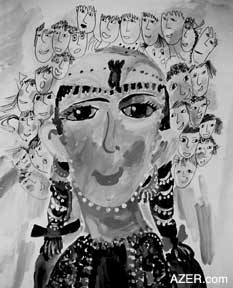 We're all Rays from the Same Sun



(1910)
Hey you, damnable mankind, tyrannizing down through the ages,
Vomiting blood, and only blood!
Did revenge conquer your heart?
Did the hot wind seer your soul?
Are you enraptured with the bloody life you lead?
Humanity has been forgotten, pity!
Take a look back into history!
Burn the mischief, tyranny and discord!
We are all bred from the same nest!
We are all rays from the same Sun.
Languages cannot separate us,
Distance cannot separate us,
Nor can the Bible or Koran.
Borders set by kings cannot separate us,
Nor can oceans or continents,
Vast deserts cannot separate us,
Mighty mountains cannot separate us,
East, South, West, and North cannot separate us,
Enough of perpetrating malice and spite!
Enough of living with outmoded beliefs
Extend the hand of brotherhood to one another.
Band together tightly to destroy the roots of tyranny!
Let love and happiness dwell in our hearts!
Let's give faithful hands to one another!

To the Enemy of the People



(1937)
(This poem refers to Stalin, as it was written in the year most closely associated with his repressive policy - 1937 - which resulted in the deaths of hundreds of thousands of people in the Soviet Union, including many intellectuals. The poet secretly hid this work and others that were critical of the regime. They were only discovered after his death. It was not possible to publish these poems until about 60 years later - after Azerbaijan had gained its independence.)
Stop, stop, you ignorant architect, the building
And the rooms are all askew.
Because your hand, eye, ear, head
And foot are crooked.
You're such an unskillful architect
When it comes to construction
But you're so adroit when it comes to destroying
And tearing down.
There was a test for the presidium,
And this makes you impudent
A chance coincidence brought you to this position.
Otherwise, you had neither
Sufficient knowledge, consciousness, or skill.
Striving for the highest rank has made you so arrogant.
Seeking this, you took the wrong path,
You destroyed, broke, plundered to the right
And to the left.
The policy you implemented in order
To stay in the presidium
Caused thousands of disasters at every step.
Time will tell what you have done!
One can go deaf hearing so many voices
Mourning in our country.
Ignorant, stubborn people have neither heart,
Nor conscience.
Obviously, the empty drumbeat thunders more loudly.
I've studied all periods of history -
Far distant and modern -
Every bloody state, every tribe.
I couldn't find such a barbaric murderer anywhere,
You've totally annihilated
The nation's most knowledgeable sons
Stop! Enough, ignorant drunk! Tyranny has its limits!
One shouldn't jump over the ravine; it also has a bridge.
Such arrogance has not been observed in any king,
The nation's bloody tears bring such joy to you.
Ignorance and superficiality
Result in haughtiness and stubbornness.
The gray waves come only to the shores,
Hey you, eagle owl, you tried so hard to be a falcon,
You wanted to leave your name in history
With your empty brain.
Your every step, your every move proved this.
Have you ever known anyone to plant thorns in his field,
and reap grain?
This green field, this thrashing-floor,
Have been watered with tears,
With orphans' sighs, this mill was worked,
Not a single day of yours passes without a party,
Ride your stupid donkey up and down every slope,
The wine poured into glasses will mock you,
What does country or nation mean to a drunkard like you?!
Forward



(1914)
Forget about the past, my dear,
Don't touch it anymore!
Don't raise those heavy curtains of yesteryear!
The past has always been a well
With a thousand ladders,
A dragon, a snake, sleeping on each one.
Don't open that well, my child.
Never open it.
Don't play the saz* of the past,
Grieving souls any more.
Let them rot on the stalk in that dark cemetery,
Don't allow your young life to be poisoned, my dear!
Go forward, and don't look back;
There is no need!
Think always of the future;
Keep your eyes focused on it!
Don't forget that those bright eyes
Beneath your forehead.
Were given to see what lies in front of you -
To follow the way.
Always set your eyes forward and seek the bright way
And go, go, and don't stop.
Away from that stormy, dreary past!
Go, go with fiery, firm steps. Don't stop, go on!
Believe me, there's a world, like a paradise, ahead,
The sun will rise
And happiness will shine forth tomorrow.

That Was You


(1919)
For so long, I dreamed of a statue of a beauty - a nymph.
For so long, I created a lovely image in my dreams,
I would choose colors from the flowers
For her cheeks and lips.
To tell you the truth, that nymph that I was envisioning
Was so close and native to my heart.
I painted her image in the bottom of my heart,
I loved her, and melted like a candle from my love to her.
From time to time when
She would reappear in my dreams,
A vibrant truth would tremble in front of me.
She would wave her hand made of light and say:
"Go and look for this truth, and you will find it."
Like wandering Majnun,* I roamed from place to place,
I revealed my quest to the stones, mountains and lands.
I attended many art exhibitions throughout the world,
But couldn't find that vibrant truth anywhere.
Every time I saw a beautiful girl,
It would remind me of that image in my dreams,
I would count the days and months,
Along with the stars at night,
Months, years passed, but no nymph was found
To embody the image of my dreams.
"Probably God hasn't created her yet," I said.
But, still, she would shine forth like the Sun in my heart.
Passionate love, bright hope and powerful faith
Would tell me: "Don't lose hope, go look for her!"
And I would look with zealous determination,
Oh, my angel, at that lucky moment finally
The truth shone like the Sun that I had been looking for:
"Hey you, creation of my heart!
That truth was you,
Hey, statue of beauty!"
* Majnun refers to a legend of love, based on a story similar to Shakespeare's Romeo and Juliet, though preceding it by centuries. He pines away for Leyli, wandering in the desert and living a hermit-like existence. Neither his parents, nor hers, approve or permit their relationship.


Back to Index AI 12.1 (Spring 2004)
AI Home | Search | Magazine Choice | Topics | AI Store | Contact us

Other Web sites created by Azerbaijan International
AZgallery.org | AZERI.org | HAJIBEYOV.com