Winter 2003 (11.4)
Page 15

Readers' Forum
Exchange Students Meet in Kyiv

Fifteen students from Azerbaijan were invited to join 250 exchange students in Kyiv, Ukraine, on October 31 to November 2, 2003, to celebrate the 10th Anniversary of the Future Leaders Exchange (FLEX) program. The summit was sponsored by the U.S. Bureau of Education and Cultural Affairs of the U.S. State Department and American Councils for International Education.The Future Leaders Exchange was established in 1992 as the centerpiece of the Newly Independent States (NIS) Secondary School Initiative with Freedom Support Act funding from the U.S. State Department and USAID. Its goal was to provide an opportunity for high school students from the countries of the former Soviet Union to experience life in the United States, so that they would return to their own countries to promote democratic values and institutions. U.S. Senator Bill Bradley introduced the legislation which was enacted into law by President George H.W. Bush (the father) on October 24, 1992.

Below: Exchange students from Azerbaijan who were selected to participate in the FLEX Summit in Kyiv met U.S. Senator Bill Brady who initiated the 1992 legislature that enabled students from the former USSR to spend a year as exchange students in high schools in the United States.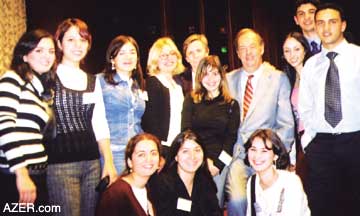 Since 1993 when the program started in Azerbaijan, more than 700 youth have been selected in a highly competitive process for the chance to study in the United States in this high school exchange program. Usually about 40 to 50 students are chosen annually out of 1,000 or more applicants. In the 15 countries that made up the former Soviet Union, there are now about 11,000 FLEX alumni.

One of the highlights of the Kyiv event was the chance for the students to meet U.S. Senator Bill Bradley since he had been so instrumental in the founding of this program.

Azerbaijan International editorial staff member Gulnar Aydamirova was selected among the 15 FLEX students chosen from Azerbaijan to attend the Kyiv summit. Vafa Mastanova, former Baku Manager of AI is also a FLEX alumnus.

For more information about the FLEX program in Baku, contact: Tel: (994-12) 92-34-50 or 92-01-96 or e-mail: info@americancouncils.az.


Back to Index AI 11.4 (Winter 2003)
AI Home | Search | Magazine Choice | Topics | AI Store | Contact us

Other Web sites created by Azerbaijan International
AZgallery.org | AZERI.org | HAJIBEYOV.com