Autumn 2003 (11.3)
Pages 26-27

The Vikings Are Coming!
Swedes Are Sailing to Baku - A Millennium Later
by Håkan Altrock




In 1995, Norwegian archaeologist and explorer Thor Heyerdahl published his hypothesis that an ancient advanced civilization living in the region known today as Azerbaijan migrated north to Scandinavia via the river systems. Heyerdahl believed this may have taken place around the first century A.D. when the inhabitants of the region were trying to escape the advancing Roman armies, [See "The Azerbaijan Connection - Challenging Euro-Centric Theories of Migration," in Azerbaijan International, AI 3.1 (Spring 1995). Search at AZER.com].

Curiously, references on runic stones found in Sweden note that in the late 1030s there were expeditions in the reverse direction from Sweden, down the river systems of Russia, across the Caucasus to the Caspian.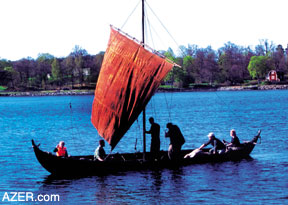 Left: In preparation for the Viking voyage planned for Summer 2004 between Sweden and Baku, some enthusiasts practice rowing. In Sweden, Summer 2003.

For the last several years, a group of Swedish modern day Viking enthusiasts have been building a boat and making plans to retrace the probable river routes that they think were followed.

Their aim is to carry out historical research, as well as to develop international relations and goodwill with those they meet along the route. The expedition is scheduled for late spring of 2004 with hopes of reaching Baku by August.

In 1036, Ingvar den Vittfarne (Ingvar, The One Who Travelled Far) a Viking chief, led a fleet from what is now known as Sweden to the Caspian Sea . He navigated the Russian waterways to the Black Sea and from there, most probably continued down the Georgian river Rioni. After hauling his boats across land, he is believed to have continued his journey via the Mtkvari River in Georgia, which is known as Kur in Azerbaijan south eastward to the Caspian. It is believed that Vittfarne even reached as far as Gara Bugaz located in present-day Turkmenistan.

However, on his return voyage, Ingvar and many of the men who accompanied him are believed to have become ill and died. Only a few men survived to tell the story. This fated expedition is mentioned on at least 26 of the 1,000 runic stones known to exist in Sweden. The tragedy is also referred to in an Icelandic saga.




Above: Nearly 1,000 years ago, a Viking chief organized a voyage between what now is Sweden and the Caspian Sea. In anticipation for next summer's repeat trip down the rivers, some Swedes practice rowing and roughing it.

Swedish Archaeologist Mats G. Larsson has written a book about the trip called "Ett ödesdigert vikingatåg" - Ingvar den Vittfarnes resa, 1036-1041" (A Fatal Viking Raid - The Journey of Ingvar, the Far-Travelled One, 1036-1041).

At an archaeological conference held at Vik's Castle in 1994, I happened to meet up with Larsson, and we began toying with the idea of testing how Ingvar den Vittfarne really could have sailed to the Caspian more than 1,000 years ago. We wondered what their boats might have looked like, and how they could have navigated the narrow rivers, through rapids as well as across rough seas.

We know that the Vikings drew their wooden boats over and but exactly how this was done is not known although there is some mention of carrying, and drawing them over logs. Eventually, I figured the only way to find the answers was to construct a lightweight boat, based on a Viking model, and set out to try to navigate the same route.
The model on which I finally based my replica was a 23-meter Viking boat, excavated from a grave mound in Gokstad, Norway in 1880, which is now on display at the Viking Ship House in Bygdøv in Oslo. It seemed such a boat, if scaled down, could fulfill the requirements needed both for river and sea travel if we hugged the shoreline. The boat has six pairs of oars and is 9.75m x 1.86m. Its cloth sail is 16 square meters. It can seat nine people on extended journeys. The keel of the ship was begun in 1998. By 2001, the boat was ready to launch. In 2003, we established a non-profit organization called Vittfarne to plan for the upcoming expedition. This past summer, a number of potential team members have been honing their rowing skills in anticipation of taking the journey next year.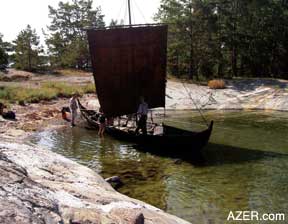 Left: Coming ashore in shallow waters. Practicing in Sweden.

Summer 2003
The expedition will start out in southern Ukraine in the spring of 2004. The launching site is an old Swedish village (in Ukraine, known as Cherson; in Swedish, Gammalsvenskby; and in Russian Kakhovka).

This village is still inhabited by people who speak Swedish, whose ancestors had emigrated from the Baltic Island of Dagö. We're picking up the expedition at this point because during the Soviet period in 1994 and 1996, a scientific expedition, in which I participated, had succeeded in sailing a Viking replica called "Aifur" from Sigtuna, Sweden. That trip had taken five months, divided between two summer seasons. This journey can be seen as a continuation of that earlier expedition.

The journey now with a new boat, more suitable for the demands of the Caucasus, begins there on the Dnepr River, passing the Crimean peninsula and down along the Russian and coastline of the Black Sea to the mouth of the Rioni River at the Georgian port of Poti. Via Rioni and its tributaries, we will proceed to the village of Zuare. At this point, we will carry the boat across land to connect with the Mtkvari River (Georgian name) / Kur (Azerbaijani name) that flows through Azerbaijan to the Caspian Sea. Our final destination is Baku, its capital.

Interested?
We're looking for sponsors, along with crew members and people who may have useful contacts. You don't have to be a sailor or a weightlifter to join the expedition. Rather we're looking for ordinary people who love the outdoors and who can work together well as a team.

It's important that you have positive attitude and can handle difficult psychological and physical pressure. Both men and women are invited to join us. You must be at least 18 years old. As the boat is not covered, each night we come ashore and set up camp late in the afternoon to get a good night's sleep.

Participants do not have to pay any money to join the expedition. We're looking to select the best Viking crew possible. Therefore, we need a large pool of applicants from which to choose. You do not have to be Scandinavian. We're looking for Georgian and Azerbaijani crew members who can also help us with translation, especially while we are in those countries.

Tentatively, the expedition will be divided into seven stages, each lasting 14 days. Of course, the longer a crew member can stay with us, the better.
For more expedition details and information about our schedule, visit VITTFARNE.com where short video clips of the boat are available. Write Hakan Altrock in Sweden: info@vittfarne.com.


Back to Index AI 11.3 (Autumn 2003)
AI Home | Search | Magazine Choice | Topics | AI Store | Contact us

Other Web sites created by Azerbaijan International
AZgallery.org | AZERI.org | HAJIBEYOV.com