Autumn 2003 (11.3)
Pages 74-75

Baku's Old City
Statoil Sponsors Documentary Film
by Pål Eitrheim




Since 1992 when Statoil first established a presence in Azerbaijan with the BP Statoil Alliance, we've been committed to strengthening the development of the Azerbaijani national identity through projects related to cultural heritage - music, literature and art. During this process, we've had the privilege of working on numerous culture projects alongside of some of Azerbaijan's finest artists and professionals.

Most recently, we've sponsored a documentary featuring a guided tour about Baku's Old City entitled, "Walking Through Baku's Citadel". It is now available in three languages (Azeri, English and Russian) in three different formats (DVD, VHS and CD ROM).

Birth of a Project
The idea for the project really began when artist Ismayil Mammadov drew a street map of downtown Baku with architectural renderings of some of the most renowned Oil Baron residences and prominent buildings. Statoil published the map in 2001.

Ismayil is passionate about his beloved hometown: "Life is too short to express my enormous passion for Baku!" he complains. Because of the success of his first map, he immediately set to work on a second map of "Ichari Shahar" ("Inner City", or what many foreigners refer to as "The Old City"). The map displays the various narrow streets and some of the most prominent and interesting buildings and features. The map was featured at STATOIL's stand during Caspian Oil and Gas Exhibition 2003 in June.



Above: (from left to right) 1. Artist Ismayil Mammadov. 2. Amateur historian enthusiast Fuad Akhundov, whose stories collected from oral tradition provide the basis for Statoil's new film documentary about Baku's Old City. 3. Film producer Javid Imamverdiyev.

At Statoil, we quickly realised that we could build upon Ismayil's map, especially his ideas about the Old City. Immediately Fuad Akhundov came to mind. Fuad is known around town as an enthusiastic amateur historian with a wonderful talent for storytelling. Many foreigners have taken his unforgettable Walking Tours through the center of Baku, as he points out examples of Baku's glorious past and the impact that the Oil Barons had on the city's architecture from the late 1880s until the Bolsheviks took control of the city in 1920.

Brainstorming together, Fuad and Ismayil quickly flooded us with ambitious ideas (to an increasingly concerned corporate sponsor, naturally concerned about costs and deadlines). After some initial wavering, we made the decision to undertake a documentary film about some of the unique parts of the Ichari Shahar. Finally Baku has its first film about this charming pocket of the city, produced in three formats - DVD, VHS and CD ROM - and in three languages - Azeri, English and Russian.

Ismayil's map served as the inspiration and the guiding framework. Then Fuad's insights and research about the Old City, its people, history and architecture were worked into a script. Then we hooked up with film director, Javid Imamverdiyev. The core team began working in Spring 2003 with the assistance of nearly 20 specialists.

The documentary was completed in May 2003, after compromising our production date with the project's toughest opponent - the inclement weather with this year's century record-breaking unrelenting wind and rain. With Fuad as guide, the film includes a wide range of historical material, illustrated with both contemporary and archived film material, photos and animations. Fuad's stories are just that - stories: countless anecdotes about the charming Ichari Shahar - its buildings and people, both friends and foes. Few narrators are more capable than Fuad to breathe life into these stories.

The film is a great educational experience from beginning to end. It opens with Fuad and Ismayil standing in front of the double Shamakhi gates-the main entrance to Ichari Shahar. From that point onward, the viewers are passengers on a fascinating journey through time and space. Here are some of the stories I enjoy in the documentary:

Below: Architectural rendering of some of the most fascinating buildings that exist in and around the Old City (Ichari Shahar). Created by Artist Ismayil Mammadov, sponsored by Statoil.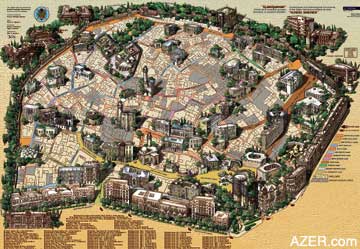 City Emblem
I've finally understood the true meaning of Baku's city emblem, which depicts two lions, a bull, and two round discs. According to Fuad, the emblem symbolizes how the walls (the two lions) protect the city (the bull), day and night (discs).

The fortress walls (originally an inner and an outer wall built in the 12th and 17th century respectively) have protected Baku's population from its enemies through the centuries.

Russians demolished the outer wall in the 1880s to accommodate Baku's unprecedented population growth during Oil Boom. Between 1872 and 1920 Baku's population grew exponentially from 13,500 to 250,000!

Caravanserais
The film features several caravanserais - medieval hotels, which open onto a courtyard, provided comfort and space for marketing and exchange along the trade routes that convened from all directions - East and West, North and South. For hundreds of years Baku was a center of trade for oil, silk, saffron, salt, copper and other natural products.

Maiden's Tower
And what about Baku's famous landmark, the Maiden's Tower? Quite probably, it was built in stages between the 5-6th and later in the 11-12th centuries. Most historians believe the tower has never been conquered by enemies, and hence the name "maiden", implying "virgin".

The shape of its construction (somewhat resembling the numeral "6" when viewed from above) continues to intrigue contemporary observers. Does it represent the symbol of "yin-yang" so common to Eastern philosophy? Or is it yet another variation of the well-known symbol of the torch ("buta") so pervasive in the "Land of Fire"? Or was its unique shape the result of clever engineering, making the structure invincible against erosion from the sea, or attack by military troops.

Ichari Shahar also boasts a number of bathhouses ("hamams"). One of the most famous bathhouses, Kazimbey's Hamam, allegedly has as many domes as he had wives! There's six or seven domes. Of course, it's really a joke.

Philharmonic Hall
Just outside the citadel walls is the Philharmonic Hall - newly renovated and refurbished. Originally built between 1910-1912 to house the local assembly of government, its architecture allegedly was inspired by the casinos of Monte Carlo.

Rumor has it that the architect caught his moment of inspiration on a piece of paper from the ashes that had fallen from his cigar! Similar to some of the major construction projects underway in the city today, not everybody was happy with it. In fact, many people were outraged that 250 trees had to be cut down to make way for the building. In 1937 the Soviets transformed the building into Baku's main concert hall. Today after spending more than five years to refurbish the building, this beautiful building once again serves as the most prestigious concert hall in town.

National identity is not something that is fixed and constant in time. It constantly evolves and develops throughout the years, shaped by the cultural architects of time. Statoil hopes that this film in its depiction of the past will serve to promote a sense of identity, pride and belonging among the people of Baku and Azerbaijan today.

Statoil's Earlier Projects
In 2001, Statoil sponsored the creation of a set of 7 CDs featuring four major works of Uzeyir Hajibeyov (1885-1948). These include two major operas: "Leyli and Majnun" and "Koroghlu", along with his most famous music comedies: "Arshin Mal Alan" (The Cloth Peddler) and "O Olmasin Bu Olsun" (If Not This One, Then That One, which is sometimes also called "Mashadi Ibad"). Together with Azerbaijan International magazine, which produced the CDs, Statoil wanted to make these classics available in a medium more contemporary than their original LP records.

In 2002, Statoil published a collection of legendary tales by the famous Azerbaijani poet Nizami Ganjavi (1141-1209). This new book "Gunash Diyari" (Land of the Sun) is a beautiful, 92-page hardbound volume, illustrated with many colourful miniature paintings from Nizami's tales. The stories are presented as prose. Its publication was carried out in cooperation with Unocal and Ayna Publishing. It is the first time that Nizami's Tales have been published in Azeri Latin script, the alphabet, which Azerbaijan's Parliament adopted, in late 1991 after gaining independence from the Soviet Union.

In 2003, Statoil and Unocal identified and sponsored another project that is a cultural milestone - the publishing of Majnun Karimov's book, "The Azerbaijan Musical Instruments". This 184-page, hardbound book consists of photographs of traditional medieval musical instruments of Azerbaijan.

Many of them only existed in the delicate miniature paintings before Karimov devoted nearly 30 years of his life to find ways to reconstruct them. Now there is an ensemble, which performs medieval music on these new instruments that date to medieval times. The book comes with CD ROM so that the reader can also see and listen to these instruments being played. [See article in this issue].

Pål Eitrheim is Government and Public Relations Manager, Statoil Azerbaijan.

Back to Index AI 11.3 (Autumn 2003)
AI Home | Search | Magazine Choice | Topics | AI Store | Contact us

Other Web sites created by Azerbaijan International
AZgallery.org | AZERI.org | HAJIBEYOV.com