Autumn 2003 (11.3)
Page-33

Longevity
Does Milk Make a Difference?
by Betty Blair





What's the link between a Korean TV company, a small mountainous village close to the Azerbaijani-Iranian border, and Baku's Institute of Manuscripts? These days, it comes as no surprise that the answer relates to the Internet.

Left: Dr. Farid Alakbarov

Specifically, in this case, it was the article by Dr. Farid Alakbarov published by Azerbaijan International three years ago in the issue, "Food! Glorious Food!" called, "Nutrition for Longevity" [See AI 8.3, Autumn 2000. Search at AZER.com].
It turns out that Korean filmmaker Mi-Jin Lee of Beta-System Independent Television in Seoul sent one of his producers Kyung-Soo Han, along with a cameraman, to Baku on assignment this past August to seek Farid's assistance in preparing a documentary. The topic? Something you wouldn't easily guess for a viewership of Koreans. Milk.

Traditionally, Koreans do not include yogurt or other milk products in their diet. The filmmakers had been hired to produce three 60-minute features about milk's nutritional and medical values.
Lerik, a region in the Talysh mountains, along Azerbaijan's southern border enters into the picture since it is home to many of Azerbaijan's centenarians. In contemporary world literature about longevity, the Caucasus and yogurt have been inextricably linked. The filmmakers thought that the mountains of Azerbaijan would provide them with irrefutable evidence that milk really is worth drinking!

Below: Kyung-Soo Han, producer from the Korea Betasystem from Seoul (wearing white cap) and his cameraman along with Oh Kwang Cheol, Technical Director of the Azerbaijan Taekwon Do Federation.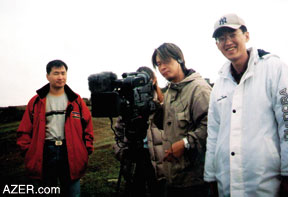 According to Farid, the typical diet of Azerbaijani villagers consists primarily of eggs, cheese, butter, yogurt, milk, curds (shor), sour cream, bread, various vegetables, fruits and herbs. Also, they make a traditional soup of yogurt with greens called "dovgha".

At the Institute of Manuscripts, Lee and his crew first interviewed Farid showing them some of the medieval manuscripts, such as "Tibbname" (Book of Medicine) by Mahammad Yusif Shirvani (1712) that described the benefits of milk products, especially yogurt.

Then together, the crew and Farid headed for Lerik, hoping that with any luck they might be able to film some of the centenarians. Along the way, they stopped at the restaurant "Jannat Baghi" (Garden Of Paradise) in Saatli to film how Azerbaijanis prepare food. The film team especially paid attention to milk products, such as yogurt, yogurt dip with chopped garlic (sarimsaghli gatig), soft white cheese (pendir) and a yogurt drink (ayran). They even filmed how Azerbaijanis spooned yogurt over their "dolma" (stuffed grape leaves).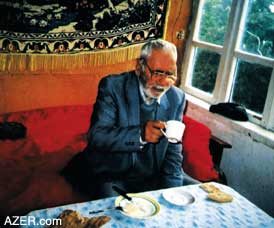 Left: Reza Baba, 102, who lives in the Lerik region.

That evening, the team arrived in Jangamiran village where the legendary 102-year-old Reza Baba lives. Under what kind of conditions was he living?

Certainly, not the usual conveniences that most of us take for granted. There was no gas, no telephone, no Western toilets, and access to electricity was only sporadic. Even the water supply was unreliable.

People traveled by foot or road horses or donkey. Reza Baba himself "drives" a horse. The roads were so steep, so muddy and slippery from the recent rains that they were virtually impassable.

Reza Baba described his life and diet. It turns out that his meals consist primarily of stale bread and butter, along with tea or milk. The crew filmed Reza Baba with one of his grandsons and great grandsons in the pastures with their cows, goats and sheep. They documented how women in the family traditionally prepare butter and yogurt - something new for them. All the children in the village came running to gather around and watch. The filmmakers wanted to film the milking process, but at the time the cows were off in the meadows.

The filmmakers were also keen to show a wider selection of traditional Azerbaijani national dairy and meat products. So they bought a sheep for the Reza Baba's family. A fire was prepared in the yard and after some time Reza Baba's family along with numerous relatives sat and ate while the Koreans filmed them drinking ayran, eating yogurt and cheese together with pilav (rice) and kabab.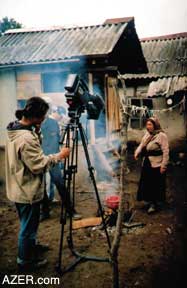 Left: Korean team filming how villagers prepare yogurt.

But Reza Baba is not the oldest resident in the village: Gizil Nana (Grandmother Gizil) is. Her family claims that she is 132 years old. It's quite an incredulous claim for a woman who doesn't have a birth certificate until you realize that her grandchildren, whose births were documented, are all in their 70s and 80s. Gizil Nana's own children have since past away. For sure, that makes her one of the oldest persons alive on earth.

At first, Gizil Nana's family wanted nothing to do with the film team, complaining that they were tired of the stream of journalists "always coming to interview and photograph them as if they were some sort of museum exhibit." But it's not every day that a film team from half way around the world comes knocking at the door in the remote mountains of Azerbaijan, and so they eventually obliged.

Gizil Nana, according to Alakbarov, was amazing agile. "She moved around like she was a mere 70 year old," observed Alakbarov.

After two days of filming in the Lerik region, the team returned to Baku and headed back to Seoul. The features on Milk are tentatively scheduled to air on Seoul Broadcasting Station (SBS) during the first week of December 2003.
Recently Farid Alakbarov has been named head of the Department of Translation, Information and International Relations at the Institute of Manuscripts where he works. A medical historian, Farid is in the process of completing his book Secrets of Longevity (Russian). Farid found the subject to be more complex than just eating yogurt. Many factors enter in such as good genes, clean air and water. For example, wise food combinations can counter some of the detrimental effects of meat if you eat it with fresh raw greens like basil, mint, tarragon, cilantro or squeeze lemon over it.
Back to Index AI 11.3 (Autumn 2003)
AI Home | Search | Magazine Choice | Topics | AI Store | Contact us

Other Web sites created by Azerbaijan International
AZgallery.org | AZERI.org | HAJIBEYOV.com