Autumn 2003 (11.3)
Pages 30-31

Van Gogh. Move Over
Artist Faig Gambarov's Explosion of Wild Color

For more works by Faig Gambarov - AZgallery.org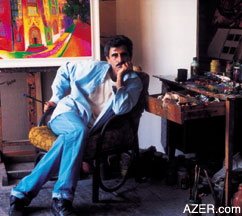 Left: Faig Gambarov in his studio in Baku.

Artist Faig Gambarov was recently featured in the prestigious art magazine, "International Artist" in their August / September 2003 issue. Entitled "Van Gogh Made Me Do It-The Wonderful World of Color and Shape", the article extended eight pages and included 13 photos of art, including a sequence depicting "Art in the Making", showing how Faig builds up layer upon layer of oil paint.

Faig says: "It's impossible to express my inner, passionate feelings in words. Painting is a flame that is always moving, a fire in my soul. Occasionally it erupts, like a volcano." An eruption of color, one might add.

International Artist magazine is dedicated to highlighting the works of individual artists from about 100 countries, according to International Editor Jeane Duffey.

This was the first time that an Azerbaijani artist had ever been featured. The magazine boasts a subscription distribution to 60 countries and a print run of more than 100,000 copies. Duffey herself works out of Vancouver, Canada, but the magazine is produced in Australia. According to Duffey, careers are built for many of the artists who are featured in this magazine because they get discovered and recognized by serious galleries and art collectors.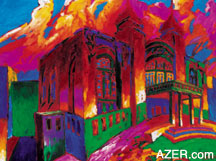 Left: Faig Gambarov's depiction of Baku's Opera and Ballet Theater.

One of Faig's favorite haunts is Baku's Old City-"Ichari Shahar" (Inner City). His genius comes from his playful juxtaposition of brilliant hues. In 1998, one of Faig's street scenes of the Old City was the cover for Azerbaijan International's issue on "Architecture and Development". See AI 6.4 (Winter 1998) Search at AZER.com. That same year, Faig had his first personal exhibition, sponsored by none other than the French Embassy in Baku after Ambassador Jean-Pierre Guinhut discovered Faig's works.

Azerbaijan International's staff in Los Angeles and Baku connected and did the necessary translation for Faig with the magazine's editors.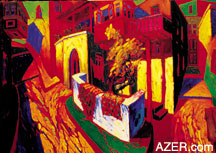 Left: One of Faig Gambarov's favorite subjects to paint is the Old City of Baku - "Ichari Shahar". His works are famous for their playful but riotous use of color.

Duffey says that plans for two more Azerbaijani artists (which she discovered through Azerbaijan International magazine) are already in the works. "We really like the originality of the work of Azerbaijani artists," she says. "They don't seem to have been influenced much by the West. Their work is fresh and their use of color is brilliant."

Contact International Editor, Jeane Duffey: duffey@dccnet.com. If you send any photos in your initial correspondence by email, make sure the files are in small jpeg format. Transparencies are required for publication.
To visit Faig Gambarov's studio, contact him: Tel: (994-12) 76-26-66, 32-93-30 or Mobile: (994-50) 310-15-06. To see more samples of his work, visit AZgallery.org, a Web site created by Azerbaijan International magazine which features more than 160 artists and 3,000 works.


Back to Index AI 11.3 (Autumn 2003)
AI Home | Search | Magazine Choice | Topics | AI Store | Contact us

Other Web sites created by Azerbaijan International
AZgallery.org | AZERI.org | HAJIBEYOV.com