Autumn 2003 (11.3)
Page 76

Exxon Azerbaijan
Philanthropic Program in Azerbaijan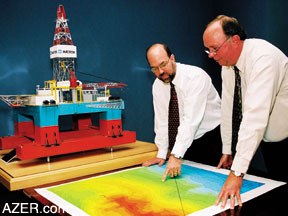 Left: Above: Exxon Azerbaijan's Manager Drew Goodbread looking at plans for drilling with the newly constructed semi-submersible rig named "Lider" which is now the largest and most powerful rig in the Caspian Sea. It is capable of operating at water depths between 75 to 1,000 meters and drilling depths to more than 9,000 meters. Maersk Contractors is the owner of the rig.

ExxonMobil's philanthropic program is one of the world's largest. Their commitment and involvement in Azerbaijan is extensive as they work to develop prosperous, stable communities.

To date, Exxon Azerbaijan Operating Company LLC, an ExxonMobil subsidiary (Exxon Azerbaijan), has contributed more than $3 million dollars to educational and community investment projects in Azerbaijan.

They are working with major relief agencies to provide aid to thousands of refugees and displaced persons living in the Bilasuvar, Saatli, and Sabirabad. Projects implemented in the past several years have included community development and income generation initiatives, infrastructure enhancements, construction of schools, community centers, and medical clinics.

Exxon Azerbaijan is committed to education, especially in relationship to the development of materials related to the new Latin alphabet. They have just published the substantial English-Azerbaijani Dictionary, compiled by Oruj Musayev, with 1,700 pages and 130,000 terms. In 1998, they supported the publishing of the Azerbaijani-Engish volume with 45,000 terms and 600 pages. One of the most significant projects funded by Exxon Azerbaijan is the Children's Encyclopedia - a multi-volume collection covering subjects from Nature and History to Arts, Sports and Information Technologies.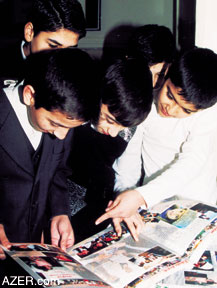 Left: Azerbaijani youth eager to read materials in the Azeri Latin alphabet. (right) Exxon Azerbaijan employees volunteer to plant trees.

Thousands of children from refugee camps, orphanages and schools for youth with special needs are invited every year to celebrations of Novruz Bayram (First Day of Spring, March 21), the New Year, Knowledge Day, and other events supported by Exxon Azerbaijan because the company believes that celebrating holidays together makes children feel more like a family.

Exxon Azerbaijan has also provided support for a series of programs dedicated to Earth Day to encourage children to learn about the nature and be more sensitive to the environment. Exxon Azerbaijan's employees worked as volunteers to help clean up parks and plant trees.








Back to Index AI 11.3 (Autumn 2003)
AI Home | Search | Magazine Choice | Topics | AI Store | Contact us

Other Web sites created by Azerbaijan International
AZgallery.org | AZERI.org | HAJIBEYOV.com