Summer 2003 (11.2)
Pages 16-19


Newsmakers - Celebrating 75 years
Lutfiyar Imanov Reminisces about his Opera Career
by Aida Huseinova

Lutfiyar Imanov (1928- ), one of Azerbaijan's great tenors when it comes to opera, celebrated his 75th birthday on April 17. He has been performing professionally for the past 50 years. His most distinguished role was that of Koroghlu in Uzeyir Hajibeyov's opera. Here he is interviewed about some of the highlights of his music career by Musicologist Aida Huseinova of Baku's Music Academy.

Below: Left: Lutfiyar Imanov in his most famous role as Koroghlu in Uzeyir Hajibeyov's opera.
Right: Lutfiyar Imanov as Faust in Gounod's opera.


Your performances, singing the lead role in Uzeyir Hajibeyov's opera, Koroghlu, are revered for being among the greatest accomplishments on Azerbaijan's operatic stage. That's no small accomplishment, given that you followed on the heels of the legendary singer Bulbul (1897-1961). How did you get involved in Hajibeyov's masterpiece in the first place?

Back during the Soviet period [1920-1991], each of the Republics used to have a chance to showcase their most illustrious art works. Every 10 years, beginning in 1938, an event was organized which was called, "The Decade of Azerbaijani Art and Culture" when some of the finest music ever created in Baku was staged in Moscow. It started in Stalin's time. In fact, Stalin himself attended the premiere of Koroghlu when it was first staged in 1938. Uzeyir Hajibeyov was still living at the time and went to Moscow for the occasion.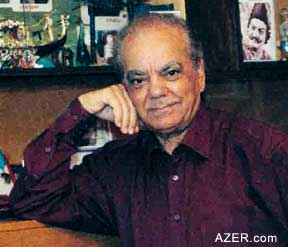 Left: Lutfiyar Imanov, relaxed, at home.

In 1958, when they were again preparing for "The Decade", the Soviet Ministry of Culture established a unique criteria for all operatic performances. They required two casts: one to be performed by established singers who were well known; and the other of young artists. When it came to experienced performers, naturally Bulbul was selected for Koroghlu and Rashid Behbudov for Fikrat Amirov's Sevil. My name was among the list of potential new candidates for Koroghlu. I was just 30 years old at the time.

Niyazi, who was the conductor of the Azerbaijan Opera and Ballet Theater at the time, invited me to the Opera Theater and asked me to perform something from the Koroghlu. That was my lucky day because I had already learned Koroghlu's Aria as part of my graduation exam from Baku's Conservatory.

Soon after the audition, Niyazi broke the news to me: I would be singing Koroghlu at the Decade! It was one of the happiest days of my life.

But, of course, it's much more complex than that. My fascination with Koroghlu began in childhood. At the age of 15 when I started working as a prompter at the Sabirabad Dramatic Theater, I used to imagine myself playing some of the legendary heroes described in those dastans. [Dastans are a genre in Azerbaijani epic literature which include many songs performed by roving minstrels called ashugs]. I loved listening to ashugs, singing and improvising while they accompanied themselves on their traditional stringed instrument, the saz. I was crazy about our dastans such as Ashug Garib, Gachag Nabi, and especially Koroghlu.

You know, what I did? I managed to design the head of a horse from wood, attached it to a stick, and somehow got hold of a sword, and I would go around singing Koroghlu's Aria for my friends and relatives.

I adored Uzeyir Hajibeyov's opera and used to listen for hours to the record of Bulbul singing it. Later, as a student at the Conservatory [now Music Academy], I learned the entire opera, never dreaming that I would have the chance to perform it on stage.

Some people wonder how Bulbul felt about my taking on that role since he had been the first Koroghlu and had made the work so famous. But the truth is: he supported me. After sitting in on one of the rehearsals right before "The Decade", he expressed his feelings: "Lutfiyar must perform this part. He has the ability to project the national character and heroic features of this role." He was also quoted as saying that in one of the local newspapers.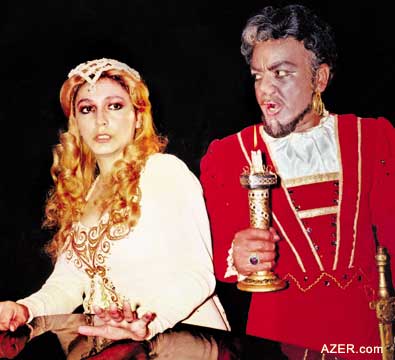 Left: Lutfiyar in the role of Othello in Giuseppe Verdi's opera with Khuraman Gasimova performing as Desdimona.

Of course, everything did not go so smoothly. Some people in the music establishment, and some of the Communist Party officials, started criticizing Niyazi for choosing me.

They argued that I was too young to carry the huge responsibility of that role.

Some complained about my appearance: "He's too skinny to perform the role of a national hero!" they said.

In this regard, I recall one anecdote that happened to me at the time.

At one of the meetings at the Central Committee of the Communist Party, the subject of the Decade came up. Someone balked at the idea of my playing the role of Koroghlu. "Lutfiyar Imanov is crazy!" he declared.

Not long afterwards I was called in for a session. Two people were present: a Communist Party official and a psychologist who seemed to be observing my behavior. Actually, the encounter was quite short. As they were finishing, and I was getting ready to leave, the official commented: "Why don't you ask us why we've invited you here?" I replied: "Because I already know the reason."

Without a moment's hesitation, I continued. "Someone has told you that I'm a crazy guy. So you've decided to check it out for yourself. Now you see that I appear quite normal, don't you? But the truth is: I really am crazy!"

"How's that?" the official asked in the confusion.
"If a young artist dares to sing the part of Koroghlu after the great Bulbul, doesn't that make him crazy?"

Besides, if you have read the dastan about Koroghlu, you know that the word "crazy" ("dali") has its own specific meaning in Azerbaijani literature. "Koroghlu had 7,777 crazy people devoted to him". The dastan emphasizes the desperate love and devotion of those people to Koroghlu. That's me, too, because I adore Koroghlu. Indeed, I am among those 7777 'crazy' people!" They appreciated the humor. We laughed together and I left. And I kept the part.

What's the most difficult part about performing Koroghlu?

For me, the role of Koroghlu is one of the most sophisticated and complicated operatic characters to perform, both from a literary point of view as well as musically. The opera demands such an enormous spectrum of feelings and emotions!

You know what Koroghlu has helped me to understand? Life is so complex. Specific circumstances reveal personal qualities that we could never have realized were deep inside.

You even had to ride a horse on stage.

Right. Actually, horseback riding came easily for me as I grew up in a village and had ridden horses since childhood. As for opera, the horses were usually brought from race-track a couple of hours before the performance.

Your role as Koroghlu launched you into a career that gave you a chance to perform many lead roles in famous operatic works. What are some of the secrets to professionalism that enabled you to play these great roles?

There are many factors. First of all, I always practiced a lot. Practicing helped me to strengthen my voice and gain a great sense of freedom. Touring other countries exposed me to various traditions of vocal performance. Both had a significant impact on my professional development.

In 1965-66, I spent a year as a trainee at the famous Bolshoi Theater in Moscow. I really took advantage of the opportunity to be there: all day long I was busy. I would practice, meet with colleagues, visit the departments responsible of scenery, backdrops and costumes, attend rehearsals and performances.

Even after I returned to Baku, I stayed involved with the Bolshoi. Although it led to some very difficult problems in schedules. Once, during the intermission while I was performing Vagif in Ramiz Mustafayev's opera, I received an urgent call from Moscow. "Lutfiyar, we desperately need your help. Can you sing Carmen tomorrow night? Our main soloist is ill." One day's notice! Can you imagine? At first, I refused but they continued to beg me so I decided to risk it.

At 5:00 a.m. the next morning, I headed to the airport, hoping to get a seat on the plane. That wasn't easy. Marshal Vasilevski [a well-known Russian-Soviet military leader] had died and his funeral was being held in Moscow. So many local military personnel were heading to the capital. I begged the Airport Director to let me board the plane, but "no luck".

He told me: "You see what's going on, Lutfiyar. Try to contact the pilots. Maybe they'll help you." He was right. The pilots gladly accommodated me and I joined them in the cockpit and I could watch everything that was going on.

Your next long-term international experience occurred a decade later, in 1975-76 when you had spent six months in Milan, as a trainee in the world-reputed La Scala Theater. What have you gained from your Italian experience?

I was supposed to go to train in Italy in 1963. But Niyazi wasn't very happy that I would be away for such a long time as I would be missing 12 performances. So he convinced me to give it up. But I could never forget the words of my voice professor, Alexander Milovanov: "There are two best vocal schools in the world - Russian and Italian."

I already had been exposed to the Russian tradition. That's why I kept dreaming about going to Italy. Remember those were the days of the Soviet Union when it wasn't so easy to go abroad. In 1974 I received a second invitation to visit La Scala. Niyazi was still objecting, so I decided to approach Heydar Aliyev, the First Secretary of Azerbaijan's Communist Party, at the time. He immediately gave his approval although he set one significant restriction: I had to return by November so I could perform at Hajibeyov's 90th Jubilee, which was taking place both in Baku and Moscow. So I did.

There in Italy, I improved my Italian language, polished some of my roles in Italian operas and set about learning some Italian folk songs. Let me say one more thing in regard to my Moscow and Milan experiences. There is a significant difference between Western and Azerbaijani styles of singing. The mugham tradition in Azerbaijani music can be incorporated into our national opera repertoire and sound so beautiful and absolutely appropriate. However, mugham is totally out of place in Western music. I was so eager to acquire training in both of these great traditions.

You've toured so much throughout the world. What are some of your most vivid memories?

I did tour a lot. I performed in so many concerts, visiting dozens of countries such as France, Italy, Norway, Japan, India, Cuba, Bulgaria and Turkey. I have so many stories. Let me tell you one that took place in Naples, Italy. It was a hot, summer day and our group was being escorted by a young lady from the Mayor's office. We stopped in a small shop to look for some souvenirs. I especially liked one of the little music boxes with a dancing ballerina on it. So I asked the price. It was so exorbitant that I didn't even try to negotiate. So we continued our walk down by the sea and I began to sing, "OSole Mio".

After finishing, I heard thunderous applause. We looked around and saw a large crowd had gathered so I continued my spontaneous "recital" and performed two more songs in Italian songs and three in Azeri.

You can't imagine what happened afterwards! The Italians clapped and cheered; some offered flowers and wanted to take my photo. Finally, the man from the shop who had the little box, pushed through the crowd, and gave me a big hug. With tears in his eyes, he said: "Please, accept this box as my gift. You've touched me so deeply!"

I've heard that wherever you performed, you always tried to include works from that country.

It's true. It's my way of respecting the host country. Usually, it took about a month to prepare for a specific tour. I would learn some of the local repertoire, memorize the lyrics, work on pronunciation and accent. I learned to sing in English, Japanese, Italian, German, Arabic, Indian and a few other languages as well.

I really tried my best to blend in with the people. Sometimes, it seems I succeeded only too well. One amusing story took place in India in 1960. We were supposed to give a concert at a huge stadium in Penjab. We were heading through the back door when I suddenly realized that I had left my coat on the bus. So I went back to get it. In the meantime, the other performers entered the stadium and the police officers were not allowing anyone else to go in. I tried to convince the officer that I was a Russian artist (that's how we were known in those days); but, in vain. "You're Indian", he insisted, "Don't cheat!" It's true that my skin is a bit dark, but I never thought it would put me in such a difficult situation. Luckily, the head of our delegation appeared and vouched for my identity.

But the funniest thing happened later on. During the first part of the concert, I was to perform an Indian song while dressed in their national costume; in the second part, I would sing in Azeri. When I began the first song, I spotted the police officer, sitting on the first row, gesturing to me. After finishing the song, he approached me, saying: "I knew that you were a liar. You're an Indian!"

Then one of my colleagues replied: "Please, just wait until the second part: you'll see what kind of Indian he is."

You've had such a long and successful career. What advice would you offer to young vocalists just getting started?

My first advice is to study hard, study continuously and indefatigably. Training your voice is of utmost importance, of course. You know how much I used to practice?! I still practice. The truth is that very few of us have the initial skills to perform this music; we acquire this ability through hard work.

Every vocalist should listen to a great amount of music. When I was young, I used to play the records of Shalyapin, Caruzo and others, over and over again. I always tried to learn everything I could from Azerbaijan's great singers, such as Bulbul, Aghababa Bunyadzade and Rauf Atakishiyev. I sincerely regret that our young artists rarely seize opportunities these days to take advice from us elders.

Music is not the only thing that opera singers need to work on. I used to spend endless hours watching, attending the drama theater and operetta. And finally, music has to be the driving force in your life. When I was studying those early years in Baku, my life was so difficult. I had so many problems. I had to work hard for my living expenses and to help my family back in Sabirabad. I even used to sing prior to the movies at the Araz cinema, I sang in a choir and so many other places. It left me extremely tired but I never gave up. In my opinion, the result has proven well worth it all.

Honors
Lutfiyar Imanov graduated from the Music College named after Asaf Zeynalli and the Azerbaijan Art Institute. From 1958-1990, he was a soloist with the Azerbaijan State Opera and Ballet Theater. In 1960-1988, he taught at the Azerbaijan Art Institute, and from 1988-1990 and 1996-2000 at Baku Music Academy. During the interim between 1991-95, he taught and performed in Izmir, Istanbul, Ankara, Bursa and Eskisheher, Turkey. He was named Professor (1986), People's Artist of Azerbaijan (1967) and People's Artist of the USSR (1977). He was Chairman of the Azerbaijan's Theatrical Society (1986-91) and Director of the Azerbaijan State Opera and Ballet Theater (1988).

He has played the lead male roles in numerous Azerbaijani, Italian and Russian operas in addition to Koroghlu: Alyar in "Nargiz" (Muslim Magomayev); Vagif in "Vagif" (Ramiz Mustafayev); Isgandar in "Olular" (Corpses) (Vasif Adigozal); Ayaz in "Azad" (Jahangir Jahangirov); Bahadur in "Bahadur and Sona" (Suleyman Alasgarov); Hermann in "Queen of Spades" (Tchaikovsky); Duke in "Rigoletto", Radames in "Aida"; Manrico in "Il Trovatore" (all by Verdi); Don Jose in "Carmen" (Bizet); Faust in "Faust" (Gounod); and Cavaradossi in "Tosca" (Puccini).

Back to Index AI 11.2 (Summer 2003)
AI Home | Search | Magazine Choice | Topics | AI Store | Contact us

Other Web sites created by Azerbaijan International
AZgallery.org | AZERI.org | HAJIBEYOV.com