Summer 2003 (11.2)
Page 20

Guidelines
Taking Art Out of Azerbaijan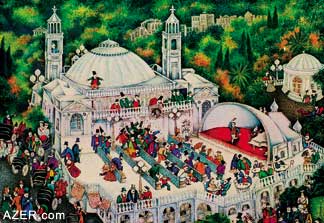 Left: From Orkhan Huseynov's "Old Baku Series". The Philharmonic, 2003. 100cm x 130 cm. Oil on canvas. Orkhan speaks English. Visit his studio. Tel: (994 -12) 61-17-28; Mobile: (994 -55) 776-1519.

If you're wondering how to purchase art and take it back home with you, here are some guidelines. The Azerbaijani government is concerned that no "national treasures" be taken out of the country. By that, they broadly interpret the term to mean "antique objects".

Therefore, they require that you register all works of art, including the new works that have been created this past decade. Obviously, this procedure is part of the legacy of the Soviet past. We recommend patience.

The process is not really so difficult and cumbersome, though it may be a bit inconvenient. Don't let the bureaucracy discourage you from supporting these fine artists and from purchasing some rare art works to enjoy as a memory of Azerbaijan.

Generally, most artists will know how to handle this registration process and can help you. If you need further assistance, contact the Artists' Union at 19 Khagani Street, Baku. Tel: (994-12) 93-62-30.

It's important not to postpone the clearance process until the last few days of your stay. But if you do , still many people successfully manage for the artist to carefully pack the art work and send it via a courier service such as UPS or DHL.

At the Artist's Studio
Most people buy artwork directly from the artist's studio. We have provided the telephone numbers for each artist featured in this issue (See photo samples or the note at the end of each article). If you don't speak Azeri or Russian, you may want to take someone along to translate for you. When you find the work(s) you like, negotiate a price and get a receipt from the artist. Take two photos of each piece of artwork. Often the artist already has photos available.

Commission Approval
Take the photos to the Artists' Union for approval and fill out the application form. If the artist has passed away 25 years or more, then you'll need to get approval from the National Art Museum, located at 9 Niyazi Street (near the President's Aparat). Tel: (994-12) 92-57-89.

The Artists' Union Commission will appraise the work for a small nominal fee (usually no more than $5 or $10). It meets once a week, on Wednesdays. However, a certificate can be acquired on other days with the presentation of your ticket if you are leaving earlier. You will be given an official export certificate with an official seal affixed to the photo that is returned to you. For carpets, take photos to the National Carpet Museum (Neftchilar Prospect, formerly the Lenin Museum). This commission meets on Thursdays.

When you exit the country, show the customs officials your approved certificate with the accompanying photo. There should not be any additional fee.

Back to Index AI 11.2 (Summer 2003)
AI Home | Search | Magazine Choice | Topics | AI Store | Contact us

Other Web sites created by Azerbaijan International
AZgallery.org | AZERI.org | HAJIBEYOV.com