Summer 2003 (11.2)
Pages 64-66

The New Pipeline
Constructing the New BTC Pipeline - CCIC at Work
by Juan Boulos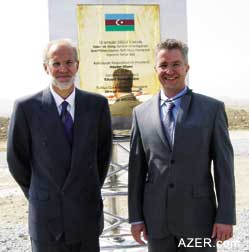 Left: David Woodward with Juan Boulos. Woodward is the Associate President of BP in Azerbaijan which operates the Consortium for the development of the Azeri-Chirag-Gunashli oil fields (ACG) which will feed into the BTC (Baku-Tbilisi-Ceyhan) pipeline.

Juan Boulos is Senior Manager of CCIC (Consolidated Contractors International Company) which was awarded the contract for building the pipeline in Azerbaijan.

The following is a discussion with Juan Boulos of CCIC in regard to constructing the new pipeline. CCIC has the responsibility for the work that is being carried out in Azerbaijan
Consolidated Contractors International Company (CCIC) won the much-coveted contract for the construction of the new Baku-Tbilisi-Ceyhan (BTC) pipeline. Tell us what the scope of the project is for Azerbaijan.

We're very proud to have been awarded this project in Azerbaijan, especially since it's the first project for CCIC here in this country. Our responsibility at CCIC encompasses Engineering, Procurement, Construction, Testing and Commissioning of the pipeline. The Engineering aspect includes surveying the route, designing the block and checking valve stations and crossings with existing utilities, designing the camps and pipe yards.

The Procurement scope includes procurement of such things as valves, pipe-fittings, flanges, cathodic protection, transformers and transmitters. The Construction scope involves transporting line pipe, storage, clearing of the Right-of-Way, trenching, welding of pipeline, lowering the pipeline into the trenches, testing the pipeline and reinstating the Right-of-Way. Commissioning covers hydro testing, caliper pigging and air-drying to make it ready to transport oil.

CCIC's activities are international in scope. Work is being carried out in ten countries, spanning from Munich, Germany, where some of the engineering is being done to Athens, Greece, where CCIC is based and where the construction support is performed.

Our construction activities are not restricted to Azerbaijan but also extend into Georgia, where we receive the line pipe at the port of Poti. The line pipes are being stored until they are required. At that time, they will be transported to the Right-of-Way ready for placement and welding.

CCIC is building five construction camps along the route that will serve as bases to support the work at the Right-of-Way itself. Each will accommodate up to 1,250 workers. Full catering services, recreation facilities, fabrication shops as well as offices and accommodation for the workers will be set up.

An incredible amount of equipment will be used to construct the pipeline including pipe-layers, bulldozers, excavators, graders, cranes, compactors, air compressors, generators, welding machines, state-of-the-art automatic/computerized welding machines, pumps, trailers, trucks, buses, pick-ups and cars. In addition, there will be very specialized equipment for horizontal directional drilling and non-destructive testing.

To give you an idea of the size of the project, consider just the number of vehicles that will be used on this project-150. What is very important is that all the equipment must comply to extremely high Health, Safety and Environmental (HSE) specifications.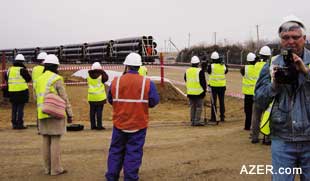 Left: First pipe coming off the train for the BTC pipeline, 2003.

CCIC is conducting a major recruitment drive. The majority of the personnel will be recruited locally from the various regions where the pipeline is being laid. The applicants who are hired will be trained by HSE and the majority of personnel will receive additional trade training, which will significantly increase their job prospects in the future.

Pipeline projects invariably cross several regions: the BTC Pipeline is no exception. It will cross 13 regions in Azerbaijan: Garadagh, Absheron, Hajigabul, Aghsu, Kurdamir, Ujar, Aghdash, Yevlakh, Goranboy, Samukh, Shamkhir, Tovuz and Aghstafa. In addition, there will be a pipe yard and a construction camp in Ganja. There are more than 80 communities that are located inclose proximity to the route, and because of that, the project is being carefully planned and implemented to minimize any potential negative impact on any of these communities.

Though CCIC is new to Azerbaijan, it's one of the largest construction companies in the world. What is its history?

CCIC was established in 1952 in the Middle East and has since experienced steady and strong geographical expansion. As of today, CCIC has completed work in more than 35 countries - including the Middle East, Africa, Caribbean, Central America, U.S, U.K, Italy, the Far East and the the CIS.

In parallel with the geographical expansion, CCIC has experienced technological growth from simple civil and building projects to roads, both onshore and offshore oil and gas facilities, networks, power and desalination plants, marine works, offshore pipelines, underwater construction, dams, water and environment engineering, mega and complex oil & gas projects. This technical growth gives CCIC a deep knowledge in construction management. CCIC moved the value chain from simple construction projects to complete EPC, O&M and BOT projects.

CCIC's main assets include a pool of talented people. Today we employ more than 50,000 staff who come from more than 60 countries around the world. We have a capable fleet of equipment, numbering more than 8,000 pieces. We're known for our unique control and monitoring systems, which are based on a strong and long history of experience in the field of construction and a deep expertise in construction management. These systems encompass the latest state-of-the-art technologies and leading-edge techniques. News Engineering Records has ranked CCIC as No. 1 in the Middle East and No.14 among international contractors.

CCIC has a unique culture of family style corporate values. We place great emphasis on developing local manpower through training and nurturing. We're committed to the countries where we have projects and we maintain this commitment by keeping our country offices open even after the completion of projects. All these characteristics equip us to take on the most challenging projects in some of the most remote areas in the world.

You've had an office in Baku for the past three years. What were you doing during that time?

CCIC was registered in Azerbaijan more than three years ago, and we've retained our presence ever since then. We were here to get to know Azerbaijan, to study the market and establish contacts with potential clients. We felt it was very important for us to develop an understanding and appreciation of local culture and traditions. I've come to like Azerbaijan and its people a lot. It's really a second home for me.

What's your own background and experience to equip you for the immense responsibility of this job?

I graduated with a Bachelor in Mechanical Engineering and started my career in engineering. Later I earned a Masters in Business Administration (MBA) and moved on to business-related fields.

This is the largest construction job that I've personally ever been involved in. I think the most important thing that has equipped me to handle the job is an in-depth knowledge that I have about the local culture. Obviously, numerous situations have already arisen on this project that were new to me and for which I wasn't prepared. What I think is important is to be able adapt to these situations and learn from them.

I'd say the most rewarding experience for me on this project is working with local Azerbaijani staff. They've brought invaluable knowledge, enthusiasm and insight to this project.

Tell us more about how CCIC is organizing the construction camps.

As I mentioned earlier, we'll be constructing five construction camps along the Right-of-Way of BTC Pipeline. Our first construction camp at the Mughan settlement is almost finished now. These construction camps are actually like small towns themselves; that's why we're building them so that they are virtually self-sufficient.

For example, the electricity for these sites will be produced there within the camp itself. We have purchased generators specifically to supply electricity for the construction camps, thus avoiding the use of large amounts of electricity from the local networks. This eliminates the possibility of draining the current supply to the regions.

Another example is the high environmental standards to which the construction camps will be built and operated. We will procure, install and operate, a high standard incinerator and a sewage treatment plant to treat the waste and sewage produced at the construction camps. This will prevent harm to the environment through the disposal of untreated waste and sewage. Once the construction camps are removed, the land will be re-instated to a condition similar to what it was prior to construction.

One final thing to note is that the construction camps, the equipment, facilities and personnel will be moving from one location to the next. This becomes a huge logistics exercise.

How will the local communities benefit while the project is going on? Is the BTC pipeline leaving a legacy for the communities, and if so - specifically what?

The BTC Project places a major emphasis on social issues, particularly trying to minimize the footprints of the projects on local communities affected by the pipeline while maximizing the positive impacts.

We are following a well-thought out set of social commitments in this project. For example, one of our goals is to employ a majority of Azerbaijani nationals. Particular attention is being paid to recruitment, not just from one, but from each of the 13 regions through which the BTC Pipeline passes or wherever CCIC will have activities.

In each region, CCIC begins its activities by conducting a Public Disclosure Meeting to introduce the BTC Pipeline Project and explain what we will be doing in the region. At the same time, we publicly announce the job positions that are available. In each location we open a Project Information Center, which serves as a point of contact between CCIC and the community.

The recruitment of personnel is carried out exclusively through the Project Information Centers, and a standardized recruitment process is being followed to identify the best-qualified personnel. These same centers will serve as a facility where community members can register their comments or complaints regarding CCIC's activities. A system is in place for CCIC to review and respond to every comment that is brought to our attention.

Each person who is recruited must go through a mandatory five-day HSE Induction course, which includes a full day's training in Basic First Aid. Already, CCIC has established these Trade Training Centers in Baku, Mughan and Kurdamir, where most of the labor force is being assessed for their skill level and trained for various jobs. This is in line with the CCIC corporate policy of integration with local communities and for developing local manpower.

Also CCIC is carrying out programs of community safety awareness and community health awareness. The feedback from the communities where this has been done has been very positive.

Another goal is to maximize local procurement. CCIC is working closely with the Enterprise Center in Baku to identify potential local subcontractors and local suppliers. So far, we have purchased a wide range of products from more than 100 local suppliers such as safety gear and equipment, computers, mobile phones, furniture, stationery, water tanks, civil materials, fencing, electrical materials, transformers, porta-cabins and other items. Personnel of the local subcontractors who work on projects related to the BTC Pipeline project also must receive thorough HSE training.

In addition, CCIC is carrying out its own extensive social investment program. CCIC has distributed food parcels to Internally Displaced Persons in Binagadi Settlement, and furniture, clothes, beds and bedding, toys and audio systems to orphanages, kindergartens and schools in Baku and the Sangachal Settlement. In April, CCIC delivered the first shipment of 2,000 tents to the State Committee for Refugees, which in turn, will distribute the tents to Internally Displaced Persons in Azerbaijan. The total number of tents to be donated by CCIC is 12,500 at a value of $300,000.

In Baku, furniture , bedding, toys, and audio systems have been donated to a kindergarten and school in Sangachal. Also meat parcels have been distributed in Sangachal and Mughan refugee settlements. Tents also are being donated to some of the Internally Displaced Persons (IDP). The total donation by CCIC for the tents will total $300,000. There will be further social investment programs that will take place in Azerbaijan.

The long-term benefits that will be felt by the local communities after the completion of construction include: upgraded trade skills through training, exposure to new business methods and specific investment to social projects in the communities.

CCIC's legacy will be the construction for the BTC Pipeline in Azerbaijan, which will have taken into account the concerns of the local communities as one of its highest priorities.

In your opinion, what are the most important aspects of the projects?

One of the most important aspects of the BTC Pipeline Project is the implementation of very high Health, Safety and Environment (HSE) standards. This represents a Step Change in the way construction projects are carried out. HSE takes the highest priority: all activities are designed and implemented to minimize such risks. Every person who is employed or who will be employed for the BTC pipeline project will receive training and be exposed to HSE requirements and commitments, which he/she will carry with him/her till the end of the project, and hopefully beyond.

To cater to the various nationalities of the people involved in the project, the HSE training is being conducted in Azeri, English, Russian and various other languages to ensure that the very important message of HSE is clearly communicated. Even guests, who go to the site for a one-day visit go through a shortened version of the HSE training. We are committed to "no injury" and "no damage" to the environment. A great deal of effort expended in order to develop an Accident and Injury Free Culture within the project.

Any final comments?

CCIC is very proud to have been chosen as the contractor to carry out this project in Azerbaijan. It is a very demanding project from every aspect. It must be completed by the third quarter of 2004. But we have the talent, equipment and systems to meet this challenge.

The vision, will and support of President of Azerbaijan Heydar Aliyev was, and continues to be, instrumental in making the BTC Pipeline project a reality. The BTC Pipeline is a major milestone in the advancement of Azerbaijan, in particular, and to the Oil and Gas Industry as a whole. The future potential for Azerbaijan looks very bright.

Back to Index AI 11.2 (Summer 2003)
AI Home | Search | Magazine Choice | Topics | AI Store | Contact us

Other Web sites created by Azerbaijan International
AZgallery.org | AZERI.org | HAJIBEYOV.com