Summer 2003 (11.2)
Page 21

Artists in the Loft
Baku's Best Kept Secrets - Azerbaijani Artists
by Betty Blair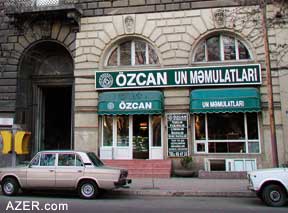 Left: Entrance to the Loft at 500 Istiglaliyyat across from Baksovet Metro Station.

It's of the best-kept secrets in Azerbaijan. Don't tell. But one of the best souvenirs you can carry back from Baku is artwork - paintings, graphic arts and sculpture. You'll find some incredible works that will bring you great pleasure for years to come!

There are a very few commercial galleries in the center of Baku or even in the Old City. Many Azerbaijanis are still feeling the economic pressure of the collapse of the Soviet Union so art is still viewed as a luxury, often beyond reach. But don't let the lack of galleries fool you into thinking that there's not much art available.

To catch a glimpse of the quality of art that you can find in Azerbaijan, visit AZgallery.org - a Web site that Azerbaijan International Magazine launched in 1999 to help Azerbaijani artists get more exposure in the international arena. More than 160 artists and 3,000 works of art are featured.

To really get to know Azerbaijani artists, go visit them in their studios and lofts. You'll find some of the best artists working on the top floors of old apartment buildings. We guarantee it's well worth the climb.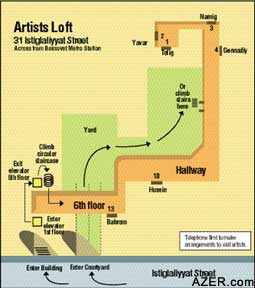 In the pages that follow, we've introduced six artists who are conveniently housed under one roof right in the middle of town. We consider all of them very distinct and each worthy of international recognition.

You'll find them in The Loft (6th Floor) at Istiglaliyyat (Parliament) Avenue, directly across the street from Baksovet Metro Station, Block 500.

The building where "The Loft" is housed is part of the legacy of the Pre-Soviet oil boom. Musa Naghiyev (1849-1919), the richest of all oil barons built it. His descendents claim that he built 98 building throughout the city. You can often identify his buildings by the monogram "MH" (Russian letters for his name) on the façade, usually above the entrance.

The artists here request that you please respect their privacy by contacting them for appointments. A telephone call can save you considerable time disappointment in case they're not there when you get the urge to visit them.

To find these studios, take the elevator as high as it will go - to the fifth floor. Exit and climb the spiral staircase on your left, then enter the low-ceilinged hallway to the left. Studios are identified by numbers, not names.

We hope, for many of you, that this is the beginning of a wonderful journey into the "Little Known World of Azerbaijan Art!" Bon Voyage!
Back to Index AI 11.2 (Summer 2003)
AI Home | Search | Magazine Choice | Topics | AI Store | Contact us

Other Web sites created by Azerbaijan International
AZgallery.org | AZERI.org | HAJIBEYOV.com