Spring 2003 (11.1)
Page 18

Newsmakers
Two Young Azeris in Soccer Match in Wales


| | |
| --- | --- |
| | |
Photos: Rahim Gozalov, 13, and Saleh Salayev, 12, from Azerbaijan were invited to Cardiff, Wales, as special guests of the Welsh Football Fans' Charity organization. In addition to the soccer match, the boys were entertained in the city. Truly, they'll treasure these memories for a lifetime.

Two young soccer fans from a Baku orphanage had the experience of a lifetime at a recent soccer match between Wales and Azerbaijan, held in Cardiff on March 29. Saleh Salayev, 12, and Rahim Gozalov, 13, were given the honor of leading Azerbaijan's team onto the field at the beginning of the sold-out match where 70,000 people were in attendance.

Airline British Mediterranean, in conjunction with London-based tour company Facts Travel, provided for the boys' flights between Baku and South Wales. Their trip to Wales was organized and paid for by Gôl, a humanitarian organization set up by Welsh football fans. Gôl has also been involved with donating money and sports kits to kids in Azerbaijani orphanages.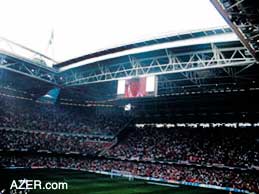 Dylan Llewelyn, Gôl Chairman, observed: "Orphanages in Azerbaijan are home to more than 20,000 children. Not all are orphaned as such-many, like Saleh and Rahim, have lost one parent and the remaining parent has been unable to cope. The former Soviet state is poor by Western standards and state backing for welfare projects is limited."

Paul Hibbs, senior sponsorship manager at Nationwide said: "It is a great pleasure for us to donate our two team mascot places to Saleh and Rahim. I'm sure that walking out in front of a full house at the Millennium Stadium will be an experience that they will never forget."

The Welsh team ended up defeating Azerbaijan, 4-0, winning easily and achieving the fastest goal ever scored by a Welsh player (14 seconds). This match was especially important in that it was a qualifying match for the Euro 2004 Championships, which will be held in Portugal next June. This tournament is the second most important next to the World Cup. [To read more about soccer in Azerbaijan, see Agshin Kazimzade's article "Great Moments in Soccer" in AI 6.2 (Summer 1998).

The Welsh patrons have plans to further support the orphanages on a more practical level by supplying recycled computers from Wales. They hope to visit Baku again in the Autumn.


Back to Index AI 11.1 (Spring 2003)
AI Home | Search | Magazine Choice | Topics | AI Store | Contact us

Other Web sites created by Azerbaijan International
AZgallery.org | AZERI.org | HAJIBEYOV.com