Spring 2003 (11.1)
Pages 68-71

New Drilling Rig
Exxon Azerbaijan to Inaugurate New Oil Rig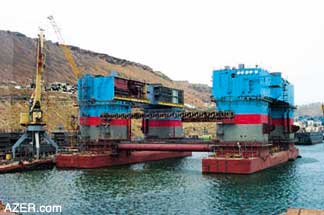 Photos: The new drilling rig, currently known as DSS-20, which is currently being assembled at the Baku shipyard. This rig will be able to drill in greater depths of water than any existing rig in the Caspian.

A new drilling rig known as DSS-20 owned by Maersk Contractors is currently being assembled at the Baku shipyard. Once it's finished, the semi-submersible rig will be the largest and most powerful drilling unit in the Caspian Sea, capable of operating in water depths of up to one kilometer and drilling to depths of more than nine km. The DSS-20 is being built by KeppelFELS; but both ExxonMobil and ChevronTexaco have made significant investments in its construction.

Currently, there are three other rigs available for offshore drilling in Azerbaijan: Istiglal, which can drill deepwater structures, and Dada Gorgud and Qurtulush, which both drill in shallow water. DSS-20 will be able to drill in even greater water depths than Istiglal. The construction of this new rig was driven by the need to improve the drilling infrastructure and to help meet drilling needs for deepwater areas in the Caspian. The DSS-20 will accommodate as many as 130 persons on board and will meet full international regulatory requirements.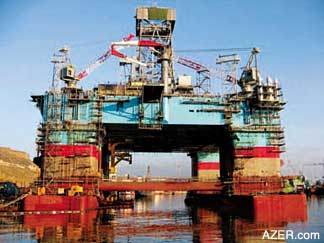 Construction of pontoons, columns, and drill floor components was completed in Singapore; in the summer of 2002, these components were transported to the Baku shipyard safely and without any incidents.

Since then, the rig hull has been completed, the drill floor has been erected, and assembly of the derrick is in progress. In addition, testing has begun on some of the installed rig equipment. Construction is scheduled for completion in the third quarter of 2003, after which the rig will be inaugurated.
The contract for DSS-20 was awarded in February 2001. Agreements have been signed between ExxonMobil subsidiary Exxon Azerbaijan Operating Company, LLC (Exxon Azerbaijan), Chevron Overseas Petroleum Azerbaijan Limited, Maersk Contractors and the State Oil Company of Azerbaijan Republic (SOCAR) for use of the rig. Exxon's project at Zafar-Mashal is at the top of the list to be the first well to be drilled.

About 800 Azerbaijani workers are currently involved with the construction of modules at the Caspian Shipyard Company (CSC), which is a joint venture of SOCAR, Keppel FELS and LUKOIL. Approximately 1,000 people will be employed at the peak of the construction process.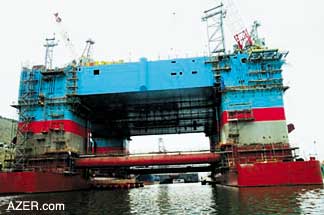 ExxonMobil has been active in Azerbaijan since 1995. Through subsidiaries the company holds interests in four projects: Azeri-Chirag-Gunashli, Alov-Araz-Sharg, Zafar-Mashal, and Nakhchivan and Oguz projects.












Back to Index AI 11.1 (Spring 2003)
AI Home | Search | Magazine Choice | Topics | AI Store | Contact us

Other Web sites created by Azerbaijan International
AZgallery.org | AZERI.org | HAJIBEYOV.com