Summer 2002 (10.2)
Page 17

Caspian Jazz and Blues Festival - Baku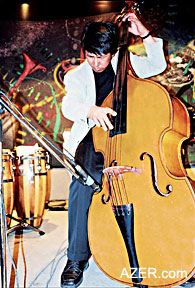 Azerbaijan's first-ever international jazz and blues festival was held in Baku April 8 to 14, 2002. Organized by American Voices, the Caspian Jazz and Blues Festival attracted more than 10,000 people.

More than 30 jazz performers came from the United States, Germany and the Netherlands for the Festival, which included performance opportunities and concerts at Baku's Republic Palace for the young and disadvantaged, as well as more than 12 hours of gala concerts featuring some of the best names in international and Azerbaijani jazz.

Left: Yasuhito Mori at a jam session at Baku's Jazz Club.

Performers included Toots Thielemans, CoCo York, Germany's Verner Inglert, Mike Shveyzer and Matias Stik, Michael Del Ferron's trio from the Netherlands and the Grand Orchestra of the U.S. Air Force. Azerbaijani jazz performers included Salman Gambarov's Bakustic Jazz Group, Amina Figarova, Ruslan Aghababayev and Rain Sultanov's Mugham and Jazz Group. The Standard Time Jazz Group of the Azerbaijan TV and Radio, Vagif Sadigov, Elza Seyidjahan and Emil Mammadov also joined the events.

The Festival kicked off with a five-day series of workshops for 200 children and young jazz musicians from throughout the city. Each night, jam sessions were held at Baku's Jazz Club.


"I was very happy to see that such a festival could occur in Azerbaijan in this 'post-September 11th"world we currently live in," said John Ferguson, Director of American Voices. "For me, it was proof of music's special ability to reach across geography, culture and religion to cultures so far removed geographically from the United States. The guest musicians were captivated by the warm hospitality, the talent they encountered and the beautiful music they heard while in Baku. I think Baku audiences felt reassured to know that musicians from outside the country were willing to work so hard to bring something of themselves to Baku. In any case, I think the possibilities for more exchange and collaborations in jazz has begun.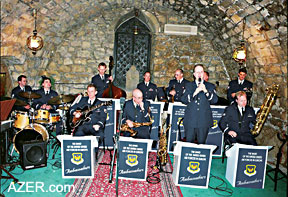 Right: U.S. Air Force Band performing at one of the Carvansarays in the Old City of Baku during the Caspian Jazz and Blues Festival in April 2002.

"In addition to thanking our project partners such as the Ministry of Culture, the U.S. Embassy, the Jazz Club and Bulbul School, we really must thank our sponsors who helped in so many ways­from cash donations to providing drivers, meals and hotel rooms. Without them, literally none of this would have been possible. We are also happy to thank the many volunteers from Reliable Future Organization, United Aid for Azerbaijan (who was also our designated charity for this festival) and ACCELS former exchange students to the USA."

Plans are already underway to hold another Caspian Jazz and Blues Festival in 2003. In the meantime, a festival compilation CD, sponsored by Garadagh Cement, will be released in September. Discussions are underway to continue the free workshops and jam sessions at the Jazz Club, as several festival artists want to return to Baku on their own in the coming months.
For more about Caspian Jazz and Blues Festival, see www.bakujazz.com/festival.

____
Back to Index AI 10.2 (Summer 2002)
AI Home | Magazine Choice | Topics | AI Store | Contact us

Other Web sites created by Azerbaijan International
AZgallery.org | AZERI.org | HAJIBEYOV.com