Summer 2002 (10.2)
Page 19

Azerbaijani Chefs Abroad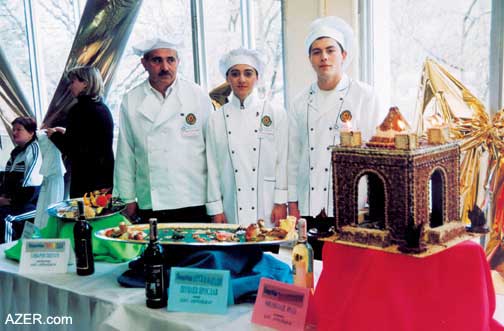 Above: Azerbaijani chefs at the Cooking of Friendship Festival held in Russia. The team received a bronze medal for their creative efforts.
Other articles by Tahir Amiraslanov:
From Pilaf to Pizza, a Road Map of Azerbaijani Cuisine (AI 7.3, Autumn 2000)

Chefs from Azerbaijan's National Culinary Center recently participated in two international food events held in Vienna and Russia. The first, a Cooking of Friendship Festival held in Kislovodsk, Russia on April 22-26, was a competition that attracted 25 teams from CIS countries. Azerbaijan's five-member delegation captured the bronze medal.

For the competition's Art category, Azerbaijani chefs reenacted a 12th-century feast based on the story of Shah Bahram's wedding night with the Slavic princess Nasrinush, as found in Nizami's "Seven Beauties" (Haft Paykar) epic poem (1197).



Left: Tahir Amiraslanov, Director of Azerbaijan's National Culinary Center, led groups of Azerbaijani chefs to events in Vienna and Russia.

Tahir Amiraslanov, Director of Azerbaijan's National Culinary Center, explains: "We spent eight months researching Azerbaijani cuisine from the 9th to 12th centuries. In addition to reading Nizami's 'Seven Beauties', we looked at Abu-Bakr's 'Munisnama', which describes Azerbaijani dishes, traditions and etiquette of that period."

The Azerbaijani menu included a special type of piti made with lamb broth, bird's tongue and sparrow's heart. "The dish called Piti back at that time wasn't as we prepare it today," he continues. "Bird's tongue symbolized the quality of being a smooth-talker, and sparrow's heart represented faithfulness, because the sparrow never leaves its nest.

"We also found out from the ancient manuscripts and miniatures that "guymag" was traditionally served on the wedding night," Amiraslanov says. Guymag is a thick porridge made of flour and butter with sugar and cinnamon sprinkled on top. "Today in Azerbaijan we tend to serve this dish to mothers who have just given birth because this food is so nourishing. For the competition, we topped the guymag with a confectionery called 'nabat' (like rock sugar)."

The Medieval Feast also included wines from Ganja, an ancient city in northwest Azerbaijan long known for its winemaking. Special dishes designed by Azerbaijani artist Mir Teymur were incorporated into the table setting along with a traditional samovar and tea set to represent the Silk Route, of which Azerbaijan was a part.

Also in Moscow, Tahir Amiraslanov was awarded the esteemed medal of Russia Public Recognition Academy and Fund for Contributions to Humanity. To date, only 62 people have been granted this order. Amiraslanov considers this honor as recognition for Azerbaijan as well.

Three chefs representing Azerbaijan traveled to The World Cooks in Vienna Festival, held April 26-30 and dedicated to the centennial of the Austrian Chef Association (Verband der Koche Osterreichs). In addition to preparing 28 Azerbaijani dishes for the Festival, the chefs exhibited wines from Ganja with names such as "Seven Beauties", "Maiden's Tower" and "Elite". "The Viennese people liked our wines very much," Amiraslanov says. "They couldn't believe that Azerbaijan produced such high quality wines."

Azerbaijan's Ambassador to Austria, Vagif Sadighov, helped bring the Azerbaijani chefs to Vienna. "If Vagif Sadighov and Abulfaz Garayev [Azerbaijan's Minister of Sports and Tourism] hadn't urged and pursued us, we probably would have missed this memorable European festival," Amiraslanov says.
For more about Nizami's "Seven Beauties", see "Chicago Enchanted by 'Seven Beauties': The Staging of Nizami's 12th Century Work" in AI 5.2 (Summer 1997). National Culinary Center Director Tahir Amiraslanov is the author of "From Pilaf to Pizza: A Road Map of Azerbaijani Cuisine", AI 8.3 (Autumn 2000).

____
Back to Index AI 10.2 (Summer 2002)
AI Home | Magazine Choice | Topics | AI Store | Contact us

Other Web sites created by Azerbaijan International
AZgallery.org | AZERI.org | HAJIBEYOV.com