Summer 2002 (10.2)
Pages 12-14

Reza - Focusing on Afghanistan

Other articles featuring Reza:
Black January - Baku (1990) (AI 6.1, Spring 1998)
In Pursuit of Freedom and Justice: Through the Eyes of a Photojournalist - Reza (AI 6.1, Spring 1998).
Quotes: Baku-an Old Forgotten Book (1997)
Quotes: Massacre at Khojali (1999)



Award-winning photojournalist Reza (1952- ), an Azerbaijani originally from Tabriz, Iran, recently held two important photo exhibitions in the United States: an exhibition and lecture at National Geographic in Washington, D.C. (May 7), and another at the Open Society Institute's offices in New York (May 13).

The two exhibitions focused on Reza's extensive work in Afghanistan. Between 1983 and 1990, Reza traveled to Afghanistan several times to cover the country's resistance to the Soviet occupation. He became a personal friend of Ahmad Shah Massoud, the Northern Alliance resistance leader who was assassinated two days before September 11, 2001. In 1992, Reza was the only photographer to enter into Kabul with Massoud.
"There's a curtain between the photographer and the subject, and the photographer has to be able to break through it," Reza says of his craft. "You have to be passionate. You have to open your heart to people, so they know you care. When I was covering Afghanistan, I lived with the fighters in the trenches, eating what they were eating-that is, if they had anything to eat."




Above: Throughout the 1980s, Reza photographed Afghanistan's resistance to Soviet occupation.

Reza has also spent a great deal of time photographing Azerbaijan and the Caucasus region. When Soviet troops massacred Azerbaijani civilians in the streets of Baku in January 1990, Reza was there to document the tragedy and break the news about Black January to the Western press. [For more, see the article "Black January: Behind the Scenes - A Photojournalist's Perspective" in AI 6.1 (Spring 1998).]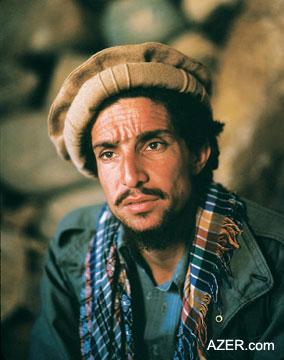 Reza also spent nearly two years traveling throughout Azerbaijan, Russia, Kazakhstan and Turkmenistan to document the Caspian Sea for National Geographic's May 1999 issue.

"When I was just 14, I realized that photography was really where my heart was," Reza says, "but I never thought that I would be a professional photographer." He began to teach himself the principles of photography but later studied architecture at the University of Tehran.

Right: Reza was a close friend of Shah Massoud, shown here, the Northern Alliance leader who was assassinated on September 9, 2001, two days before terrorists attacked the NY World Trade Center and the Pentagon.

His interest in photojournalism was sparked during the demonstrations in Iran in 1978. "One afternoon, I saw some students demonstrating in the street against the Shah," he recalls. "One of the students had a camera. As he was running way from the soldiers, he was taking pictures. And I thought, 'Well, Reza, something's happening in your country. What are you going to do?' So I decided to become a professional photographer.

"One day there was a big demonstration in Tehran. All the press agencies and magazines had photographers there. A French agency asked me to shoot for them for one day. A few days later, I got a phone call from Paris: 'Congratulations! You have six pages in Paris Match, six pages in Stern and a big picture in Newsweek.' I said, 'What? Are you sure they're my pictures?'"

Before long, Reza's work for the French Press Agency had earned him a position as a Newsweek correspondent in Iran. When the Iranian hostage crisis began, he was the only photographer there to witness what was going on outside of the U.S. Embassy. His photos of the American hostages appeared in numerous magazines around the world.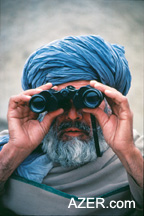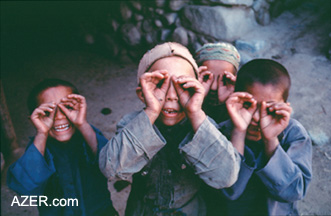 Right: An Afghan guerrilla fighter resisting the Soviet occupation, 1980s.
Left: Children from Afghanistan's Nangrahar Province playfully imitate Reza's camera.

Reza doesn't use his last name professionally because his dissident photographic activities have often made him a target for authorities. He explains: "When I was 22, I was arrested by the police for making newspapers and taking pictures that were against the government. I was put in prison for three years. I was tortured for five months-they were trying to find out if I belonged to a conspiracy. Later, when I covered the Iran-Iraq War and the Kurds in Iran, my pictures of the Kurds made the government very angry with me again. That was the beginning of my exile. I haven't been able to return home to Iran since March 1981."

Below: A family traveling together during a blizzard, Afghanistan.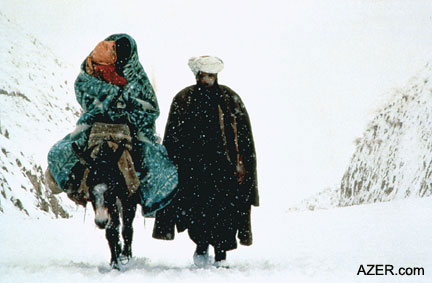 Besides working as a Middle East correspondent for Time magazine from 1983 to 1988, Reza has undertaken several assignments for National Geographic in Egypt, Turkey, the Caucasus, Central Asia, Russia and China. He has contributed to a number of books, is a regular correspondent for BBC Persian and Radio France Internationale Persian and has taught at such schools as the École d'Art in Paris and Georgetown University in Washington, D.C.

While Reza makes his home in Paris, he is often traveling throughout the world documenting the horrors of war. He compares the various worlds that he lives in-Paris and Washington, D.C.-to the sinking of the Titanic. "We're living on a big ship during the best of times. We're enjoying grand parties, great food and wonderful friends. But this ship is surrounded by blood and famine and disaster. I feel like I'm one of those people living on that ship and from time to time, I slip out into the water. After a while I return and try to explain, 'Hey, there are people out there who are dying. We should do something about it.' And when I see that people aren't taking me seriously, I remind them of what happened on the Titanic. One day, if we don't take care of those in the deep, dark, icy waters, it could happen to us."

One of Reza's most important causes is the children's rights project he started ten years ago. "In the 1980s, when I was covering war zones in Afghanistan, Beirut, the Philippines and South Africa, I realized that the real victims of war were the children," Reza says. "They are so innocent that they don't understand why this is happening to them-why they are losing their homes and their families, why they don't have anything to eat. I decided to focus my camera on this to show it to the world."

From 1989 to 1990 Reza served as a consultant to the United Nations humanitarian program in Afghanistan. He is also the founder of AINA, a non-profit foundation for the development of independent media and cultural expression in Afghanistan. The organization's sponsors include UNESCO, Reporters Sans Frontières, USAID, DFID (the British government's Department for Internal Development), International Media Support (IMS) and private sources. (To learn how to help AINA, send an e-mail to info@ainaworld.org or visit www.ainaworld.org.)
For more about Reza, see his Web site, WEBISTAN.com, and the articles "Black January - Baku (1990)" and "In Pursuit of Freedom and Justice: Through the Eyes of a Photojournalist - Reza" in AI 6.1 (Spring 1998).

____
Back to Index AI 10.2 (Summer 2002)
AI Home | Magazine Choice | Topics | AI Store | Contact us

Other Web sites created by Azerbaijan International
AZgallery.org | AZERI.org | HAJIBEYOV.com