Spring 2002 (10.1)
Pages 50-51

Nottingham Trent University
Providing Educational Support for Azerbaijani Students
by Colin Love




I'll never forget those first impressions of Baku. It was 1993, and I along with three other colleagues from The Nottingham Trent University were among the passengers peering out the windows of British Petroleum's privately chartered executive jet as it circled Baku, preparing to land. The immediate landscape looked far from inviting - flat, dirty ochre in color, littered with derelict buildings. Upon landing, things didn't appear much better. The airport was cold and dismal. We soon realized that our arrival at an international airport was not the usual kind. Processing our documents seemed to take forever. Eventually, we were met and driven to the bleak, cold and shabby Moskva Hotel overlooking the city. My colleagues and I looked at each other, wondering, what we were getting ourselves into? Ten years later, I can say it's been one of the most rewarding experiences in the history of our university.

Management Courses
From the onset of the break-up of the Soviet bloc, our university had made a conscious commitment to get involved with the challenges of training and educating "New Europe", including the former Soviet Union. Prior to that trip to Azerbaijan, we were already involved with universities in Poland, Czechoslovakia and Uzbekistan. No doubt it was this successful track record that had led to our being awarded a three-year contract to teach management in Baku.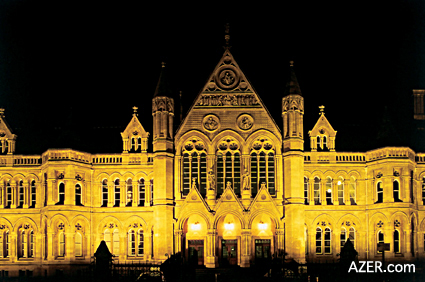 Left: Nottingham Trent University, shown above, has been providing support for Azerbaijani education since 1993.

During those first three years, some 60 Azerbaijani managers (under the sponsorship of BP) received training from our staff at the British Council, which at that time was located in the Institute of Politology building (previously, the Communist Party Training School). Upon completion of their courses, the managers were awarded the fully accredited postgraduate Certificate in Management. Six students were awarded extended sponsorship to continue their management studies with us in the U.K.

It's exciting to hear these days how so many of these students have developed careers and are now holding senior management positions in Azerbaijan. Even after all these years when they get back together, they joke about how certain letters of the alphabet came to have new significance for them. "A" was for Assignments - coursework that had to be submitted by "D"-dreaded Deadlines for submission! But most significantly, they remember the learning process - the interactive group work, the problem-centered approach to subjects such as Meeting Customer Needs, Managing Finance or Managing People. It was all a very different learning experience from what they had been taught under the Soviet system.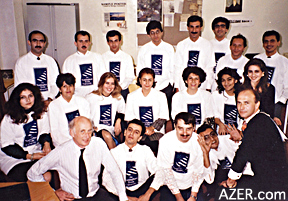 Adjusting to Baku
Despite our initial impressions of the city, it took less than a day for us to realize that Baku was an exceptional city.

Left: Numerous academic staff from Azerbaijan have benefitted from training programs provided by the U.K.'s Nottingham Trent University.

The architecture was fascinating and the people we met were unbelievably friendly and welcoming.

Nonetheless, during those early days, we faced so many obstacles, especially related to our living arrangements - temperamental gas water heaters and an unpredictable water supply, for starters. Many of our basic requirements, from sugar to toilet rolls, were hard to find. During those years, there were the curfews at night and tanks on the streets. How well I recall the tears in one student's eyes as he helped me carry my luggage from the Old Intourist Hotel when, fearing an insurrection, the British in Baku decided to evacuate to Moscow. "Would we ever come back," he asked? We did. Four months later we were "back in town," and the course resumed.

Partnering with Schools
Since then, our university staff has been working on an extensive range of educational projects in Azerbaijan. We were awarded a European Union TACIS [Technical Assistance of the European Community to the CIS countries] "Training the Trainers Program" to assist in a development program for Public Administrators.

In addition to enhancing library and IT facilities, our staff at the Institute for Public Administration enabled 30 Azerbaijanis to train in the design and delivery of new courses appropriate to the changing role of public administration.

These included, for example, Financial Management, Fiscal Policy, Human Resource Development and Social Security Systems. During this two-year training process, each of the Azerbaijani trainers also studied for a Nottingham Trent postgraduate Certificate in Public Administration Management; a total of 26 were awarded.

Yet another TACIS-funded project has enabled us to assist the private Khazar University in developing its internal processes of Academic Quality Assurance.

Currently, with the support of British government funding, we are assisting Western University staff in developing "best practice" in the design and delivery of undergraduate and postgraduate courses in Finance and Financial Services.

This means that Western University students are already benefiting from redesigned courses appropriate to the changing nature of Azerbaijan's financial markets and institutions. The students are also experiencing upgraded teaching and learning methods, including case studies. Upon graduating, each student will be better equipped to make a contribution to the development of the country's economic growth.

Over the course of these years, nearly 50 Azerbaijani academic staff members have come to Nottingham Trent to study how we do things here and have access to all of our university's educational support facilities.

Warm Hospitality
During these years, there have been so many opportunities for us to become familiar with Azerbaijani culture, especially music. Attending a performance of Hajibeyov's "Leyli and Majnun" is an unforgettable experience - especially with the compelling sounds of the Azerbaijani instruments, of which the tar has become my favorite.

How we've enjoyed the hospitality of Azerbaijani families and generosity - tables spread with delicious food. I'll never forget the first time I found a lady by my side peeling an apple for me. "But in Azerbaijan we do this for guests," she explained. "Unfortunately, not in England!" I thought to myself.

Of course, it's a special honor to be invited to an Azerbaijani wedding - with all that dancing. Just stretch out your arms, shuffle your feet energetically and keep moving. How simple it looks, until you see yourself on video!

Student-Centered Learning
Over the past ten years there has been a regular stream of Azerbaijani students coming to Nottingham Business School and our Language Center - some for short intensive language courses, others for up to three years of undergraduate or postgraduate study.

As Business School graduate Nigar Gasimova recalled, "We were a long way from home, in a different social environment and, most significantly, in a different educational culture. But the teachers did their best to help us by stressing the priority of student learning rather than teachers teaching. We were encouraged to understand that, as students, we are candles to be lit, not bottles to be filled."

This emphasis on student-centered learning was the focus of considerable interest when, in May 2001, we received a visit from the Azerbaijan Minister of Education, Professor Misir Mardanov, and Professor Mubariz Yusifov, the Rector of Ganja State University. Their visit led to the signing of a Memorandum of Cooperation between our two universities that, subject to funding, will provide opportunities for collaboration in developing an English Language Center in Ganja, teacher training in Nottingham and joint research activities.

A World of Change
That initial flight to Baku seems so long ago and far away. Many things have changed in Azerbaijan since then. There's a beautiful, clean, new airport building welcoming visitors. Basic commodities and even luxuries are readily available in the shops - for a price. Streets are much cleaner. Street vending, which had been a vibrant, and perhaps essential, part of the economy, has been largely swept away (though not without controversy).

Now there is a constant flow of water in public parks and fountains - even if water doesn't always flow in apartments. Manufacturing and service industries are developing. The promised oil and gas is beginning to flow.

Already a new generation of university students coming of age don't even remember what life was like before the existence of the omnipresent mobile phone. As teachers, we have to remind ourselves that many of our students were only seven years old when Azerbaijan gained its independence.

Azerbaijan's economy relies on providing high-quality education and training. At Nottingham Trent, we hope we can continue to play a significant role in this. Our enthusiasm is rooted in the positive memories and tangible results that we have experienced since that first visit nearly a decade ago. Our ties are close, so close that if Baku can boast its own Shakespeare Pub, maybe we should start thinking about opening a Nizami Chai Khana (Teahouse) here in Nottingham.
Colin Love is the Central and Eastern Europe Academic Projects Coordinator for The Nottingham Trent University in the U.K. Contact: colin.love@ ntu.ac.uk; www.ntu.ac.uk.

____
Back to Index AI 10.1 (Spring 2002)
AI Home | Magazine Choice | Topics | AI Store | Contact us

Other Web sites created by Azerbaijan International
AZgallery.org | AZERI.org | HAJIBEYOV.com