Spring 2002 (10.1)
Page 14

Children's Philharmonic Orchestra - 5th Jubilee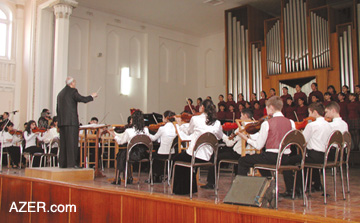 The Children's Philharmonic Orchestra of Bulbul Music School celebrated its fifth Jubilee with a concert on January 29, 2002 in Baku. Composer Azer Rezayev, (1930- ), who has taught music for the past 48 years, became the Founding Conductor in 1997.

Left: Azer Rezayev conducts the Children's Philharmonic Orchestra in a concert that celebrated the group's fifth anniversary. Reaching such a high level with a children's orchestra is rare, he says.

Rezayev says that during the Soviet period (1920-1991), there had been talk of organizing such an orchestra, but the challenges seemed too daunting. Only a few countries have ever managed to create a children's orchestra that could perform to a very high level.

Even though the students from Bulbul School are very talented musically, it takes a tremendous effort to prepare them to perform as a group. "They're very young," Rezayev says, "so it's even hard for them to sit still very long." To complicate matters, at the end of each year, the 30- to 40-member orchestra undergoes a major transition as some of the students graduate from high school and a new group of youth must be trained from the very beginning.

The students' repertoire includes works by various Azerbaijani composers, including Fikrat Amirov, Gara Garayev and Muslim Magomayev. One of the group's favorite pieces is the rousing "Arazbari" by Uzeyir Hajibeyov. The Orchestra also learns music by Western composers such as Haydn, Mozart, Beethoven and Debussy.



Left: Conductor Azer Rezayev

Despite the challenges, Rezayev says he is energized by his students' enthusiasm. "It's great to see how passionate the children are about learning." Rezayev himself graduated from Bulbul School in 1948. "I spent my childhood in this school, and then I began my teaching career here. My wife, daughter and one of my grandchildren also graduated from Bulbul School, that's why I love this school very much. My aim is to prepare these young people for the Music Academy, and when they manage to succeed, I'm so impressed. Some of them come back and thank me, saying that if they had not been involved with the Orchestra, they would never have learned to play so well. But the greatest honor for me is when great musicians listen to the children perform and consider it comparable to an adult performance.

"I would like so much for this symphonic orchestra to continue forever," says Rezayev, who is already prepping Ayyub Guliyev (1984- ), renowned tar player, to direct the orchestra in the future. Ayyub, a recent graduate from Bulbul School, who often performs tar duets with his father Ramiz Guliyev (1947- ), was named to the President's Golden Book of Young Talents in 1999. Ayyub is currently enrolled in the Music Academy.




Rezayev, who was named a People's Artist in 1991, comes from a distinguished musical family. In addition to his achievements with the Children's Orchestra, he is known as a composer in his own right for his concertos and arrangements for symphonic orchestra and chamber orchestra.
Left: Tar player and Conductor-in-training Ayyub Guliyev

For more information, search at AZER.com. Ayyub and Ramiz Guliyev: "Sing Tar, Sing: Like Father, Like Son-Passing on the Tradition" in AI 7.4, Winter 1999. Bulbul School: "Changing Our Tune: Bulbul Music Strikes a New Chord", AI 9.4, Winter 2001.

____
Back to Index AI 10.1 (Spring 2002)
AI Home | Magazine Choice | Topics | AI Store | Contact us

Other Web sites created by Azerbaijan International
AZgallery.org | AZERI.org | HAJIBEYOV.com