Spring 2002 (10.1)
Page 61

Dishing Up Azeri Cuisine
Azerbaijani Food in Budapest ­ Marquise de Salade Restaurant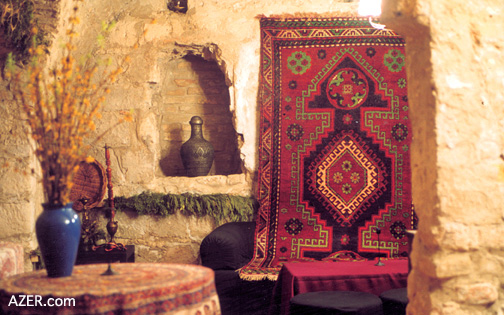 Above: Interior of Marquise de Salade, an Azerbaijani restaurant in Budapest.
While working at Central European University in Budapest, Hungary, I discovered a wonderful Azerbaijani restaurant named "Marquise de Salade". The owners, Sevinj (Seva) Mojiri and Dmitri (Dima) Kaplan, are both from Baku. Seva is an Azerbaijani whose family moved from Tabriz, Iran to Azerbaijan in the 1940s; her husband, Dima, is half-Russian and half-Jewish.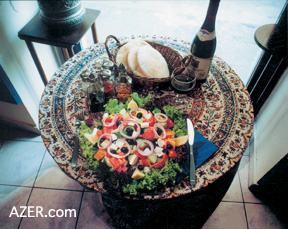 Left: A house specialty, "Sudaba Khanim" salad.

In 1994, Dima opened a salad bar restaurant in Budapest with the name Marquise de Salade - a play of words on the Marquis de Sade. In 1998, they expanded and renovated the restaurant, decorating it with beautiful Azerbaijani carpets and pictures of Baku's Ichari Shahar (Inner City). They also changed the menu to offer Azerbaijani and Georgian cuisine.

Authentic Menu
The restaurant serves various traditional Azerbaijani dishes, including shish kabab, lula kabab (made with ground lamb), yarpag dolmasi (stuffed grape leaves), badimjan dolmasi (stuffed eggplant), many kinds of plov (rice pilaf), ajab sandal (roasted eggplant, tomato and bell pepper with lamb), dushbara (a soup made with tiny dumplings), piti (a hearty lamb stew) and soyutma (roasted lamb pieces). The chef's specialty is a salad called "Sudaba Khanim" - named after Seva's mother, who also lives in Budapest.

Sometimes the owners find it challenging to locate the ingredients that are essential to these dishes. For instance, it's hard to find pomegranates, kutum (a freshwater fish that's stuffed with walnuts and greens to make lavangi), sturgeon (delicious as a kabab with pomegranate sauce), Azerbaijani greens, gurut (dehydrated yogurt) as well as jams and preserves made of rose, walnut, eggplant and mulberry. Even the right type of eggplant is hard to get here in Budapest; the kind that the Hungarians use is not the same as what we have in Azerbaijan.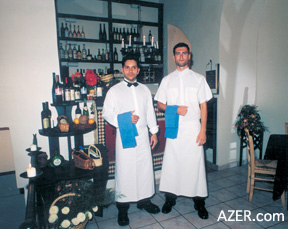 Every Sunday morning, before the restaurant opens, Seva and Dima traditionally cook a big pot of khash - not for their customers, but for their close friends, like myself. Khash is a very filling Azerbaijani dish that's great for cold winter mornings.

Right: Each night, waiters serve up Azerbaijani favorites like kabab, dolmasi and plov.

It's made of calf's feet and left to stew all night long over low heat, adding water occasionally. Khash is very filling and is best eaten with a teaspoon of vinegar to assist digestion. Vodka traditionally accompanies it as well. Azerbaijanis believe that khash is very nutritious, especially for growing children and people who are recovering from broken bones or other injuries.

Curious Clientele
Naturally, the Marquise de Salade is patronized by Azerbaijanis who live in or pass through Budapest. But most of the restaurant's customers are what Seva would call "curious intellectuals". They tend to be upper-middle-class Russian speakers and Westerners who live in Budapest. After a while, the foreigners began bringing along their Hungarian friends, who usually prefer to eat in Hungarian "korchmas" for a much cheaper price.

In the beginning, it seems the Hungarians associated this restaurant with Russia, which they strongly dislike for historical political reasons. It has taken them a while to recognize the diversity of the so-called "post-Soviet culture"; now they are learning to differentiate between Azerbaijani, Georgian, Ukrainian and Armenian cultures. Once they try Azerbaijani food, they see that it is much closer to Mediterranean cuisine than it is to Russian cuisine.
Marquise de Salade, Hajos 43, Budapest - 1065, Hungary. Tel: (+36-30) 223-3520. To learn more about Azerbaijani food, see the issue "Food! Glorious Food!" AI 8.3 (Autumn 2000).

Vugar Seidov, who lives and works in Budapest, contributed to this article.

____
Back to Index AI 10.1 (Spring 2002)
AI Home | Magazine Choice | Topics | AI Store | Contact us

Other Web sites created by Azerbaijan International
AZgallery.org | AZERI.org | HAJIBEYOV.com