Spring 2002 (10.1)
Page 58

Azeri Music Abroad
Azerbaijani Ashugs Perform in Europe
by Nanna Hartman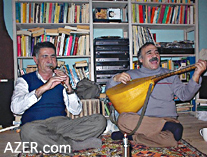 Ashugs are minstrels who travel from village to village in Azerbaijan, Iran and the surrounding regions, singing traditional Azeri folk songs and improvising lyrics about well-known heroic epic figures like "Koroghlu", "Nabi", or legends of love like "Leyli and Majnun" and "Asli and Karam". Azerbaijani ashugs accompany themselves on the saz, a traditional stringed instrument.

Left: Mashasallah Akbari (on balaban) and Ashug Hasan Iskandari (on saz) perform in a home in Denmark.

In February, two Azerbaijani musicians from Iran, Ashug Hasan Iskandari and balaban player Mashasallah Akbari, wandered far from their native land of Tabriz to perform in a concert tour of Belgium, Sweden and Denmark. These two talented musicians have performed in various other countries around the world, including Japan, France, Germany, the U.K., Hungary and Azerbaijan.

Ashug Iskandari, 47, started learning the saz with Ashug Abdul Ali when he was 15 years old. Today he weaves carpets and still performs as an ashug. He has taken part in many music festivals, winning several first prizes in Iran.

Mashasallah Akbari (1932- ) began playing balaban at age 15 under the tutelage of Ustad Abbas Ibadiyan. His long experience and love affair with music become evident when you watch him perform. It's like he and his instrument are one.



You might wonder why these two musicians chose to visit Denmark? My friend Ashug Abbas Sayidlar, who has lived in Copenhagen since 1988, arranged for their concerts here and also in Denmark's second-largest city, Aarhus. The Azerbaijan Federation in Sweden also helped sponsor these concerts.

Right: Akbari and Iskandari performing during their concert tour of Europe.

Sayidlar (1966- ) himself started playing the saz when he was about six years old , learning from Ashug Haji Ali and Ashug Ali. He has given concerts in Germany, the U.K. and Scandinavia, including a performance at the Roskilde Festival held in Denmark, one of the largest festivals in Europe. He works as a shoemaker in Copenhagen but is very active in the cultural scene and teaches the saz in his spare time. Many consider him to be not only the most talented Azerbaijani saz player in Denmark, but the best in Europe as well.

It's easy to see that life for these ashugs is really their art. They play from their hearts - from their life, their land, their mountains, from the roots of the soul of their culture. Even if one doesn't know the Azeri language (like me), it's easy to understand the universal, heartfelt, sometimes melancholic, language of their music.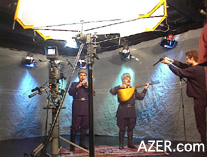 We were so lucky to have the ashugs stay with us in our home in Copenhagen while they were on tour. In the morning we would awaken to the melodies of the balaban and saz, sounds that call to mind the image of clouds obscuring the distant mountaintops near Tabriz and floating down to the Araz River valley below - songs that have been passed from musician to listener, from heart to heart, generation to generation - since time immemorial. We hope to welcome them back!
Nanna Hartman, a photographer and artist in her own right who received her training at the Royal Danish Art Academy, is married to an Azerbaijani from Iran. Soon they'll be opening an Azerbaijani restaurant in Copenhagen called (appropriately enough) SAZ Restaurant. Contact her at nanna.hartman@get2net.dk.

Above: Taping a performance for a television program in Denmark.


____
Back to Index AI 10.1 (Spring 2002)
AI Home | Magazine Choice | Topics | AI Store | Contact us

Other Web sites created by Azerbaijan International
AZgallery.org | AZERI.org | HAJIBEYOV.com