Spring 2002 (10.1)
Pages 70-72

Translating the Classics
Azeri Latin Versions Needed
by Anar

For more literary works by Anar search "Anar" at AZERI.org




After the Republic of Azerbaijan switched from the Azeri Cyrillic alphabet to Azeri Latin in December 1991, many of its next generation of schoolchildren could no longer read the hundreds, if not thousands, of world classics that had been translated into Azeri Cyrillic between 1920 and 1991 during the Soviet occupation. Anar [Rezayev], Head of Azerbaijan's Writer's Union, has compiled a list of works that he believes should be translated into Azeri Latin and published in Azerbaijan.

We publish a portion of this list here in order to show what Azerbaijanis consider to be the real classics of world literature, works that they expect their children to learn. Note that Soviet ideology has carried over somewhat-works by authors such as Ernest Hemingway, Theodore Dreiser and Jack London were considered acceptable reading material during the Soviet era. Many of the other 20th-century titles are by Nobel Prize winners from around the world indicated by * below.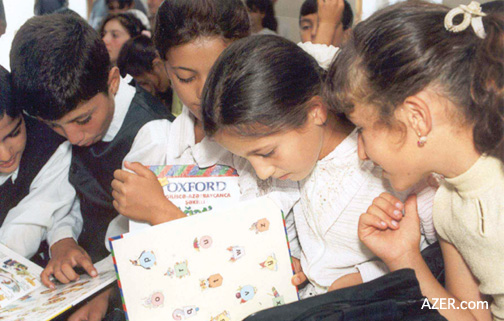 Above: Schoolchildren poring through their new Azeri Latin dictionaries provided by Exxon. Since Azerbaijan changed its alphabet in December 1991, there has been a desperate need for books in the Azeri Latin script. Today's younger generation has access to a much smaller knowledge base than their parents did. Photo: Exxon.

Those who would like to become involved in the effort to make world literature available in Azeri Latin are invited to contact Anar at Azerbaijan's Writers' Union in Baku at (994-12) 98-95-53 or Tel/Fax: 93-52-25, or contact Azerbaijan International magazine: ai@artnet.net.

______
Ancient Eastern Literature
Ancient Sumerian literature
"The Epic of Gilgamesh" (Babylonian poem)
Ancient Egyptian literature
The Bible
Ancient Chinese literature (Confucius, Lao-Tzu)
Ancient Japanese literature
Ancient Indian literature (Dhammapada, the Vedas, works by Kalidasa)
The "Avesta"

Sagas of the World
Ramayana (Indian)
Mahabharata (Indian)
Nibelungen (German)
The Song of Roland (Le Chanson de Roland) (French)
The Kalevala (Finnish)
Igor Polku Hagginda Dastan (The Tale of Igor's Host)
Manas (Kyrgyz)
Alpamish (Uzbek)
Geser (Buryat Mongolian folklore)
Pieces from Ural-Batir sagas (Bashkirian)

Classical
Homer-"Iliad," "Odyssey"
Aeschylus
Sophocles
Euripides
Aristophanes
Ovid
Catullus
Seneca
Marcus Aurelius

Classic Western
England
Shakespeare
Lord Byron
Charles Dickens
France
François Rabelais, "Gargantua and Pantagruel"
François Villon
Molière
Beaumarchais, "Le Mariage de Figaro"
Victor Hugo
Honoré de Balzac
Gustave Flaubert
Stendhal
Emile Zola
Guy de Maupassant
Marcel Proust
Charles Baudelaire
Germany
Goethe, "Faust"
Schiller
Italy
Dante, "The Divine Comedy"
Boccaccio, "The Decameron"
Spain
Cervantes, "Don Quixote"

Classic Eastern
"The Arabian Nights" tales
"Tales of Kalila and Dimna" (India)
Matsuo Basho (17th-century Japanese poet)
Du Fu and Li Po (Chinese poets from the Middle Ages)
Rabindranath Tagore (20th-century Indian poet)
Ferdowsi-selected parts from "Shah Name" (the Persian Book of Kings)
Selected works form Omar Khayyam, Hafez, Saadi and Jami
Mevlana Jalaladdin Rumi (13th-century Sufi poet)

Classic Russian
Mikhail Yuryevich Lermontov
Feodor Ivanovich Tutchev
Victor Nekrasov
Nikolay Vasilyevich Gogol
Alexander Griboyedov
Ivan Sergeyevich Turgenev
Leo Tolstoy
Fyodor Mikhaylovich Dostoyevsky
Alexander Ostrovsky
Anton Pavlovich Chekhov
Ivan Alekseyevich Bunin *
Maxim Gorky
Leonid Nikolayevich Andreyev
Alexander Kuprin

Contemporary World
Arabic Countries
Naguib Mahfouz *
Mahammad Dib
China
Lu Sin
Czechoslovakia
Vaclav Havel
France
Romain Rolland *
Roger Martin du Gard *
Jean-Paul Sartre *
Albert Camus *
Guillaume Apollinaire
Paul Eluard
François Mauriac *

Germany
Thomas Mann *
Franz Kafka
Hermann Hesse *
Erich Maria Remarque
Bertolt Brecht
Heinrich Theodor Böll *
Iceland
Halldor Laxness *
Iran
Bozorg Alavi
Literature of Southern Azerbaijanis
Italy
Umberto Eco
Giuseppe Tomasi di Lampedusa
Japan
Ryunoske Akutagava
Yasunari Kawabata *
Yukio Mishima
Kobo Abe
Kenzaburo Oe *
Latin America
Gabriela Mistral *
Pablo Neruda *
Jorge Luis Borges
Gabriel Garcia Marquez *
Octavio Paz *
Norway
Knut Hamsun
Russia
Aleksandr Blok
Velimir Khlebnikov
Boris Pasternak *
Aleksei Tolstoy
Alexander Isaevich Solzhenitsyn *
Joseph Brodsky *
Mikhail Aleksandrovich Sholokhov *
Spain
Federico Garcia Lorca
Antonio Machado
Sweden
Selma Lagerlof *
Turkey
Nazim Hikmet
Orhan Veli
Orhan Pamuk
United Kingdom
George Bernard Shaw *
James Joyce
T.S. Eliot *
George Orwell
Graham Greene
John Galsworthy *
United States
Walt Whitman
Henry Wadsworth Longfellow
Theodore Dreiser
Ernest Hemingway *
William Faulkner *
John Steinbeck *
J.D. Salinger
Jack London
Pearl Buck *
Yugoslavia
Mesha Selimovich
Ivo Andrich *

____
Back to Index AI 10.1 (Spring 2002)
AI Home | Magazine Choice | Topics | AI Store | Contact us

Other Web sites created by Azerbaijan International
AZgallery.org | AZERI.org | HAJIBEYOV.com