Winter 2001 (9.4)
Pages 60-61

A Place for Mugham
Azerbaijani Music is Focus for New Conservatory
by Siyavush Karimi, Rector




Azerbaijan has such a vast, rich musical culture. The truth is that we have more music than oil. We can and should bring investment to Azerbaijan not only through oil, but also through music.

Azerbaijanis strongly value music education, but up until recently, the greater emphasis has been placed on learning Western music, not Azerbaijani music. Students are often encouraged to study European instruments like the violin or cello rather than traditional Azerbaijani instruments like the tar and kamancha.

To counter this tendency, a new state music school - called the Azerbaijan National Conservatory - has recently been established to teach traditional music. Azerbaijanis are not in complete agreement about this development, however. Some say that national music and Western music shouldn't be taught separately. Others insist that Azerbaijan's music has been ignored for far too long.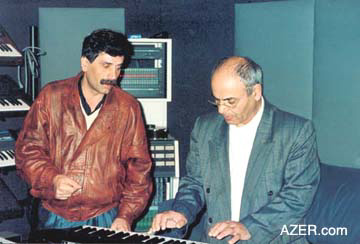 Left: Siyavush Karimi with Rafig Babayev, in 1993, before Babayev was killed by a terrorist bomb explosion in the Baku Metro in 1994. Rafig is credited with being one of the founders of Azerbaijan's Jazz movement.

Siyavush Karimi, the Conservatory's new rector, believes that this type of institution is long overdue. Here he shares his vision for the Conservatory, the one place where Azerbaijani music will always be top priority.

There's never been anything like this before: an Azerbaijan National Conservatory. During Soviet times, we would never have been allowed to open a school like this - especially one with "national" in its title. Actually, Uzeyir Hajibeyov dreamed of such an institution, but especially during Stalin's time, it was too dangerous to express such ideas. There seems to be anecdotal evidence that he discussed the idea among close friends.

The Conservatory is still in its formation and organizational stages, as we are waiting for a building. Eventually, it will serve as the umbrella for (1) the Asaf Zeynalli Music College, (2) the Baku Arts Gymnasium and (3) the Traditional Music Department of the Music Academy, just as the Bulbul Music School is under the umbrella of the Music Academy. The Azerbaijan National Conservatory will offer both undergraduate and graduate degrees. Since it's a state school, a majority of students will attend for free.

The Asaf Zeynalli Music College, currently under the direction of musician Nazim Kazimov, was established more than 70 years ago. Its students receive a bachelor's degree in either music teaching or accompanying. The music teaching degree includes study in traditional and Western instruments, choir conducting, singing and music theory. About 400 students are enrolled there.

The Baku Arts Gymnasium, which offers a high school diploma, currently has more than 1,300 students. All kinds of art are taught there - not just music. Composer Yusif Mammadov serves as the director.

Broader Education
I want the Conservatory to become a determining factor in the development of Azerbaijani musical culture. We will establish departments for tar and kamancha, wind instruments such as the zurna and balaban, traditional percussion instruments and khananda singing. There will also be a department for saz and ashug music.

We want our traditional singers to be broadly educated in general music subjects, including the Western musical subjects of solfeggio [sight-reading vocal music], music literature and harmony. I know that right now there are some very talented khananda students who do not know how to read musical scores. This is not right - they should have at least basic information about music theory.

In order to learn Azerbaijani music, it is also very important to study Persian and Arabic. English will be studied as well, within the department of foreign languages.

And we think sports should be an integral aspect for the students who study music. This is a new concept. Musicians should protect their hands and fingers. So we dream of finding a way to offer water sports at the new Conservatory.

We also want to computerize the entire educational system, as we want to establish a modern, progressive approach to studies. We want our students to know the Internet and have a chance to study the music of the world's nations via the Internet. We want them to be familiar with computer software for composing. We'll need a computerized library system and a language laboratory.

Roots of Mugham
Our national music is based on mugham, Azerbaijan's traditional modal music. It's the basis for all our improvisation and early music. In our instruction, we will certainly use the volume Uzeyir Hajibeyov [1885-1948] wrote in 1945, "The Principles of Azerbaijani Folk Music." This is a fundamental work.

Besides teaching mugham in depth, we will be researching and investigating its origins. We plan to send expeditions to remote villages to collect folklore samples. The idea is to recover our national roots. Mugham is very old, but nobody knows exactly how old. One expert claims it was created 8,000 years ago; another says, 2,000 years ago. We need to expand the borders of research in this area.
We also plan to establish a department for ancient instruments, which unfortunately tend to be forgotten these days. We want to learn more about their origins and how they are played. [For more about Azerbaijan's medieval instruments, see "Piecing Together History, String by String: Reconstruction of Azerbaijan's Medieval Instruments" in AI 5.4 (Winter 1997). Search at AZER.com.]

We are also hoping to create brand new instruments. For example, right now there is no Azerbaijani instrument that can be used as a bass for harmonizing with traditional instruments. We could create something like a bass kamancha or bass tar. It would be just an experiment, but you never know - if we create a new instrument, a thousand years from now, historians might say, "Such-and-such an instrument was created in Azerbaijan."

It's our plan to go out to the refugee camps, find talented children and bring them back to our Arts Gymnasium. Maybe somewhere out there, a future Gara Garayev [famous 20th-century Azerbaijani composer] is living in a tent. How will we know unless we look?

New Experiments
Our task is to improve the level of national music genres and attract young people to Azerbaijani music. As part of our effort to find and establish new genres on the basis of existing ones, we will be teaching Azeri jazz and pop music. Vagif Mustafazade (1940-1979) and Rafig Babayev [tragically killed in a terrorist explosion in the Metro in Baku in 1994] have already proved that there is such a genre as Azeri jazz.

Pop music is very popular right now, especially among young Azerbaijanis, but the level of quality is very low. When singer Rashid Behbudov [1915-1989] was performing in the 1950s and 1960s, Azerbaijani pop music was at a much higher level. We'll have to work hard to bring it back to that level again.

Another important point is the integration of Azerbaijani music into world culture. We are planning to work on more projects that mix Azerbaijani music with the music of other nations. The SKRUK CD is one such example.

Azerbaijani music is such strong music that it can easily be synthesized with other kinds of music. I have made experiments, and I believe that Azerbaijani music can be very well fused with music from South America, Tanzania, China and Japan.

Mixing is very important. Not everyone can comprehend mugham the first time they listen to it. Mixing makes it easier to understand. For example, if mugham is too complicated for Americans to understand and accept in its pure form, we can present it to them through American music. This prepares them to comprehend mugham in its original form.

Student exchanges are especially helpful in this regard. We want to establish two- or three-week summer school programs for foreign students to come and study Azerbaijani traditional music. We could even establish these schools in picturesque places of Azerbaijan, like Shaki or Lankaran. If the students are interested, they could stay here longer and enroll in degree programs.

We would also like to send our students to study abroad. They could visit universities in Texas or New York to learn Western jazz elements. They would then have the ability to mix Western jazz with Azerbaijani national music. If we claim to be a National Conservatory, we should not restrict ourselves to Azerbaijani music. We should also embrace the music of other nations.

We want to make it possible for our students to go out and represent Azerbaijan all over the world. They should be able to participate in international festivals, but obviously, this will require a lot of financing.

A few days ago, Per Oddvar Hildre, the head of SKRUK, was visiting Baku. We talked about organizing an international folklore festival here in Azerbaijan. I think that this should be one of the National Conservatory's first projects.

Global Audience
The audience for Azerbaijani music is growing. We hope to promote our music throughout the world, especially in Turkey, Norway, Japan, Peru and Venezuela. We are currently working on a project to bring Latin American musicians here to record Azerbaijani music.

Azerbaijan has a vast, rich musical culture. We have a responsibility to demonstrate this to the world. If the world gets to know us through our music, our reputation will grow considerably.

If we act now, I think we can earn a leading position for our music in the world. Today Arabian and Croatian music is becoming very popular. I'm optimistic that Azerbaijani music is capable of becoming popular as well.

In Azerbaijan the truth is that there is more music than oil. We can and should bring investment to Azerbaijan not only through oil, but also through music. I'm optimistic about our plans. This is education and education is sacred. We are building a society for our future generations. How can I be indifferent about what kind of world our own children will grow up to live in?

There's a political cartoon that shows an Azerbaijani soldier going off to war, but in place of a rifle he has a saz slung over his shoulder. There's truth in such a depiction. No doubt about it, a person with a saz slung over his shoulder is different from one who knows only how to lug a rifle.
Siyavush Karimi is a professional musician who graduated from the Azerbaijan Academy of Music in 1977. He plays several instruments, including the keyboard, tar and ud. He also works as a recording studio director.

____
From Azerbaijan International (9.4) Winter 2001.
© Azerbaijan International 2002. All rights reserved.
Back to Index AI 9.4 (Winter 2001)
AI Home | Magazine Choice | Topics | AI Store | Contact us

Other Web sites created by Azerbaijan International
AZgallery.org | AZERI.org | HAJIBEYOV.com