Winter 2001 (9.4)
Page 82
New Developments
McDermott Signs Major Contracts with AIOC

On November 30, 2001, J. Ray McDermott's regional operating arm, McDermott Caspian Contractors Inc. (MCCI), signed two contracts with AIOC (Azerbaijan International Operating Company) valued at approximately U.S. $320 million. The contracts are for the fabrication of platform topsides and offshore pipelay in Phase 1 of the Full Field Development of Azeri, Chirag and deepwater Gunashli (ACG). MCCI was also originally involved in Early Oil Production (EOP) for this contract area.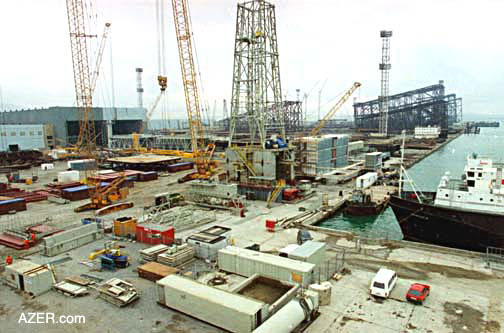 Above: To complete two contracts for AIOC, McDermott Caspian Contractors will utilize the infrastructure and equipment of SOCAR's ShelfProjectStroy (SPS) Fabrication Yard near Baku.

The ACG fields are located in the Azerbaijan sector of the Caspian, approximately 120km southeast of Baku, in water depths of 100 to 400m, covering an area of 432 sq km. The area has estimated reserves in excess of 4 billion barrels of oil. First oil production from Phase 1, which targets the central areas of the Azeri field, is scheduled for the first quarter of 2005.

MCCI's scope of work for the platform topsides includes fabrication, assembly, hook-up and commissioning of a 14,000-ton integrated drilling/quarters/production deck (DQ1). The topsides fabrication work will be done primarily in Azerbaijan, utilizing the infrastructure, equipment and labor of SOCAR's ShelfProjectStroy (SPS) fabrication facility. Work already underway involves upgrading plant and equipment at the SPS yard. Actual construction of the topsides will begin in April 2002 and is scheduled for offshore commissioning and completion in September 2004. More than 4.5 million man-hours will be expended, 75 percent of which will be completed by local Azerbaijanis.

Under the pipelay contract, MCCI is responsible for offshore installation of a 187km 30-inch pipeline, two 11.5km 24-inch pipelines for DQ1 and an 11.5 km 18-inch pipeline for the Compressor and Water Injection Platform (C&WP). During the pipelay contract, significant local Azerbaijani infrastructure will be utilized, including the Israfil Huseinov pipelay barge and key marine support vessels provided by the KMNF marine operations shipyard. The Israfil Huseinov will undergo specific upgrades at the KMNF dry dock, as well as general upgrades whilst it is moored at MCCI's proposed marine base at SPS. During the pipelay contract, an estimated 1.05 million man-hours will be expended, with local Azerbaijanis contributing approximately 70 percent of the total man-hour count.

Approximately 150 Azeri workers are already training in Dubai at the company's fabrication yard and marine base. They receive a five-day safety induction course, followed by skill assessments, craft training as well as further on-the-job training with veteran craftsmen. An additional 500 to 600 local workers will be trained in Baku over the course of the project.

J. Ray McDermott, a subsidiary of McDermott International, Inc., a worldwide energy services company, has had ties in the Caspian region since the late 1970s, when it became one of the first oil and gas contracting companies to recognize the need and opportunity to support the developing oil and gas industry of the former USSR.

J. Ray McDermott operates fabrication facilities around the world; its marine construction equipment-mostly combination derrick and pipelay barges-comprises one of the most versatile construction fleets in the world. The company provides turnkey project management, including design, fabrication, transportation and installation of marine structures and pipelines for development drilling and production, and subsea production systems, using in-house resources for every market.

McDermott's fabrication involvement in the Caspian has been through two joint ventures with SOCAR: 1) MacShelf, for marine construction work, using SPS yard facilities and equipment; and 2) MacDock, for ship repair and marine vessel upgrading, using the KMNF shipyard and construction fleet facilities. Since 1990, the start of McDermott's operations in Azerbaijan, the company has trained 240 structural and process piping fitters, 300 welders to international standards and 15 engineers to offshore construction standards. Chirag 1 construction engineering was successfully executed using a complete Azerbaijani engineering team with minimum expatriate supervision.

____
From Azerbaijan International (9.4) Winter 2001.
© Azerbaijan International 2002. All rights reserved.
Back to Index AI 9.4 (Winter 2001)
AI Home | Magazine Choice | Topics | AI Store | Contact us

Other Web sites created by Azerbaijan International
AZgallery.org | AZERI.org | HAJIBEYOV.com