Winter 2001 (9.4)
Page 21
Debut of Tar Concerto in United States




Left: Composer Haji Khanmammadov

January 26, 2002 marks the first time that a work by Azerbaijani composer Haji Khanmammadov (1918-2005 ) will be performed in the United States. At a concert in Los Angeles, Mohammad Omranifar (1971- ) will debut Khanmmadov's "Concerto No. 2 for Tar," accompanied by the La Mirada Symphony Orchestra under the direction of Leon Guide. Omranifar is an Azerbaijani from Tabriz, Iran, who wrote his thesis at Tehran Music University in 1998 about Azerbaijani music.

The Azerbaijani tar varies somewhat from the Iranian tar. First of all, it has 11 strings, not six. Instead of being tuned in quarter tone increments, the Azerbaijani tar is tuned in semitones (in half-steps) so that it may be used in combination with Western instruments such as violin and cello. Rather than being played on the musician's lap, it is held tightly against the chest.

Omranifar remembers seeing the Azerbaijani tar for the first time on television in the mid-1980s, back in the days when borders were closed between the Soviet Union and Iran. "We used to watch orchestras on Baku television whenever we got a chance. You had to have a huge antenna - which we called our "Baku Antenna" - on the roof to be able to pick up the channel. Even though the image was often distorted, the sound was good. I spotted the tar in the orchestra one day and became curious."

Omranifar heard Khanmammadov's concerto and decided he wanted to master it. When he played a tape of this concerto for his fellow students to show them how strong the tar was, they were shocked. They couldn't understand how such a beautiful sound could come from such an instrument.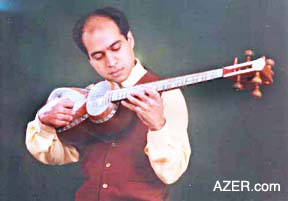 Left: Mohammad Omranifar will perform Haji Khanmammadov's Concerto No. 1 for Tar and Orchestra in Los Angeles in January 2002.

Haji Khanmammadov was born in Darband, now Dagestan. Since his father had been imprisoned and his uncle sent into exile during Stalin's Purges (1930s), his relatives decided to send Haji to Baku to seek out Uzeyir Hajibeyov, the composer of "Arshin Mal Alan", who they heard was a "very kind person." Haji was only 14 years old when he made the journey alone by train to Baku.

Hajibeyov recognized the youth's passion for the tar and enrolled him in the Conservatory. Later, Khanmammadov studied composition under Gara Garayev who challenged him to write a concerto for tar. Khanmammadov went on to make a career out of music and compose a total of five concertos for tar and symphonic orchestra, plus a concerto for kamancha and another for harp. He lives in Baku today.

Omranifar's concert will take place at 14900 La Mirada Blvd (the corner of La Mirada Blvd. and Rosecrans) in La Mirada, California at 8 p.m. on Saturday, January 26, 2002. Contact: Mohammad Omranifar, Tel: (213) 383-5189; omranifar@yahoo.com; or the La Mirada Orchestra, Tel: (714) 521-2786; (714) 523-2532.
To learn more about Haji Khanmammadov, SEARCH at AZER.com where samples of his music can be heard. Tar Concerto No. 1 may be purchased at AI Store [Volume 3 of the Classical Music of Azerbaijan CD Series].

____
From Azerbaijan International (9.4) Winter 2001.
© Azerbaijan International 2002. All rights reserved.
Back to Index AI 9.4 (Winter 2001)
AI Home | Magazine Choice | Topics | AI Store | Contact us

Other Web sites created by Azerbaijan International
AZgallery.org | AZERI.org | HAJIBEYOV.com