Winter 2001 (9.4)
Page 22

World Forum of Azerbaijanis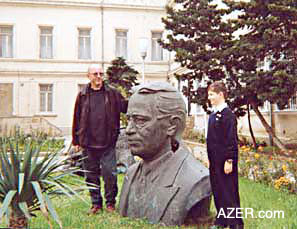 On November 9-10, 2001, the First World Forum of Azerbaijanis, organized by the Azerbaijani government, was held in Baku. The event brought together Azerbaijanis from all over the world.

Left: Descendants of Uzeyir Hajibeyov (statue) visited Baku for the first time in November 2002. Clement (left) and Benjamin Bailly are grandsons of Jeyhun Hajibeyli, brother of the great composer. They live in Paris where Clement is a jazz percussionist.

President Heydar Aliyev challenged the Azeri Diaspora to work together with citizens of Azerbaijan to strengthen and build up awareness of the country and its needs and opportunities throughout the world. Undoubtedly, the greatest benefit of the session was the interaction, exchange and friendships that were facilitated by such an event. For more information about the Forum, visit http://diaspora.az. Site is in Azeri, Russian and English. The Congress has plans to convene every three years.

Distinguished members who attended the event included: (1) Arslan Aydar (Turkey), Member of Parliament of the Grand National Assembly; (2) Tomris Azeri (USA) President of Azerbaijan Soaciety of America (ASA), (3) Firudin Safarov (Uzbekistan), conductor of the Tashkent Opera and Ballet Theater; (4) Shirin Malikova (France) contributor to the Paris International Academy of Diplomacy; (5) Akbar Behkalam (Germany) artist; (6) Alireza Ardibili (Sweden), Azerbaijani Radio and (7) Pirouz Khanlou (USA) publisher of Azerbaijan International magazine.

Another special guest was Clement Bailly (1951- ), grandson of Jeyhun Hajibeyli (1891-1962) who was the brother of the well-known Azerbaijani composer Uzeyir Hajibeyov (1885-1948). It was the first time that Bailly, a musician living in Paris, had ever traveled to Azerbaijan.

In 1918-1920, Jeyhun had served as a representative in the short-lived Azerbaijan Democratic Republic. He was sent to Paris to help forge international ties but when the Bolsheviks seized Baku in 1920, he feared for his life and never returned home. He remained in exile in France for the rest of his life where his children, grandchildren and great grandchildren have grown up. While in exile, Jeyhun continued his path as a political activist, trying to expose the reality of the conditions that Azerbaijanis lived under during the Soviet regime.

Clement is currently working on a biography about his grandfather Jeyhun who wrote many articles and books including "The Dialect and Folklore of Karabakh" (Imprimerie Nationale: Paris, 1933, 137 pages in French) which may be accessed at HAJIBEYOV.com. Click on Research.

____
From Azerbaijan International (9.4) Winter 2001.
© Azerbaijan International 2002. All rights reserved.
Back to Index AI 9.4 (Winter 2001)
AI Home | Magazine Choice | Topics | AI Store | Contact us

Other Web sites created by Azerbaijan International
AZgallery.org | AZERI.org | HAJIBEYOV.com