Winter 2001 (9.4)
Page 14
Evolution of Consciousness
Ten Years After the Collapse of the Soviet Union
by Betty Blair




Fifty years from now, historians are likely to identify December 8, 1991 as the actual date that the Soviet Union collapsed. On that day, the leaders of Belarus, Ukraine and Russia met in the Bela Vezha Forest [Belarus] and drew up a document, now referred to as the Bela Vezha Agreement, stating that "the Soviet Union as a geopolitical reality and a subject of international law has ceased to exist."

But the actual process of disintegration, many Azerbaijanis would suggest, began nearly two years earlier for them with the tragic events of Black January (January 19-20, 1990), when Soviet troops under orders from Soviet leader Mikhail Gorbachev suddenly descended on the streets and indiscriminately killed civilians to quell what was described as the unruliness of Azerbaijanis demonstrating for independence.

This unprovoked slaughter numbed the Azerbaijani people. Officially 132 people died that night, but no one doubts that the casualties were grossly underreported and that many bodies were dumped into the sea to conceal the terrible massacre. Today, mystery still shrouds that event, in terms of the actual facts and figures. But one thing is clear: for hundreds of thousands of Azerbaijanis, perhaps even millions, the Soviet Union ceased to exist beginning on that tragic night.

It was an automatic decision. Azerbaijanis simply lost faith in the system, concluding that the "Brotherhood of Nations" the USSR had claimed for the 15 Soviet republics had grossly abused their rights as citizens. Many Communist Party members in Azerbaijan burned their ID cards in protest, giving up many privileges that they had worked hard to achieve. There was no turning back. And thus it was Black January that gave birth to an evolution of consciousness in Azerbaijan that eventually did lead to its independence.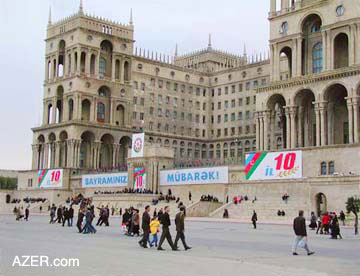 Left: Azerbaijan celebrating Ten Years since the Collapse of the Soviet Union in November 2001 in front of the Government Building.

In both the Autumn and Winter 2001 issues (AI 9.3 and AI 9.4) of our magazine, we have reflected on this ten-year process of shaking off the shackles of a totalitarian system and grappling with the concept of independence. In the course of interviewing people and translating and editing articles, we've noted two distinct patterns emerging in what we've entitled "The Evolution of Consciousness."

The first tendency has to do with Azerbaijanis forging international ties, breaking down those walls that once imprisoned and separated them from the rest of the world. The West called it the "Iron Curtain"; Azerbaijanis often referred to it as an "Information Blockade" that prohibited them from communicating and meeting with outsiders. During this past decade, Azerbaijanis have moved rather quickly beyond their territorial borders to establish international ties, starting with the very intense itinerary that Heydar Aliyev pursued, especially during the early years of his Presidency, to visit foreign Heads of State, build relations and sign contractual agreements in economic, political and cultural spheres.

The spirit of internationalism is not something new. It has existed deep within their soul for millennia. Located at a strategic trading crossroads of east and west, north and south, Azerbaijan has long prided itself on its hospitality to strangers. It's just that the Soviet system banned those ties for all except the privileged few who became emissaries or token representatives to demonstrate the superiority of the Soviet system.

The second trend that we've observed relates to Azerbaijanis finally being able to look deep within themselves to discover who they are as a people and as a nation. Clearly, they are grappling with the question of identity. This is leading to a revival of interest in the Azeri language, culture, music, folklore, history, archeology - you name it. During the Soviet regime, delving into one's national roots was prohibited for the sake of the "greater good of that vast nation" that encompassed many nationalities and stretched across 12 time zones. Other former Soviet Republics complain about the same thing today. But without understanding their own roots, how can Azerbaijanis or the people of any other Republics succeed in building their own futures? How much will they be able to recover that hasn't already been intentionally obliterated over these past 70 years? How much will historians be able to piece back together? How much has been erased from the collective memory forever?

When we began publishing Azerbaijan International magazine in 1993, we didn't realize that our efforts would produce one of the most reliable, consistent and comprehensive accounts in English of Azerbaijan's process of rebirth. It's been a fascinating journey to witness and record the founding of a new nation. We hope the articles that follow provide our readers with invaluable glimpses into this incredible historical phenomenon.

____
From Azerbaijan International (9.4) Winter 2001.
© Azerbaijan International 2002. All rights reserved.
Back to Index AI 9.4 (Winter 2001)
AI Home | Magazine Choice | Topics | AI Store | Contact us

Other Web sites created by Azerbaijan International
AZgallery.org | AZERI.org | HAJIBEYOV.com