Winter 2001 (9.4)
Holiday Calendar for 2002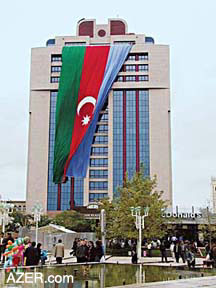 Jan 1
New Year's Day
Jan 20
Day of Martyrs 1
Feb 22
Gurban Bayrami 2
Mar 8
International Women's Day
Mar 21
Novruz Bayrami (Festival of Spring)
May 9
Victory Day 3
May 28
Republic Day 4
Jun 15
National Salvation Day 5
Jun 26
Army Day 6
Sept18
Music Day 7
Oct 18
National Independence Day 8
Nov 12
Constitution Day 9
Nov 17
Day of National Revival 10
Dec 6
Bayram Ramazan (End of Ramadan) 11
Dec 31
Day of International Solidarity of
Azerbaijanis 12
Photo: ISR Plaza in Baku on National Independence Day, October 18, 2001.






1 Commemorates the victims of the tragic events of Black January (1990), when Soviet troops attacked Azerbaijani civilians in Baku, and the Karabakh War (1988- ).

2 Religious holiday commemorating Abraham's sacrifice of his son, Ismayil. Moveable date based on the lunar calendar.

3 Holiday from Soviet period celebrating Soviet victory over Germans in World War II.

4 Founding of the Democratic Republic of Azerbaijan (ADR), the nation's first independent government (1918-1920). Considered the most important national holiday.

5 When Parliament invited Heydar Aliyev to come to Baku to lead the country (1993).

6 Commemorating the establishment of Azerbaijan's first army under the independent government of Azerbaijan Democratic Republic (1918).

7 Birthday of Uzeyir Hajibeyov (1885-1948), composer and founder of the composed classical music movement in Azerbaijan. Not an official holiday but annually marks the opening of the Theater Season.

8 When Azerbaijan declared its independence from the Soviet Union (1991). The USSR officially collapsed on December 7, 1991.

9 When the new Constitution, Azerbaijan's fourth, was ratified (1995).

10 When the first demonstrations broke out in Azerbaijan against Moscow's policies as they related to Nagorno-Karabakh (1988).

11 Marks the end of the traditional Muslim month of fasting, Ramadan. Lunar calendar.

12 When Azerbaijanis broke down the barriers (during the Soviet period in 1989) along the border that separates them (North Azerbaijan) from (South Azerbaijan) Iran. An estimated 25-30 million Azerbaijanis live in Iran today. This holiday is intended to foster solidarity among Azerbaijanis throughout the world.

____
From Azerbaijan International (9.4) Winter 2001.
© Azerbaijan International 2002. All rights reserved.
Back to Index AI 9.4 (Winter 2001)
AI Home | Magazine Choice | Topics | AI Store | Contact us

Other Web sites created by Azerbaijan International
AZgallery.org | AZERI.org | HAJIBEYOV.com