Winter 2001 (9.4)
Page 75
Business and Opportunities
Mugham CD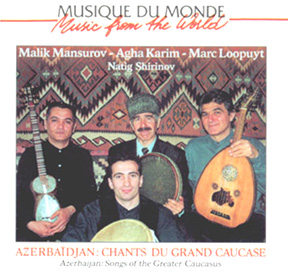 TotalFinaElf has sponsored the production of a mugham CD featuring French musician Marc Loopuyt playing the ud with Azerbaijani tar player Malik Mansurov, mugham singer Agha Karim Nafis and nagara player Natig Shirinov. TotalFinaElf also helped finance a concert tour for these musicians in France and a concert at the Mahni Theater in Baku. Contact: TotalFinaElf in Baku: (994-12) 92-12-76.

____
From Azerbaijan International (9.4) Winter 2001.
© Azerbaijan International 2002. All rights reserved.
Back to Index AI 9.4 (Winter 2001)
AI Home | Magazine Choice | Topics | AI Store | Contact us

Other Web sites created by Azerbaijan International
AZgallery.org | AZERI.org | HAJIBEYOV.com