Spring 2001 (9.1)
Page 15
Newsmakers
Another Olympic Gold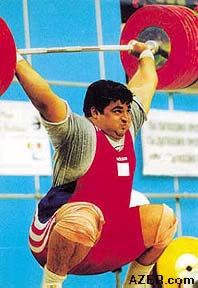 The unofficial title of "world's strongest man" now belongs to weightlifter Hossein Rezazadeh, who won a gold medal at last September's Olympic Games in Sydney. Hossein, 23, is an Azerbaijani from Ardebil, Iran.

Left: Hossein Rezazade, an Azerbaijani from Iran, won the Olympic Gold in Sydney for lifting 573 pounds.

He competed in the men's superheavyweight (+105kg) category and broke two world records. The first was the world snatch record of 206kg - Hossein lifted 212.5kg (468 pounds) at the Olympics. After lifting 260kg (573 pounds) in the clean and jerk competition, he also broke the record for combined weight with his total of 472.5kg (1,040 pounds). "I didn't expect to win a medal," Hossein said at the time, "but I had worked really hard to prepare."

This was Hossein's first visit to the Olympics; his first major win came in 1997 when he won a gold medal at the Asian Youth Championships in China. There he lifted 365kg. Three years later, he had increased his lifts by 100kg.


_____
From Azerbaijan International (9.1) Spring 2001.
© Azerbaijan International 2001. All rights reserved.
Back to Newsmakers
Back to Index AI 9.1 (Spring 2001)
AI Home | Magazine Choice | Topics | Store | Contact us