Spring 2001 (9.1)
Page 14
Newsmakers
Child Wonder Kamilla Takes a Bow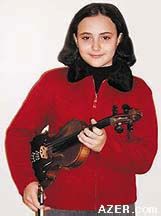 This past January, 12-year-old Kamilla Hajiyeva-Tsiperovich took first place in violin at the Child Prodigy (Wunderkind) international competition in Jerusalem. The festival featured young musicians from all over the world; finalists in the violin category came from Russia, the United States, Israel, Japan and Azerbaijan.

Kamilla is a familiar young face in Azerbaijan's music scene. In 1998, Pennzoil organized her first solo violin concert at the National Art Museum; they also presented her with a new violin.

Kamilla was also recently featured in a highly successful CD created by the Azerbaijani rap group Dayirman called "Sari Galin" (Yellow Bride). In that video, she played the role of the angel and performed on three instruments: violin, flute and clavichord. (See the article on Dayirman in this issue.) When she was younger, Kamilla loved to paint and competed in 15 international competitions. One of her watercolors that she painted when she was eight years old, "Spring Day in Baku," appeared as the back cover of the Spring 1998 issue of Azerbaijan International (See AI 6.1).

It wasn't easy for Kamilla to learn that the Wunderkind competition existed. In fact she learned about it, quite by accident. One of her friends from the National Symphonic Orchestra passed her on the street and happened to mention it. Kamilla managed to prepare a video, finishing it just in time to send it to Israel on the very last day before the deadline.

On her two-hour videotape audition, Kamilla played Kabalevsky (Concerto for Violin), Handel (Sonata No. 4), Saint-Saëns (Dying Swan) and Gara Garayev (Pastorale from his Sonata for Violin). Neither she nor her mother, Larisa Fyodorova, thought that she would succeed in the competition. "The tape was bad. The filming was so amateurish that we thought it would disqualify me," Kamilla explains.

But it didn't. At the competition in Jerusalem, Kamilla took first place with a two-hour program that included Saint-Saëns (Concerto for Violin), Tartini (Sonata, "Abandoned Didona"), Vieuxtemps (Tarantella), Paganini (Capriccio #13) and Bach (Partita #3).

After being declared the winner, she was interviewed by CNN, the Russian TV channels (NTV and ORT) as well as Israeli television. During Kamilla's three-week stay in Israel she also celebrated her 12th birthday and had a chance to tour a bit throughout the country, visiting the cities of Tel-Aviv, Haifa and Nazareth. It was the first time she had ever been outside of Azerbaijan.

Though Kamilla has already proven herself as a world-class violinist for her age, she realizes that she still has a lot of work ahead of her: "It's my dream to work so hard that I am recognized worldwide for my music." Her inspiration? Baku-born, world-renowned cellist Mstislav Rostropovich, now 74. In
the meantime, she'd be thrilled to get a chance to perform in the U.S. and Europe.

____
From Azerbaijan International (9.1) Spring 2001.
© Azerbaijan International 2001. All rights reserved.
Back to Newsmakers
Back to Index AI 9.1 (Spring 2001)
AI Home | Magazine Choice | Topics | Store | Contact us