Spring 2001 (9.1)
Page 14
Newsmakers
Farhang Huseinov Wins Music Prize
Editor's Note: Farhang Huseinov (1949-2010)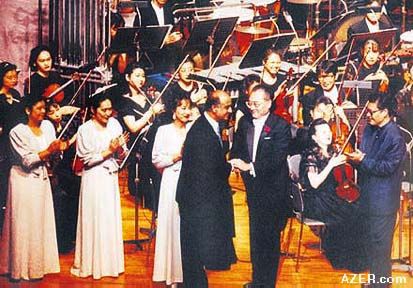 Above: Composer Farhang Huseinov (sometimes spelled Huseynov), won the Jose Asuncion Flores International Composition Competition in Asuncion, Paraguay, an international festival sponsored by UNESCO. Farhang has also composed the opera Kodayu for Japanese performers (photo above).

"Capriccio Guarani", a symphonic work by Azerbaijani composer Farhang Huseinov (1949-), took first place at the first International Composition Contest dedicated to Jose Asuncion Flores in Asuncion, Paraguay. The competition was organized by UNESCO, the Cultural Ministries of Paraguay and Argentina, the Spanish-speaking International Radio of Latin America, American Airlines and AECI.

"Guarani" refers an ancient Indian tribe from Paraguay, Argentina and Bolivia. Guarani is the second official language in Paraguay, next to Spanish. Jose Asuncion Flores (1904-1972), a well-known composer of Paraguay, was from the Guarani nation; he is known for reviving the tribe's folk music and incorporating Guarani rhythms into symphonic music.

Farhang used this same technique in his 12-minute work, written for a full orchestra. "By the time I heard about the competition and received some sample Guarani rhythms from the UNESCO office in Paraguay," Farhang says, "I only had 18 days to complete the composition. The intonation is pentatonic, based on the musical language of native peoples from Tibet, China, Japan, Mongolia, Korea and Alaska down to the southern-most tip of Argentina."

Farhang Huseinov was born in Baku and received his musical education at the Baku and Moscow State Conservatories. He studied composition with Gara Garayev and Aram Khachaturian, and violin with Leonid Kogan and Karp Dombaev. In 1975, Farhang graduated from the Moscow State Conservatory and worked with Kogan as a violin assistant until 1978. He then returned to Baku and taught violin at the Azerbaijan State Conservatory from 1978 to 1992.

Since 1992, Farhang has served as head of the string department at Chukurova University's State Conservatory in Adana, Turkey. Besides having his name listed in the Grove Encyclopedia of Music, this prolific composer has written numerous works, including two operas, "Little Prince" and "Kodayu", concertos, piano and violin sonatas, a children's cycle for piano, five cantatas plus several works for film. At the moment, he is working on two projects, one of them a "Tokyo Symphony" based on Japanese folk music, commissioned by Japanese conductor Yoshinao Osawa. The other one is "The Queen Aba Ballet", commissioned by the Turkish Republic.

Farhang will be traveling to Asuncion, Paraguay for the rehearsals and performance of "Capriccio Guarani" and the Award Ceremony on August 15, 2001.

_____
From Azerbaijan International (9.1) Spring 2001.
© Azerbaijan International. All rights reserved.
Back to Newsmakers
Back to Index AI 9.1 (Spring 2001)
AI Home | Magazine Choice | Topics | Store | Contact us