Spring 2001 (9.1)
Page 12

Reader's Forum
Where's Azerbaijan? Now We Know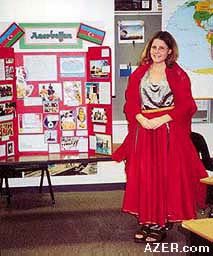 I'm a student at the Middle School in Russellville, a city in Arkansas with a population of about 30,000. My school has about 600-700 students. I'm in an Advanced Placement Seventh Grade Social Studies class with about 25 kids. For the past ten years, students in Seventh Grade have participated in a Culture Fair - a study of countries of the world.

My teacher assigned the topic of Azerbaijan to me. I didn't even know this country existed! When she gave me the little slip of paper with the word "Azerbaijan" on it, I asked: "Where in the world is this?!" I actually had to get out the atlas and look it up in the index.

When I got home, my mom nearly had a stroke! She knew we were in for long hours of searching! But I lucked out when I found the link to Azerbaijan International magazine from the American Embassy Web site. I sure am glad I surfed on! Your magazine saved my life, and helped me get an A+ on my project! Everyone in my class was really interested in your country. It is so cool to learn about places no one is familiar with! Other students reported on Canada, Jamaica, Scotland, India, Zaire and Australia.

I had to do five weeks of research before I could start on my presentation board for the Fair. I had to find statistical data on Azerbaijan like its size, landforms, topography, GNP, weather, average income, birthrate, average life span and educational statistics. Then there were reports on flora and fauna, foods, customs, holidays, language, ethnic populations, housing, arts, major landmarks, myths, music and foods.

I had to write about military conflicts, unrest, civil rights, type of government, manufacturing, mineral and natural resources, renewable and nonrenewable resources...and on and on. All of this research had to be done in note form with complete bibliographies! My mom helped me with the bibliographies.

The Internet was a huge help, but it was only one of eight sources that were required. I'm sure that I could have found everything online, but we had to have at least one entry each from encyclopedias, magazines, books, atlases, personal interviews, periodicals, textbooks and almanacs. It was tough! We weren't allowed very much time in class to work on our projects: I did at least 90 percent of it at home.

I have learned so much about Azerbaijan! It seems like I've been there before! If I could really visit, I would definitely want to see the Ballet and Opera House in Baku. I played the cassette "Arazbari" by Uzeyir Hajibeyov during my presentation. I'll bet it has been performed in the Opera House before. I'd also want to visit the Maiden's Tower. I think I'd like the Caspian Sea. Azerbaijan impressed me as a country that has an old history! I think their traditions are very interesting. I was surprised to learn that my mom's kabobs may have originated from that part of the world.

The one thing that concerns me is the war and troubles with Armenia. I feel sorry for the refugees. It must be hard to live away from their homes. I worry about earthquakes, too. We read about one in the newspaper [November 2000] right while I was doing my research. I hope that Azerbaijan continues to become a more modern independent country and has good economic luck!

For my presentation, I borrowed a costume from a teacher at my mom's school. I was so excited when I discovered it was RED! I think that's the perfect color for Azerbaijan! I hope that my costume wasn't too far off or silly-looking to people from Azerbaijan!!!

You have made my year in Social Studies. My presentation was so good that last week I was asked to dress up in my costume and present it for the Fifth Grade classes! I appreciate you all so much, thanks again! I have really had a good time doing my study on your beautiful country. Maybe someday I can visit it.


Katie Mullins, 13
Russellville, Arkansas
P.S. Do you know anyone my age from Azerbaijan who would want to be an e-mail pal?
Editor: To contact Katie, write Azerbaijan International at ai@artnet.net.

____
From Azerbaijan International (9.1) Spring 2001.
© Azerbaijan International 2001. All rights reserved.
Back to Reader's Forum
Back to Index AI 9.1 (Spring 2001)
AI Home | Magazine Choice | Topics | Store | Contact us