Winter 2000 (8.4)
Page 84


SOCAR Section
Current Developments

by Natig Aliyev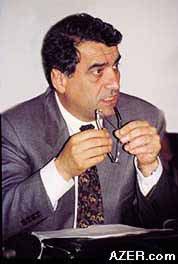 Natig Aliyev, President of the State Oil Company of Azerbaijan (SOCAR) addressed the International Oil and Gas Conference held in Baku this past November. The Conference was dedicated to "Perspectives of Oil and Gas Production in the Caspian Region."

_____
As you know, Azerbaijan has been making steady progress towards the production and marketing of our natural resources for the past eight years. Major activity was launched in 1994 with the signing of the "Contract of the Century" for the Azeri, Chirag and deep-water Gunashli project. On one hand, Azerbaijan has based these activities on its long existing oil strategy, technical and scientific infrastructure and labor potential. On the other hand, we are relying on the investment, technology, experience and management brought in by foreign companies. No doubt that the basis of these achievements lies in the new development strategy of the oil industry established by Heydar Aliyev.

This strategy opened new possibilities for Azerbaijan to strengthen its geo-political location and to become an international center in the operation and export of the country's natural resources.

History
Although Azerbaijan has a 140-year old history of oil production, the country still has rich onshore and offshore hydrocarbon resources. Currently, 53 fields (36 onshore and 17 offshore) are under exploitation in Azerbaijan. There is great potential for onshore development, which is, however, contingent upon investment input at the exploration stage.

The Caspian is very rich in oil and gas deposits. There is hardly any inch of the basin that would not be considered valuable for exploration purposes.

Since search and exploration started in the Azerbaijani sector of the Caspian, 28 oil and gas deposits have been discovered. In general, 145 prospective structures (including 40 structures up to 60m deep, 33 structures 60-200m, and 72 structures over 200m) have been discovered and prepared for exploitation and drilling.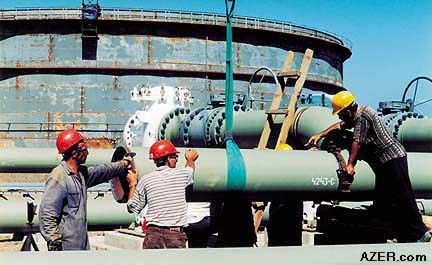 The next thrust for Azerbaijan's oil and gas industry involves pipeline construction to Western markets. Above and below: Construction of pipeline from Azerbaijan to the Black Sea via Georgia.

So far 465 million tons of oil (together with condensate) and 334 billion cubic meters of gas have been produced.

Availability of oil reserves is one of the basic factors for determining the strategy of managing oil resources. Estimated reserves in the Azerbaijani sector of the Caspian are more than 4 billion tons, which is significant.

Increasing Production
However, the production level needs to be greatly increased. The production for 2000 was 14.5 million tons. Taking into account the recoverable reserves, we should be able to increase the production level, and this depends on technological and financial support.

The proven reserves of Azerbaijan are as follows: 20 million tons per year with sustainability for 200 years; 40 million tons per year with sustainability for 100 years; 60 million per year with sustainability for 70 years. According to the above figures, Azerbaijan is ahead of other oil producing countries.

However, reserves are mostly found in deep portions of the sea and the seabed. Therefore, discovery and exploitation require a great amount of investment and state-of-the-art technology.

The policy to increase oil and gas production is the right decision, since the future development of Azerbaijan, whether in political, social or economic spheres, will depend greatly on oil and gas production.

International Investment
The implementation of the 20 contracts (requiring $60 billion investment) that has been concluded so far is an integral part of our oil strategy.

A great deal has already been achieved within the framework of these contracts. As such, Early Oil Production has started and so far has yielded more than 11.5 million tons of oil. Already $3.2 billion has been invested in oil infrastructure and pipeline construction and refurbishment in our country.

However, there has always been a demand for a pipeline with greater capacity - 50 million tons per year at least. This problem has been solved by the agreement for the construction of a Baku-Jeyhan pipeline among Azerbaijan, Georgia and Turkey. Already all financial, commercial, legal and technical matters have been solved, and soon a new consortium will be established for managing the project.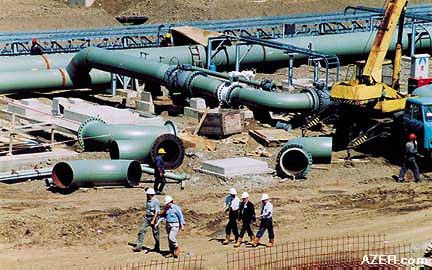 The "Shah Daniz" gas condensate field promises a huge volume of gas for export by Azerbaijan. Concrete steps are already being taken in this area.

Certainly, we don't have sufficient expertise and experience to operate such huge projects in the conditions of competition. Therefore, we are trying to solve problems in this area with the help of the Steering Committee that we set up jointly with foreign oil companies.

Steering Committees
We are considering establishing steering committees for further projects. However, since the exploration stage is completely carried out by foreign experts, there is a real need to establish such a committee upon the discovery of a commercially beneficial oil and gas field. Participating in the work of a Steering Committee, approving an annual Budget, clarifying the volume of oil production as well as correctly forecasting this volume depending on the market prices of oil may be considered part of oil production management.

Marketing
An important aspect of our petroleum operations is marketing of oil. This is being conducted by means of two existing pipelines and will proceed after the launch of the Major Export Pipeline from Baku to Jeyhan. Azerbaijan is expected to take 50 percent of the participating interest in the Consortium created for it, so we think Azerbaijan will be able to affect direct management of the project.

Downstream (processing and sale) production is also very important from the perspective of petroleum operations. Azerbaijan's processing capacity is 20 million tons per year, which is currently being used to the extent of 40 percent.

In general, Azerbaijan seems to have more prospects than other countries in respect to the relationships between reserves, production and processing of oil.

Realization of investments by virtue of 20 oil and gas contracts will enable us to increase both upstream (exploration and extraction) and downstream (processing and sail) sectors in Azerbaijan. As such, in the near future, we would be able to increase oil production up to 50-60 million tons, 20 million tons of which may be processed in refineries. Given the fact that Azerbaijan has a population of 8 million, reserves per capita are more than 100 tons, production - 7.5 tons and processing - 2.5 tons. According to these indications, Azerbaijan is very close to major oil producing countries.

Technical examination of both oil and gas and pipeline projects signed between SOCAR and foreign oil companies is carried out by the State Research Institute "Denizneftgazlayihe", whose director is Majid Karimov. Financial, commercial, legal and other matters are supervised by SOCAR's Foreign Investments Department headed by Valeh Alasgarov.

Since SOCAR is also a Contractor Party to PSAs, (Profit Sharing Agreements) we have established an affiliate company with each Consortium. SOCAR is in the process of negotiations with foreign oil companies to restore some of the old fields and increase the efficiency of production from those fields. Management of these fields will be based on the same principles as for new fields, since restoration projects are not much different from new fields.

Certainly, we have done a lot to improve the structure of our company to catch up with market conditions. But we are not satisfied with the level, for both subjective and objective reasons.
The oil and gas sector needs state supervision, since it is going to be the basis of the country's economy. At the same time, concrete steps need to be taken towards privatization of the oil and gas sector. We are planning to take concrete steps in the near future.

____
From Azerbaijan International (8.4) Winter 2000.
© Azerbaijan International 2000. All rights reserved.

Back to Index AI 8.4 (Winter 2000)
AI Home | Magazine Choice | Topics | Store | Contact us