Winter 2000 (8.4)
Pages 79
Right on Target
Olympic Gold - Skeet Shooter
Zemfira Meftakhetdinova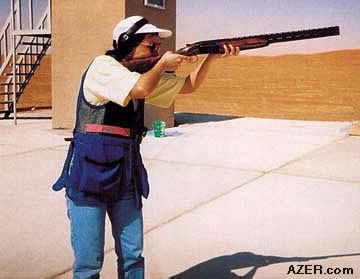 Azerbaijani skeet shooter Zemfira Meftakhetdinova (1963- ) brought home the Gold from this year's Olympics in Sydney. She also holds the Olympic record, since this is the first year that Women's Skeet was held as a separate event. This latest prize tops her accolades as winner of the European Championship, European Cup, World Championship and World Cup. Despite her extraordinary record, when it came to Sydney, she admits, "I was afraid even to dream of victory."

Zemfira's achievement is even more remarkable considering that she can't even train for her sport in Azerbaijan. "Other shooters don't believe me when I tell them I don't train," she says, "but it's true. The one shooting range in Baku was closed down in 1990 when martial law was imposed in Azerbaijan. It never reopened, and now refugees occupy its administrative building."

Back then, Zemfira used to train four times a week, for three to four hours a day. Now she and her trainer, Hafiz Jafarov, only get to train in Istanbul or Dubai once or twice a year and then only for a few weeks. Azerbaijan's Youth and Sports Ministry sponsors the trips. For the Olympics, Zemfira and her trainer flew to Australia nearly three weeks early so that they could train before the competition.
At home, Zemfira makes the best of a difficult situation, cross-training in various activities to build her endurance. Three or four times a week, she runs, swims and lifts weights to stay in shape.

Skeet Basics
Skeet shooting requires quick reflexes and a steady aim. Unlike trap shooters, skeet shooters are not allowed to raise their guns until the clay target appears. The shooters stand in various stations on a semicircle that faces two trap houses; the distance away from the target, therefore, depends on where the shooter is standing on the semicircle. Targets fly out of the trap houses, one at a time, a total of 25 in each series. In the Olympic women's event, the preliminary round features three series, each lasting about 30 minutes. A final round of 25 targets follows.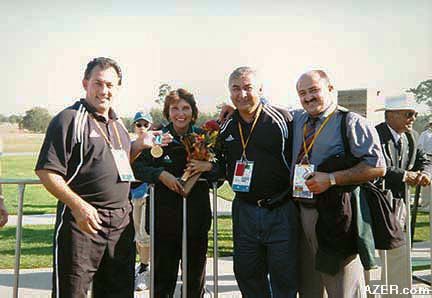 Above: Zemfira Meftakhetdinova with her coach and Azerbaijani trainers after winning the Gold for Women's Skeet Shooting in Sydney.

Trap shooting, another Olympic event, is slightly different from skeet. The targets don't fly out of trap houses; they fly out from a trench - left, right or upward. In double trap, two targets fly out at once.
Zemfira first took an interest in skeet shooting at age 13. At the time, her family lived in the 8th Micro district in Baku, close to the shooting ground that belonged to the Sports Committee. "We used to hear shots every day. It fascinated the kids who grew up together there in our courtyard." One day, Zemfira and some of her girlfriends decided to go and take a look at what was going on. She's been hooked ever since. That was the beginning of the long, hard journey that led to the Olympics.

Jafarov, who was named Honored Trainer of the USSR, is the only coach Zemfira has ever had since she began in 1976. "He's not just a teacher," she says, "he's like a father to me. When I've failed and started to cry, he has always calmed me and explained what I did wrong. To tell you the truth, I think I'm the one most responsible for his gray hair."

In 1979, Jafarov gave Zemfira her first gun, one that was made in Tula, Russia. She used this treasured gun up until last year, when she switched to the Italian "Perazzi" that she used at the Olympics.

A Shot at Victory
Although Zemfira can boast of world renown in her field, she also knows what crushing defeat is all about. "My greatest disappointment," she confides, "was at the 1998 World Cup in Cairo. In the main program I set a world record, hitting 74 targets out of 75. Everybody congratulated me. But in the final round, I missed seven out of 25 targets only to take fourth place. It was terrible. Six months later I still hadn't recovered. I used to wake up in the middle of the night wondering: 'How could I have done that?'"
At the Olympics this year, she had a chance to prove herself again. "It seemed just like a regular competition," she says, "but I felt more excited because this was my first time to compete in the Olympics. Of course, deep, deep down in my heart, I hoped that I would win, but I was never sure about my victory."

Her competition was tough. According to Zemfira, the final series was especially grueling: "When you know that you're in the lead, it lies heavy on you. However, I didn't feel alone. My trainer supported me the whole time."

Zemfira says she tries to minimize the pressure by focusing on the task at hand: "When I'm competing, my coach and I are concentrating on doing a good job, not on the outcome. We think about each shot and how to make it successful."

Olympic Gold
Their strategy worked. In the preliminaries, Zemfira scored 73 points out of 75. In the final round-the one that seemed the most stressful - she received a perfect score: 25 out of 25, for a total of 98 points.
Russian shooter Svetlana Demina followed with 95 points to take the Silver; Hungarian shooter Diana Igaly won the Bronze with 93.

What advice does Zemfira have for those who want to compete in the Olympics? "Patience, hard work and persistence. The main thing is hard work. As they say, 'No pain, no gain.' I always believe that willpower is the most important characteristic. If you make up your mind to reach a goal and are surrounded by people you trust, you can achieve anything."

Having an occupation that supports your goals helps, too. Zemfira has been on the police force in Baku since 1994. Each time after a major victory, Zemfira returns home to discover that she has been promoted to a new rank. First there was Lieutenant, then Senior Lieutenant, Captain and now Major. "I hope this won't be the last rank that I achieve," she admits.

But in addition to the fame from the Games, her Gold medal has brought more. On October 18, President Aliyev honored the Olympic winners for their victories; Zemfira and her coach, Jafarov, were among those given Azerbaijan's highest civic award, the "Shohrat" (Fame) Order.

As for the Gold, it translated into $100,000 waiting for her back home - $50,000 from President Aliyev and $50,000 from the Azerbaijan National Olympic Committee. Her coach was awarded for his invaluable contribution as well and received $50,000.

"I've never had so such money in my life," Zemfira says, "and I don't know if I'll ever see so much money again. Like everyone here in Azerbaijan, I have financial problems - but I plan to spend this money on my 10-year-old daughter's education. I want her to become an intelligent person with a good solid education and an interesting life. No matter what profession she chooses, more than anything, I want her to be a decent person. I don't mind if she goes in for sports, but I don't want sports to be her profession because it's so short-term. Today, you're at the height of fame, but tomorrow, you may be forgotten."

Zemfira Meftakhetdinova was interviewed by AI Staff Member Arzu Aghayeva.

_____
From Azerbaijan International (8.4) Winter 2000.
© Azerbaijan International 2000. All rights reserved.
Back to Index AI 8.4 (Winter 2000)
AI Home | Magazine Choice | Topics | Store | Contact us