Winter 2000 (8.4)
Page 78



Blow by Blow
Olympic Bronze - Boxing
Vugar Alakbarov





Only two people would have ever guessed that Azerbaijani boxer Vugar Alakbarov (1981- ) would win a Bronze medal in the 75kg middleweight division at this year's Olympics in Sydney - he, himself, and his coach.

Vugar, 19, had only been boxing for four years; the Olympics was his first big international competition. Being from Mingachevir, in northwest Azerbaijan, he didn't have the money to participate in European and World championships and, therefore, had not yet proved himself in the world arena.
Despite his relative lack of experience, Vugar was optimistic. "I was sure I'd win a medal at the Olympics," he says.

Vugar's trainer, Rashid Mammadov, had predicted the outcome six months beforehand: "As a rule, individual coaches must submit their expectations for each trainee," he says. "At the bottom of Vugar's plan where the prognosis must be written, I wrote: 'third place'. Some of the people who saw my note laughed: 'Do you really think that he can win third place?' I said: 'Yes, that's my opinion.' And he did just that."

Rapid Progress
Vugar showed potential as an athlete long before he entered the ring. "Before he started boxing," his trainer explains, "he was competing in crew (rowing) for two years and had become a two-time Republic champion. In November 1995, when I asked my trainees to invite more people in for boxing, Vugar heard about it and decided to try. When I first saw this rather large guy at the sports hall, I asked him his birthdate, and he replied "1981". I still didn't believe him and told him to bring his documents the next day to prove it."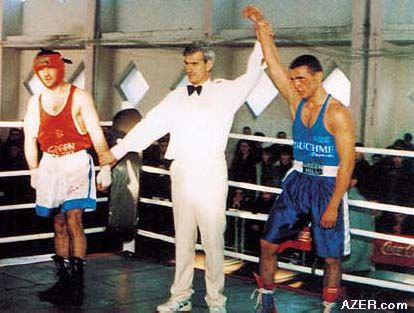 A month and a half into his training, Vugar competed at a tournament in Mingachevir. In his first fight, he knocked out his opponent - a boxer from Baku. "He won the second fight as well and became a champion," Mammadov recalls. "Then I understood what kind of talent he had."

Just six months after the tournament in Mingachevir, Vugar became an Azerbaijan champion. "After that, the victories came one after another," his coach says. "He won almost all his fights, including some international youth tournaments in Russia and Frankfurt."

To compete in the Olympics, Vugar had to get a license by participating in an international contest. "But because of financial difficulties, we couldn't go to the European championships," Mammadov explains. Instead, Vugar participated in an international tournament held in Romania and became the first Azerbaijani boxer to obtain a license to fight at the Olympics.

A Medal in Sight
Olympic boxing matches consist of four two-minute rounds, with one minute to rest in between each round. A boxer scores points by landing blows on his opponent. If neither one is knocked out, the boxer with the most points is declared the winner.

Vugar easily won his first bout against Kenyan Peter Kariuki Ngumi, earning a final score of 14-3. However, the next round of competition was not so simple. "My second fight was with local Australian boxer Paul Miller," Vugar explains. "The Australians were really hoping that he would win a medal but I won by 9-8."

Vugar's third bout set him up for a possible medal. "The most difficult fight was with Akin Kakauridze, a Georgian representing Turkey," he says. "He's both a European and World champion. If I won, I would get a medal; if I lost - nothing." Even though it was a tough match, Vugar came out far ahead, winning 18-8.

Mammadov recalls, "That was a decisive fight, and Vugar realized how important it was. Nobody expected him to win with such a score. I was so proud of him."

Fight to the Finish
Vugar's winning streak came to a halt, however, when he went up against Cuban boxer Jorge Gutierrez and lost 18-14. Gutierrez went on to capture the Gold by defeating Gaidarbek Gaidarbekov who represented Russia.

Vugar blames only himself for not taking home a Silver or Gold medal: "I had a chance to win the Gold medal. But when fighting the Cuban, I became too relaxed because I already knew that I had the bronze. I lost that bout by only four points."

"He could have won a Silver or Gold medal," says Mammadov. "But in our talk after he won the Bronze Vugar told me: 'You know, teacher, I'm already in the semi-finals, and I've received so many congratulations that I've relaxed.' It's very difficult to win a Gold - it requires special training. A human is not a machine."

Watching Vugar win a bronze was hardly a letdown, his coach says. "The moment I heard them announce Vugar's name, I was the happiest man in the world. I wouldn't exchange this victory for millions of dollars."

After returning home from the Olympics as a Bronze winner, Vugar was given $30,000 in prize money - $15,000 from President Aliyev and $15,000 from the Azerbaijan National Olympic Committee. His coach received $15,000 in recognition of his achievement.

More to Come
Vugar dreams of going back to the Olympics, this time to win a Gold medal. "I want to stay in boxing and become a world champion next year, Inshallah (if God wills)," he says. "I hope I'll train better for next year's world championship and eventually be able to turn the bronze medal into a gold."

As to how the victory will change their lives, Vugar's coach said, "We've discussed it between ourselves. We will never forget our past - our difficult days. We're not going to change, our personality will remain the same."

The two plan to keep working out at the "Neftchi" Club, where Vugar now trains six days a week, two to three hours each day. "We're very grateful to Neftchi and SOCAR for helping Vugar be able to compete on the international level," his coach says.

Vugar knows that he still has a difficult path ahead if he wants to give the Olympics another shot. "You have to work hard if you want to win," he says. "To tell you the truth, I wouldn't let my brother or sister compete in the Olympics. Sports require a lot of patience. It's a very difficult path. Once you start, you must go until the end - otherwise, you shouldn't start."

Vugar Alakbarov and Rashid Mammadov were interviewed by AI Staff Member Arzu Aghayeva.

_____
From Azerbaijan International (8.4) Winter 2000.
© Azerbaijan International 2000. All rights reserved.
Back to Index AI 8.4 (Winter 2000)
AI Home | Magazine Choice | Topics | Store | Contact us