Winter 2000 (8.4)
Page 76
All the Right Moves
Azerbaijani Wrestler Wins Olympic Gold
Namig Abdullayev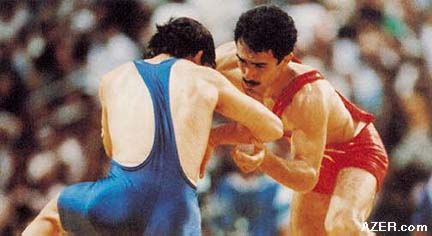 Above: Namig Abdullayev took the Gold in Freestyle Wrestling at the Olympic 2000 Games.

It was the final round at the 2000 Olympics at Sydney for the 54kg (119-lb.) category of freestyle wrestling. Tension was mounting. As Namig Abdullayev (1971- ) faced his American opponent, Samuel Henson, his mind flashed back to the 1998 World Championships in Tehran, when Henson had defeated him 3-1 to become World Champion. Here was Namig's chance to turn the tables and win Olympic gold.

Namig scored three points in the first few seconds, but the American caught up to him halfway through the match. A minute before the buzzer sounded, Namig captured one more point to defeat his opponent 4-3.

As Namig celebrated his first Olympic gold medal, Henson cried out in anguish at his loss, capturing the attention of the media and the audience. According to an Associated Press news report, Henson sobbed uncontrollably during the medal ceremony and was jeered by the crowd for being such an ungracious loser.

Training
Namig began wrestling in 1983 at age 11. "My cousin Elkhan Abdullayev brought me to the sport," he says. "His coach was Vahid Mammadov, and Elkhan wanted me to train with him as well. Since then, Vahid has been my only coach; he's taught me everything, from A to Z."

Namig usually trains six days a week, up to three times a day if he's preparing for a competition. He runs and exercises in the morning for about 40 minutes, and then again in the evening for about 1 to 1 1/2 hours. He also spends hours on the mat practicing and polishing his moves.

Namig says that no matter which competition he's training for, the Olympics are always in the back of his mind. "At the Olympic Games in Atlanta in 1996, I won the silver, not the gold, due to some illegal moves that the referees did not call. When we returned, President Aliyev credited my silver as gold and gave me prize money as if it were gold. At that ceremony, in the presence of the whole Olympic team, I promised our President that I would turn silver into gold."

Delivering on that promise was far from easy. Even though Namig had participated in the Olympics twice before and had won a silver in 1996, winning a gold medal - or any medal, for that matter - was far from guaranteed.

"Every match at the Olympic Games is difficult," he says. "All participants are winners of European or World championships or international license tournaments. Sometimes the European and World Champions don't even win a bronze at the Olympic Games because all of the participants are so strong. For example, my first match at Sydney was with a 1996 Olympic gold medalist from Korea. I managed to defeat him 6-0."

Olympic Drama
Namig's final match against rival Henson was just as tough. Once it ended, Namig's success was tainted by his opponent's tantrums at losing the gold medal. U.S. wrestling coach John Smith told reporters that Henson was upset at Iranian referee Abbas for not penalizing Namig for pulling on his jersey.
Henson's reaction was typical, says Mammadov: "Sam's complaint was his personal opinion. The losing opponents usually don't find fault with themselves; they tend to accuse the referees. Such things happen everywhere, on our team as well.

"All four points that Namig won were clear and unquestionable. Sometimes in freestyle wrestling, you may doubt some moves and argue whether one was a two- or three-point move. When the score was 3-3, Namig made another move and took the fourth or, as we call it, "gold" point. Sometimes you may doubt points received at the edge of a mat. But all of his points, including the last one, took place right in the center of the mat.

"As for pulling Sam's outfit, these things happen in wrestling. You don't do it deliberately, your finger can accidentally hook outfits; very often clothing even may tear."

Namig says that Henson made his share of illegal moves. "If I hooked his outfit, he put his fingers into my eyes. I even told the referee about it, and they had to stop the fight. Hensen didn't fight by the rules - he did whatever he wanted to do. When my fingers accidentally slipped into his mouth, he bit them, even though that's illegal. Then he started crying to the referee that I had injured his mouth. The referee should have penalized him for biting my fingers, but he didn't. These things often happen in wrestling.

"Of course, nobody wants to lose. But you have to be able to deal with your loss. He's a sportsman, and he didn't want to be defeated. That's why he was trying to find every excuse."

Still Not Satisfied
Even though Namig has received the highest honor possible in his field, he says his wrestling career is far from over: "After I returned from Australia, people told me: 'You've reached the peak of your sports career. Now it's time to leave sports, say 'goodbye' and start working in another field.'

"But I don't agree. I'm planning to take part in the next Olympic Games. With God's help, I'd like to succeed there as well. I'm a two-time gold medalist at the European Championships and a two-time silver medalist at the World Championships, but I haven't won gold there yet. The next World Championships will be held in 2001 in New York.

"I think it's too early for me to say goodbye to sports. I'm only 29. For example, the seven-time World Champion and 11-time European champion Valentin Iordanov, who I fought in the Olympic finals in 1996, first became a Olympic champion when he was 36. So I still have time."

AI Staff Member Arzu Aghayeva interviewed Namig Abdullayev and his trainer, Vahid Mammadov.

_____
From Azerbaijan International (8.4) Winter 2000.
© Azerbaijan International 2000. All rights reserved.
Back to Index AI 8.4 (Winter 2000)
AI Home | Magazine Choice | Topics | Store | Contact us