Winter 2000 (8.4)
Page 12
Newsmakers
Manana Sings For Honors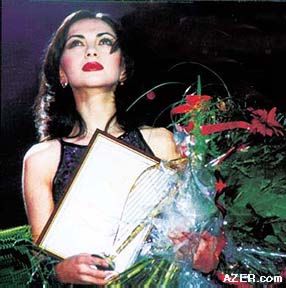 Manana, a 22-year-old singer born and raised in the Republic of Georgia but who now calls Baku her home, recently won the Grand Prize at the Universe Talent competition in Prague.

Manana Japaridze (her full name) has won several other international music festivals including: Voice of Asia-99 in Almaty, Kazakhstan; Slavyansky Bazaar-99 in Kiev, Ukraine; Crystal Note-97 in Moscow and Crystal Fir-Tree-96 in Borzhomi, Georgia.

Her first CD, "I Gave You My Heart", came out in 2000 and is available for sale at the Web site: www.top.az. The CD features songs in Azeri, Georgian and English.






From Azerbaijan International (8.4) Winter 2000.
© Azerbaijan International 2000. All rights reserved.
Back to Newsmakers
Back to Index AI 8.4 (Winter 2000)
AI Home | Magazine Choice | Topics | Store | Contact us