Winter 2000 (8.4)
Newsmakers
Passing of Tofig Guliyev
(1917-2000)

Music lyrics available at AZERI.org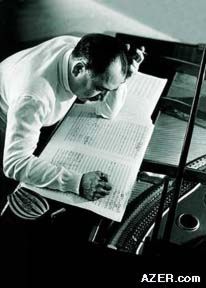 Celebrated Azerbaijani composer Tofig Guliyev passed away October 4, 2000 at age 83. Among Azerbaijan's composers, Guliyev was one of the most universally loved. Guliyev was a prolific composer of vocal works, especially love songs which have become such classics that people often refer to them as "songs that never die." He wrote the music for about 250 love songs.

During the 50s, 60s and 70s, his musical classics were performed by Azerbaijan's foremost singers, including Bulbul, Rashid Behbudov and Shovkat Alakbarova.

He was also active in several other genres of music. For instance, in 1941 he and Azerbaijani conductor Niyazi were at the forefront of the Azerbaijani jazz movement despite the resistance to this genre during those early years in the Soviet Union. Together they formed the Azerbaijan National Jazz Orchestra.

Guliyev also wrote a number of film scores, including the music for "Telephone Girl", "Bakhtiyar", "Meeting", "Stepmother" and "Nasimi".

When asked which song was his favorite, he always used to reply, "If I would choose any of my songs as favorite, it would mean the end of my creation. Any new song that you anticipate writing becomes your favorite. It's the anticipation that makes it your favorite."

Guliyev was born in Baku on November 7, 1917, only a few months before Soviet troops took control of Baku, and he lived to see the collapse of the Soviet Union in his lifetime (1991). He studied music at the Azerbaijan State Conservatory (now Academy), then went on to the Moscow Conservatory, where he eventually finished his post-graduate studies.

From 1954 -1958, Guliyev worked as a professor at the Azerbaijan State Conservatory. He served as First Secretary of the Composers' Union of Composers from 1973 to 1990, then as Chairman of the Union from 1990 until his death.

He was a prolific reader and collected a substantial library of books related to world class fiction, art and the history of politics. He had a special fondness for Churchill.

Guliyev tried to stay abreast of current affairs via newspapers and other media so as not be left behind by members of the younger generation. Despite his brilliance as a musician, he was known for his modesty and accessibility.

During the Soviet period, Guliyev was named People's Artist of Azerbaijan and awarded the Order of the Red Labor Banner of the USSR and the medal for Heroic Labor during World War II.

Following Azerbaijan's independence, he was awarded the Istiglal (Independence) Order, the highest honor bestowed upon citizens in the independent Republic. His 80th Jubilee was celebrated as a State function in 1997. He was buried in Fakhri Khiyaban (Alley of the Honored Ones).

In 1998 Azerbaijan International magazine produced the first CD of Guliyev's works, entitled "Songs of the Heart" (Urak Mahnilari). The project was sponsored by BP and Statoil Alliance and contains 20 songs, many of them sung by Rashid Behbudov (1915-1989) and Shovkat Alakbarova (1922-1993). This was one of the very first CDs produced in Azerbaijan to include the Azeri lyrics written out in the new official Latin alphabet.


An interview of Tofig Guliyev appears in the Spring 1995 issue, (AI 3.1) and his recollections of working with Rashid Behbudov in AI 3.4 (Winter 1995).

_____
From Azerbaijan International (8.4) Winter 2000.
© Azerbaijan International 2000. All rights reserved.
Back to Newsmakers
Back to Index AI 8.4 (Winter 2000)
AI Home | Magazine Choice | Topics | Store | Contact us