Winter 2000 (8.4)
Pages 63-64

Azerbaijan Joining the Council of Europe
What Will It Mean?

by Anar Jahangirli

On November 9, 2000, the Committee of Ministers of the Council of Europe invited Azerbaijan to join this pan-European organization. A similar resolution for Armenia was adopted that same day. There has been concern that both Azerbaijan and Armenia should be admitted together so as not to give one advantage over the other in regard to the peaceful resolution of the Karabakh conflict. Georgia, the only other country in the Caucasus, was admitted to the Council on April 27, 1999.

Azerbaijan's entrance into the Council of Europe (CoE) has not been finalized, although the possibility of admission is viewed as very strong. The ratification date is set for January 17, 2001. The Council has asked that Azerbaijan provide evidence that its Parliamentary elections held November 5, 2000 were fair and in line with the Council's standards. Azerbaijan has voided the election results in 11 precincts where fraud was observed. New elections for those precincts are scheduled for January 4, 2001.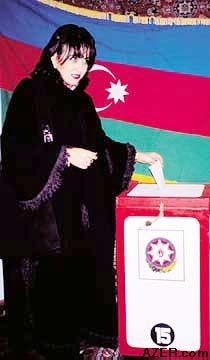 Sometimes people confuse the "Council of Europe" with the "European Council". The European Council comprises 15 member states belonging to the European Union whose responsibility is to plan Union policy. The Council of Europe, on the other hand, has 41 member states, including non-European Union members such as Russia and Turkey.

Left: The Council of Europe is viewed by many Azerbaijanis as an institution that will support them as a newly independent nation in the process of developing democratic institutions.
Winston Churchill is credited with the concept that eventually developed into the Council of Europe. After the devastation of World War II, many Europeans were searching for a way to put their lives back together, having suffered tremendous economic loss, a lack of political influence and power, not to mention the tragic loss of life. Churchill imagined a "kind of United States of Europe".

The first gathering took place on May 5, 1949 in St. James' Place, London. Ten countries signed the original treaty constituting the Statute of the Council of Europe: Belgium, France, Luxembourg, the Netherlands, Italy, Denmark, Norway, Sweden and the United Kingdom, accompanied by Ireland.

The CoE's first sessions were held in Strasbourg, France, which later was chosen as the organization's permanent seat. In the initial flush of enthusiasm, the first major convention was drawn up: the European Convention on Human Rights was signed in Rome on November 4, 1950 and went into effect on September 3, 1953.

Advantages to Membership
The majority of Azerbaijanis seem to be supportive of joining the Council of Europe, even though the organization has no policing power to impose its will. The institution is based, more or less, on what might be termed a "Gentlemen's Agreement" of what is defined as civil behavior between nation states-though in this case, the responsibilities are not just implied but specifically set down in writing. Given the nature of such an organization, one might ask: Exactly what are the advantages of Azerbaijan joining this "club?

1. Path to Democracy
To be a member of the Council of Europe, there are many standards of compliance that will facilitate Azerbaijan's path to democracy. CoE provides certain leverage to help urge and scrutinize the process, especially when it comes to matters dealing with the executive, legislative and judiciary systems, including the protection of human rights, freedom of the media, of religion, of minority peoples and languages and of political prisoners.

For example, within a year of joining, Azerbaijan must sign a Law on Combating Corruption; within two years, it must ratify a State Program on Combating Corruption. European observers have identified the prevalence of corruption in Azerbaijan's official structures and the society at large as the major obstacle to democracy. The anti-corruption plan is welcomed as an initiative to provide support for those who are serious about tackling this problem.

In 1999, in anticipation of membership, a new Law on the Police was adopted in Azerbaijan to provide for more stringent supervision of police activities by the judiciary. Of course, signing these laws is only the first step; implementing them on a daily basis is a process that will require much training and scrutiny.

As for Armenia, within one year of accession, it must abolish the death penalty and decriminalize homosexual relations between consensual adults. Within two years, Armenia must conform to the Council of Europe's conventions on extradition and give mutual assistance in criminal matters on laundering, search, seizure and confiscation of proceeds from crime. Azerbaijan already complied with all of these requirements earlier this year in anticipation of joining the Council. There are numerous other stipulations that both countries will have to implement in their effort to conform to the Council of Europe's standards.

As of November 2000, Azerbaijan has already signed nearly 15 Council of Europe Conventions related to a wide array of topics such as: conservation of wildlife and natural habitats, protection of archeological heritage, control of the acquisition and possession of firearms by individuals, legal status of children born out of wedlock, cinematographic co-productions, and even spectator violence and misbehavior at sports events, with particular attention to soccer matches.

2. Karabakh Resolution
In regard to the resolution of the Karabakh conflict, the Council of Europe as an institution has not been involved with peace-seeking solutions directly, as this is the mandate of the OSCE (Organization on the Security and Cooperation of Europe). However, the admission of both Azerbaijan and Armenia simultaneously to this organization is expected to accelerate the process of resolution by intensifying contact and encouraging dialogue between representatives of the two states, at both parliamentary and inter-governmental levels within the Council of Europe.

By virtue of their membership, both Azerbaijan and Armenia are required to pursue efforts to settle this conflict through peaceful, not military, means. If the past is any indication, one could expect that the Council of Europe will support an agreement based on the inviolability of borders, guaranteed security for all peoples in the area concerned, particularly through multi-national peacekeeping forces, and extensive autonomy for Nagorno-Karabakh within Azerbaijan, as the CoE Parliamentary Assembly put forward in a resolution in 1997.

3. Voice in Europe
As far as representation is concerned, Azerbaijan will have an important platform for voicing its positions along with colleagues from other European countries. Azerbaijan is expected to have six representatives in the 291-seat Parliamentary Assembly of the Council; Armenia, four.

4. Higher Courts
Citizens of Azerbaijan who feel that their human rights have been violated will have access to a higher court than their own national judiciary. The European Court of Human Rights is an international institution that, in certain circumstances, can receive such complaints from nationals of CoE member states.

5. Humanitarian Funding
Furthermore, recently elected Azerbaijani municipalities will gain representation in the Congress of Local and Regional Authorities of Europe. Azerbaijani NGOs (non-governmental organizations) will receive access to certain humanitarian funds in Europe.

6. Education
Azerbaijani students who wish to study in other countries on the continent will become eligible for financial support by the governments of those countries. Most of the time, such applicants must be citizens of a CoE member state.

7. Europe/Asia Question
One of the most practical benefits for Azerbaijan will be that finally the international community will recognize it as being part of Europe. Many Azerbaijanis feel psychologically aligned with Europe, regardless of how others view them. Especially since the collapse of the Soviet Union, there has been much confusion about how to categorize Azerbaijan. Does it belong to Europe or Asia? Membership in the Council of Europe will go a long way toward resolving this question.

8. Future Alliances
Becoming part of the Council of Europe is likely to help with future membership in other international organizations, such as the World Trade Organization (WTO) and the Organization for Economic Cooperation and Development (OECD). Some have even suggested that this might lead to European Union membership one day. Who knows what shape Europe might take in the next 25 years?

Each alliance is of vital importance for Azerbaijan these days, especially since independence as a nation depends on forging ties within the world community. In the long run, membership in the Council of Europe can be immensely beneficial in helping to accelerate this process.

For more information about Azerbaijan in the context of Council of Europe, visit the official web site: www.coe.int.

Anar Jahangirli, 22, is an M.A. student of European Public Affairs at the University of Maastricht, The Netherlands.

______
From Azerbaijan International (8.4) Winter 2000.
© Azerbaijan International 2000. All rights reserved.
Back to Index AI 8.4 (Winter 2000)
AI Home | Magazine Choice | Topics | Store | Contact us