Winter 2000 (8.4)
Page 82
Business & Opportunities
Lufthansa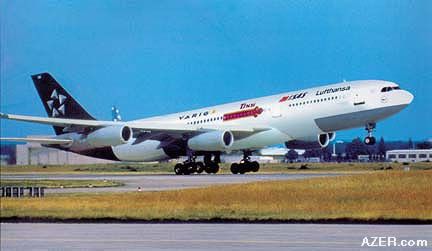 Above: Lufthansa's new widebody Airbus, now flying between Frankfort and Baku.

Beginning January 15, 2001, Lufthansa will add a widebody Airbus 340 to its Frankfurt-Baku route. Equipped with 212 newly designed high-comfort seats in all three cabin classes, the Airbus 340 fulfills the increased demand for air travel from Europe and North America to Azerbaijan. First-class seats can be transformed into beds; business-class seats feature the latest technical improvements, such as connections for laptop computers; economy seats also provide for the best-possible ergonomic standards.

Lufthansa has three weekly departures from Baku, connecting via Frankfurt to more than 300 European and Intercontinental destinations. Daily nonstop flights from Frankfurt to Houston and Dallas (among a total of 15 U.S. cities served nonstop) cater to the travel needs of international oil companies in particular.

In connection with the introduction of the new Airbus 340, Lufthansa will begin a promotional fare campaign from December 27, 2000 to March 15, 2001. Economy class fares will be substantially reduced for the a.m. period; roundtrip fares range from US $499 to European cities and US $699 to select North American cities.

Contact
Lufthansa
1033 Izmir, 5th Floor
Baku

Tel: (99-412) 90-70-50/51/52
Fax: (99-412) 90-70-49
E-mail: lufthansa@artel.net.az
Web site: www.lufthansa.com

_____
From Azerbaijan International (8.4) Winter 2000.
© Azerbaijan International 2000. All rights reserved.
Back to Business & Opportunities
Back to Index AI 8.4 (Winter 2000)
AI Home | Magazine Choice | Topics | Store | Contact us