Winter 2000 (8.4)
Page 81

King of the Ring
Azerbaijani Boxer Wins World Youth Championship
Farhad Ajalov


When Farhad Ajalov first told his parents that he wanted to be a boxer, they were dead set against the idea. That was 1995 when he was 13 years old. But once Farhad managed to convince them, his father, Eldar, a member of Azerbaijan's National Olympic Committee's Executive Committee, introduced him to trainers Shamil Alimzanov and Shahaddin Mammadov.

Five years later, Farhad became a World Champion. This past November, he won the Gold medal in the 60-kg category at the 11th World Youth Under-19 Amateur Championships held in Budapest, Hungary. Farhad was sponsored by Azerbaijan's National Olympic Committee and the Ministry of Youth and Sports.

Farhad, now a three-time champion in Azerbaijan, won his first gold medal in 1996, only a year after he started training. The following year, trainers from the combined Azerbaijani team and Aghajan Abiyev, President of the Boxing Federation, decided to include Farhad in the combined team for the European Championships held in Bitola, Macedonia. Even though it was his first major competition, Farhad won a silver in the under-16 category.

In 1998, he earned another silver medal at the European Championships held in Yurmala, Latvia. It was the first time in Azerbaijan's boxing history that someone had become a two-time European silver medalist in the under-16 age category.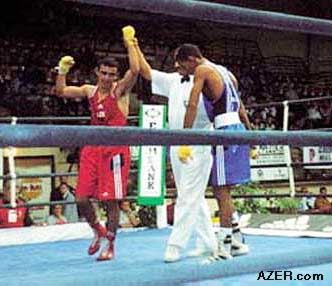 After learning how to throw stronger punches - both left and right - Farhad went on to win international competitions in Saratov and Makhachkala, Russia. Altogether, Farhad has won 130 of his 138 official fights.

At the World Championship 2000 in Budapest, Farhad was boxing in a different weight category - 60 kg.

Out of 37 boxers in that category, he won both the gold medal and the cup for "Best Fighting Technique".

Afterward, Farhad said, "I'm very grateful to my trainers, Shamil Alimzanov and Shahaddin Mammadov, and my father, Eldar Ajalov. I wouldn't have achieved these results without their help."

After Farhad's victory at the World Championships, Abiyev presented him with a car. Ilham Aliyev, President of the National Olympic Committee, gave him $4,000. Farhad plans to use the money for boxing and to prepare for the 2004 Olympic Games.

_____
From Azerbaijan International (8.4) Winter 2000.
© Azerbaijan International 2000. All rights reserved.
Back to Index AI 8.4 (Winter 2000)
AI Home | Magazine Choice | Topics | Store | Contact us