Autumn 2000 (8.3)
Page 98
SOCAR Section
Pennzoil Targets Youth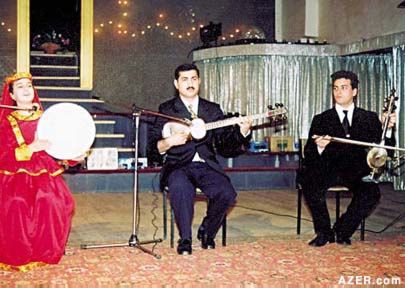 Above: Pennzoil sponsored a mugham competition at the Rashid Behbudov State Song Theater.

"Mugham 2000" was the theme for a May 19, 2000 concert featuring the finalists of this year's Mugham Competition in Azerbaijan. The Mugham Association organized the event, held at the Rashid Behbudov State Song Theater. American oil companies Devon Energy, parent company of Pennzoil Caspian Corporation, and Unocal Khazar jointly sponsored the competition and concert.

Pennzoil Caspian has sponsored three such events in the past several years; this year Unocal Khazar added its sponsorship to the program. The goal for the competition is to help young national performers exhibit their talents so that a new generation of Azerbaijani mugham musicians can develop. All of the competitors were either students or graduates of music schools.

This past summer, Unocal Khazar and Pennzoil Caspian sent 20 children from Orphanage No. 3 in the Khatai region to summer camp at Chukhur-Yurt (Shemakha). This region of Azerbaijan is famous for its tall mountains, dense forests, rivers and picturesque landscapes. The children spent more than a month at the camp, riding horses, playing in the water and having picnics.

Pennzoil Caspian has been an active supporter of various activities that the orphanage undertakes throughout the year. On March 4, 2000, Pennzoil sponsored a pre-Novruz exhibition of drawings and handmade dolls created by children from the orphanage.

On July 8, 2000 Pennzoil Caspian and Azerbaijan's Ministry of Sport and Youth held the Second Annual National Economic Congress for students and young scientists, organized by the NGO "Reliable Future." The conference took place at the "Ganjlik" Youth Center in Zagulaba. Its purpose was to stimulate young scientists in their research activities, promote the educational process and build cooperation between the youth of various regions.

At the Congress, young scientists discussed a very timely topic related to the future of Azerbaijan: "Investments in the Non-Oil Sector of Azerbaijan." Out of 67 research papers on this subject, the top 16 were selected for discussion and debate at the conference. Students talked about innovative directions in marketing, attracting investments to the non-oil sector, leasing perspectives and Azerbaijan's economic integration into the world economy. Specific attention was given to privatization, agriculture and the tea industry.

_____

From Azerbaijan International (8.3) Autumn 2000.
© Azerbaijan International 2000. All rights reserved.
Back to Index AI 8.3 (Autumn 2000)
AI Home | Magazine Choice | Topics | Store | Contact us